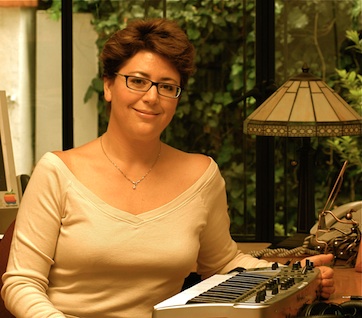 Composer Gabriela Ortiz's work is largely created in her home country of Mexico but has been exported to concert halls around the world. Soon, Houstonians will have an opportunity to explore Ortiz's music and meet the composer herself.
Ortiz will visit the University of Houston for two concerts devoted to her work. UH's AURA Contemporary Ensemble will perform selections from Ortiz's repertoire during "Music of the Spirit" on Nov. 18 and "Altar de muertos" on Nov. 19. Both concerts will be presented at 7:30 p.m. in UH's Moores Opera House (Entrance 16 off Cullen Boulevard).
Ortiz's music continues to capture the imaginations of audiences across the globe. Blending traditional and cutting-edge elements, Ortiz walks a creative tightrope over disparate genres – folk, jazz, avant garde and high art.
"Music of the Spirit" on Nov. 18 will feature music with spiritual overtones and include selections from Ortiz and others. Tickets for this event are $12 and $7 for faculty, staff, alumni and seniors. Tickets are available through the Moores box office site or by calling 713-743-3313. Works will include:
"Vitrales de Ambar" (Windows of Amber) for large chamber ensemble by Ortiz
"Rio de las Mariposas" (River of Butterflies) for two harps and steel drum by Ortiz
"Codigos Secretos" (Secret Codes) for flute and electro-acoustic sounds by Ortiz
"Carrying Fire Through Midnight Snow" by Moores School of Music alumnus Samuel Hunter
"A Little Night Music" by Peteris Vasks (featuring UH faculty pianist Tali Morgulis)
"Winnsboro Cotton Mill Blues" by Frederic Rzewski (featuring UH faculty pianist Tali Morgulis)
"Viriditas" for flute, viola and harp by Steven Andrew Taylor
"Altar de muertos" on Nov. 19 will include a free lecture and recital led by Felix Alanis, a UH doctoral candidate in the Moores School of Music. The theme of the lecture and performance explore the tradition of Mexico's Day of the Dead. Alanis will lead a string quartet through Ortiz's ambitious 30-minute piece "Altar de muertos." The performance also will include masks and pre-Hispanic water drums.
Ortiz's visit to UH was inspired by Alanis, who selected her work to be part of his doctoral requirements. Doctor of Musical Arts candidates must deliver a public lecture and accompanying performance.
On Nov. 18, Ortiz also will deliver a master class to UH student composers from 1 – 3 p.m. and a lecture about her music from 3:30 – 5 p.m. Both events take place in Room 147-A at the Moores School of Music.
AURA is dedicated to the performance of contemporary chamber music, with an emphasis on works that represent the trends and styles of the last two decades. Under Smith's direction, the ensemble performs a wide variety of American and international composers' works. Noted artists such as Samuel Adler, Richard Rodney Bennett, Stephen Montague, Joan Tower and Dan Welcher have visited campus to hear AURA's interpretations of their compositions. The ensemble is also dedicated to collaboration with dance and has presented many concerts with the UH Dance Ensemble and the Sandra Organ Dance Company.
The Moores School of Music is one of the premier music schools in America. Offering bachelor's, master's and doctoral degrees, it serves approximately 600 students annually. Areas of study include composition, conducting, performance, theory and musicology. Its faculty consists of internationally recognized performers, composers and scholars. Among its ensembles are the Moores School Symphony Orchestra, Moores Jazz Ensemble, Moores Opera Center, Concert Chorale, Concert Women's Chorus, Spirit of Houston Cougar Marching Band, Wind Ensemble and Percussion Ensemble. A majority of the school's concerts are performed in the 800-seat Moores Opera House. For more details on the Moores School of Music, visit http://www.music.uh.edu/.
---