More than 50 area middle school students are using the summer break to sharpen their math and science skills during the ExxonMobil Bernard Harris Summer Science Camp at the University of Houston (UH).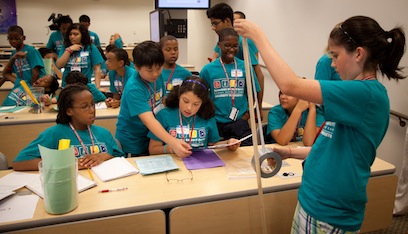 The two-week, all-expenses-paid program, founded by astronaut and UH alum Dr. Bernard A. Harris Jr., is one of 20 camps being held on university campuses nationwide. The experience immerses campers in hands-on, team-based learning activities designed to reveal the science behind the latest technology, increase environmental awareness and explore how math impacts daily life.

On Tuesday, June 18, UH will showcase its innovative camp curriculum from 9 to 11 a.m. with a "Space Day" competition that challenges campers to create the most durable spacesuit swatch, using such household items as Styrofoam, aluminum foil, wax paper and duct tape. Harris and university faculty will lend their science, technology, engineering and mathematics (STEM) expertise to students.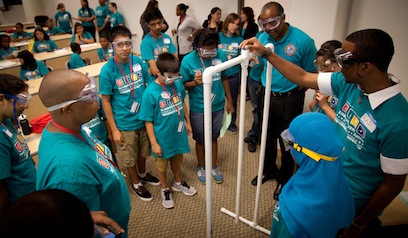 Creating and testing their spacesuit samples alongside veteran astronaut Harris and ExxonMobil engineers, campers will use an "impact tester" that mimics the extreme elements in space to determine the winning design, which must be capable of withstanding space debris. The students also will be challenged to manage their money while testing their science skills learned at the camp. Each team will have 20 minutes to choose and purchase materials for constructing the 14-layer space suit.

In its 14th year at UH, the camp has transformed the summer vacations of local middle school students by giving them the opportunity to get ahead in STEM disciplines, meeting role models and experiencing college life. Offered free of charge to academically qualified students entering sixth, seventh and eighth grades, the two-week camp was started at UH in 1999 by Harris, and the ExxonMobil Foundation has been a partner for eight of those years.

With the goal of bringing math and science camps to underserved students across the country to close the learning gap and encourage youth to pursue STEM careers, ExxonMobil again awarded UH an $80,000 grant for the third-consecutive year to provide funding for the camp.

WHO:
Houston-area middle school students building space suits
Bernard Harris, the first African-American to walk in space

WHAT:
ExxonMobil Bernard Harris Summer Science Camp at UH

WHEN:
9 to 11 a.m., Tuesday, June 18
Best visuals: 9:45 to 10:45 a.m.

WHERE:
University of Houston
Philip Guthrie Hoffman Hall (PGH), Room 232
(map: http://www.uh.edu/campus_map/buildings/PGH.php)
Off Cullen Boulevard, Entrance 14
***Media encouraged to parallel park curbside along Entrance 14 in loading zones, clear of driving lanes and bus stops. Please ensure vehicles display media credentials in dashboard, visible through windshield.***

Primary media contact: Merritt Talbott, 214-373-1601
Onsite day-of media contact: Kathy Major, 713-306-3532
###
To receive UH science news via e-mail, sign up for UH-SciNews.

For more information about UH, visit the university's newsroom.

For additional news alerts about UH, follow us on Facebook and Twitter.


---