Eight University of Houston students will get more than a bird's-eye view of the next session of the Texas Legislature.  They'll be front and center, participating in many aspects of the legislative process as UH Hobby Fellows.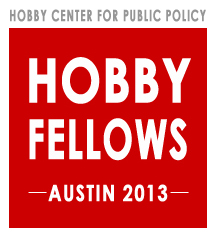 "I'm double majoring in political science and environmental science," said student Estefani Jimenez. "I'm excited to be assigned to Rep. Ana Luna Hernandez's office.  She's an alum and went to the same high school as I did."
The Hobby Fellows program debuts as the 83rd Texas legislative session begins.  A program of the UH Hobby Center for Public Policy (HCPP), Hobby Fellows provides students internship opportunities in legislators' offices during the session. Working full-time, the experience will provide students with knowledge of the legislative process by observation, participation, research and writing. They also will attend meetings and hearings, and meet with constituents and lobbyists.   
"Texas is an incredibly large entity in terms of resources, but our state business is done within five months every two years," said Renee Cross, associate director of the HCPP. "In legislators' offices, you have to have all hands on deck, meaning our interns will have opportunities to do and learn a great many things."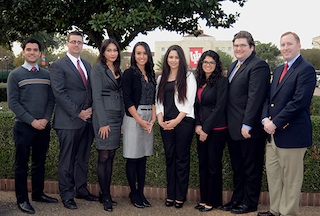 Among the offices hosting UH interns is that of State Rep. Ana Hernandez Luna.  A UH alum, Hernandez Luna worked as a government intern when completing her undergraduate degree. Her chief of staff Lesley Nelson, also an alum, served as an intern in both Houston and Austin.
"My experience as a government intern while a student at UH helped to solidify my decision to make public service a lifelong commitment," Hernandez Luna said.  " I am excited to be able to host a Hobby Fellow in my office this session so that they can have that same life-changing opportunity."
Cross says it is appropriate that the program carry the name of former Lt. Gov. William P. Hobby.
"The entire Hobby family are iconic figures in the state of Texas and Houston," Cross said.  "But, particularly in political circles, Lt. Gov. Hobby was known for working across the aisle, working together to create legislation that would benefit Texas. I think that particularly in today's political environment that is especially respected.
Acceptance into the program is based on merit—a combination of grades, experience and writing ability.  Additionally, candidates must have a demonstrated record of public service, either in other government internships, with community groups or on neighborhood projects.  Students can earn up to 12 hours of credit hours in political science. The program is supported by private donations.
The Hobby Center for Public Policy has a history of creating public service professionals.  District Court Judge Al Bennett and State Rep. Armando Walle were introduced to the public realm when working as government interns at UH. Countless key staff leaders at all levels of government in Houston, Austin and Washington have emerged from the HCPP programs.  Cross says the experience has created a train of leaders. 
"These bright, energetic, enthusiastic students enter a new arena and when they come back, they are so knowledgeable, confident and poised. It's amazing how consistent that result is," she said. 
For more information on the UH Hobby Center for Public Policy's Hobby Fellows program, visit http://www.uh.edu/hcpp/hobbyfellows.htm  or listen to the UH Moment, http://app1.kuhf.org/articles/1355324084-UH-Moment-Hobby-Fellows.html
---