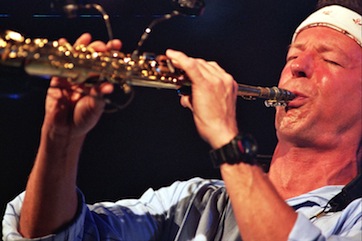 April is Jazz Appreciation Month, and the University of Houston is hosting one of the genre's true masters.
Veteran saxophonist Bill Evans is on campus working with jazz students and will perform with them at 7:30 p.m., April 16 in Moores Opera House (Entrance 16 off Cullen Boulevard). His appearance at UH is made possible by the Vacek Jazz Artist Residency, which brings top jazz musicians to campus for clinics and concerts.
Tickets are $12 and $7 for students and seniors. They can be purchased by calling the Moores Ticket Office at 713-743-3313 or online at www.music.uh.edu.
Evans will deliver selections from his repertoire including "Cool Eddie," "Soulgrass" and "Let's Pretend," as well as "Woody's Gold Star," written for Woody Herman by John Fedchock. 
Evans' career took off in the 1980s when he performed with Miles Davis during his comeback period. He performed on Davis's albums "The Man with the Horn," "Decoy" and "We Want Miles." Evans also has performed with a variety of popular musicians including Mick Jagger, Willie Nelson, Ian Anderson and the Allman Brothers. He previously visited UH for the 2009 Moores Jazz Festival.
In preparation for the April 16 concert, Evans is already on campus rehearsing and teaching. Rehearsals and classes are free and open to the public. A detailed list of events is listed on the UH Jazz website.
"He's a great player and has a clear message about the language of jazz improvisation," said Ryan Gabbart, assistant director for UH's Jazz Ensembles. "He's a performer and educator, and that makes him a perfect fit for the Vacek Jazz Artist Residency Program."
The Vacek Jazz Artist Residency Program brings jazz journeymen and educators to campus twice a year. While visiting the university, they share their insights on performing and the music industry with UH jazz students.
The program is made possible by a gift from UH Moores School of Music alumnus Jeff Vacek. After graduating in 1999, Vacek set aside his musical talents and became an information technology entrepreneur. The lessons he learned as a jazz student helped him remain disciplined and focused as a business owner. Last year, he decided to give back to the program that gave him so much. The Vacek Jazz Artist Residency launched in fall 2012 with special guest Dan Haerle.
 "The jazz program teaches students commitment, not giving up and staying focused," Vacek said. "These are all things that you need to succeed in any aspect of your life, and I am happy to give back to the university and the jazz program that changed mine."
###
About the University of Houston
The University of Houston is a Carnegie-designated Tier One public research university recognized by The Princeton Review as one of the nation's best colleges for undergraduate education. UH serves the globally competitive Houston and Gulf Coast Region by providing world-class faculty, experiential learning and strategic industry partnerships. Located in the nation's fourth-largest city, UH serves more than 40,700 students in the most ethnically and culturally diverse region in the country.
---