The University of Houston has received the state's approval to offer the nation's first subsea engineering graduate program, which will teach the scientific and technical skills necessary to create the first generation of formally trained subsea engineering specialists.
The Texas Higher Education Coordinating Board recently approved UH's proposal to provide a graduate subsea engineering program, which is expected to begin in fall 2013. Currently, UH has a popular subsea engineering certification program.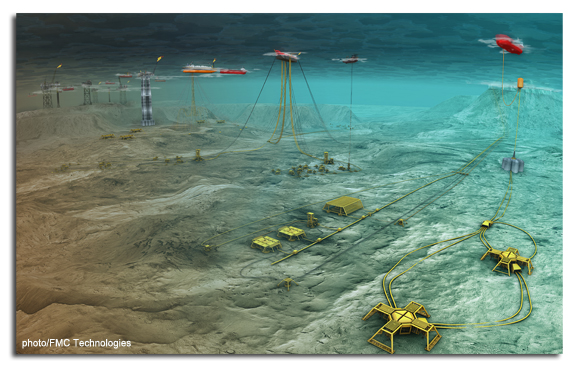 Formed in partnership with the world's leading energy engineering companies, the master's program will include classroom lectures and hands-on software education for subsea systems design. Courses will be taught by recognized experts in the industry.
"We are honored to provide the nation's first graduate program in subsea engineering. We know we can build on the success our certificate program with this enhanced master's curriculum," said Matthew Franchek, founding director of UH's subsea program and a mechanical engineering professor. "We are grateful to the Texas Higher Education Coordinating Board for its efforts to approve this ambitious initiative."
Offshore oil and gas reserves are increasingly important sources of energy. Some experts believe that billions of barrels of oil and trillions of cubic feet of natural gas lie within federally controlled waters in the Gulf of Mexico alone.
But these massive reserves lie underneath 10,000 feet of water, presenting unprecedented engineering challenges such as freezing temperatures, corrosive seawater and immense water pressure. The harsh underwater environment requires many operations to be automated or performed remotely.
A subsea engineer is responsible for the design, installation and maintenance of the equipment, tools and infrastructure used in the underwater phase of the offshore oil and gas drilling and production.
UH began its subsea engineering certificate program last year in response to the oil industry's increasing need for these skilled engineers. It was the first of its kind in the United States. Subsea engineering typically has not been considered a distinct discipline in the U.S., but a number of universities aboard offer degree programs in the field.
UH's graduate program will include lectures on basic engineering sciences and best of engineering practices in subsea engineering. There will be a major design project assigned and each course also will require a written project report, a technical presentation and the use of state-of-the-art subsea engineering software.
"UH received tremendous input for both of the subsea programs from industry experts, including Cameron, FMC Technologies and GE Oil & Gas," Franchek said.
The new program will dovetail into UH's growing petroleum engineering program, which two years ago established an undergraduate degree program in addition to its graduate curriculum.
"This is the latest effort UH has established in support of the area's energy sector," Franchek said. "Through this program, UH will produce students with a detailed understanding of how to overcome the unique challenges of deepwater exploration. They will be equipped with the skills needed to design better solutions to the obstacles encountered in underwater drilling."
About the University of Houston
               The University of Houston is a Carnegie-designated Tier One public research university recognized by The Princeton Review as one of the nation's best colleges for undergraduate education. UH serves the globally competitive Houston and Gulf Coast Region by providing world-class faculty, experiential learning and strategic industry partnerships. Located in the nation's fourth-largest city, UH serves more than 39,500 students in the most ethnically and culturally diverse region in the country.
---