Four University of Houston (UH) students are well on their way to emerging cancer research careers upon achieving significant milestones this spring in their work toward new therapies for prostate and breast cancer.

All studying at the UH Center for Nuclear Receptors and Cell Signaling (CNRCS), these students are examining what allows a person's DNA to be read and expressed, which is vital in developing treatments for cancer. Established in 2009, the CNRCS is one of the focal points of the UH Health initiative, with its researchers involved in examining the many functions and behaviors of nuclear receptors, a class of proteins that regulate genes in response to hormones.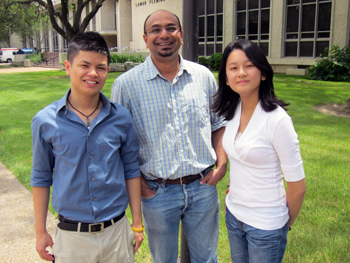 Three students studying prostate cancer in assistant professor Daniel Frigo's lab recently were selected for a trio of awards. As a principal investigator at the CNRCS, Frigo leads the research technicians, postdoctoral fellows and students in his lab to pursue a better understanding of the function of nuclear receptors in cancer through interdisciplinary research.

"We emphasize hands-on student participation at the center and provide training opportunities for select graduate and undergraduate students," said Frigo, who supervised all three award recipients. "These awards recognize the drive of these students and are significant accomplishments in their emerging cancer research careers."

Graduate student Jayantha Tennakoon, whose work focuses on examining how the class of steroid hormones called androgens promote prostate cancer, received an Outstanding Abstract Award for ENDO 2012, the upcoming 94th Annual Meeting and Expo of The Endocrine Society, which will be held this summer in Houston. He's most interested in how androgen, which controls the development and maintenance of masculine characteristics, fuels the spread and growth of cancer cells. By examining the cell signaling pathways, Tennakoon hopes to identify the specific molecules that provoke the cancer cells.

Undergraduate students Hannah Do and Peter Tran also will be working full time through the summer, with each being selected for a Summer Undergraduate Research Fellowship (SURF) awarded by the UH Office of Undergraduate Research. Do will be maintaining a drug library of novel molecules and then determine the role and effects of these molecules in contributing to the initiation and development of prostate cancer. Her goal is to isolate new therapeutic targets for treating advanced prostate cancer. The scale of her project is unique for the undergraduate level and will incorporate resources provided by the pharmaceutical companies GlaxoSmithKline and Roche.

Tran will be testing whether a specially modified version of a protein promotes the development of aggressive life-threatening prostate cancers. The project will be an extension of his current lab work and will set the foundation for potential future studies aimed at therapeutically targeting this unique protein variation. Tran's studies will be the first performed with the center's new advanced imaging system for in-depth monitoring of tumor growth and cancer progression, awarded by the Cancer Prevention and Research Institute of Texas.


In addition to these three students, who will be continuing their studies at UH this summer, another student became the first Ph.D. candidate of the 30 enrolled at the CNRCS to successfully defend her dissertation and graduate with her doctorate this spring. Eylem Aydogdu's devotion to human health issues compelled her to pursue a career in research that impacts the quality of life. Specifically, she focused her research on understanding the regulation of tiny genetic molecules in mammary stem-like cells and breast cancer. The goal of her research project was to identify the deviating regulatory mechanisms between cancerous and noncancerous stem cells in order to develop a treatment targeting cancer stem cells. She did this with microRNAs, which have been found to provide a promising way to control the patterns of gene expression that cause disease.

Following the successful defense of her dissertation, Aydogdu learned that her paper would be published in the journal Carcinogenesis, a monthly multi-disciplinary journal focused on genetics and exploring cancer-causing agents. The paper details the pivotal roles of microRNAs in stem cell biology and the creation of cancer, which is especially relevant to breast cancer therapeutics. With the help of her lab group and fellow researchers, Aydogdu was able to identify a set of microRNAs that represent possible drug targets for breast cancer treatment.

"Eylem is a truly skilled researcher in the emerging field of microRNAs in breast cancer," says Cecilia Williams, assistant professor and supervisor to Aydogdu. "She will be missed but we are proud to confer the first of many Ph.D.s trained at the center."

Led by world-renowned nuclear receptors researcher Dr. Jan-Åke Gustafsson, the CNRCS provides students hands-on training with researchers who are working on finding new treatments for an array of significant diseases, combining interdisciplinary study and collaboration with the Texas Medical Center and industry partners.
###
About the University of Houston
The University of Houston is a Carnegie-designated Tier One public research university recognized by The Princeton Review as one of the nation's best colleges for undergraduate education. UH serves the globally competitive Houston and Gulf Coast Region by providing world-class faculty, experiential learning and strategic industry partnerships. Located in the nation's fourth-largest city, UH serves more than 39,500 students in the most ethnically and culturally diverse region in the country. For more information about UH, visit http://www.uh.edu/news-events/.

To receive UH science news via e-mail, sign up for UH-SciNews.
For additional news alerts about UH, follow us on Facebook and Twitter.
---