A kinetic performance will come to life with dance, poetry and imagery as "red, black and GREEN: a blues" ("rbG:b"), a full-length, multimedia performance takes the stage at 8 p.m., Nov. 4 and 5 at the University of Houston's Lyndall Finley Wortham Theatre - Cynthia Woods Mitchell Center for the Arts. Doors will open at 7:30 p.m. for an installation viewing.
"rbG:b" confronts head-on the question of collective responsibility and environmental justice in a time of dramatic climate change. The performance will combine social engagement with artist presentation through idioms of hip-hop, theatre and choreography.
The research for "rbG:b" evolved through Life Is Living, a series of hip-hop based community festivals in urban parks featuring art, education and activism.  Life Is Living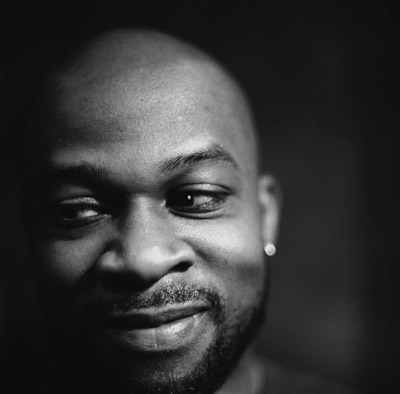 Houston took place on Nov. 6, 2010 in the Third Ward's Emancipation Park. Interviews, films and poems from those festivals are translated into artist forms for "rbG:b" that express the challenges of living a sustainable lifestyle in communities where crime and poor education pose more of a danger than a conservational crisis.  
" 'rbG:b' is a groundbreaking and powerful creation," said Karen Farber, director of the UH Cynthia Woods Mitchell Center for the Arts. "We at the Mitchell Center have been transformed by Marc Bamuthi Joseph's amazing talent and energy over the past several years and cannot wait to see this project travel nationwide, carrying with it narratives and images of Houston." 
Marc Bamuthi Joseph, the writer and performer for "rbG:b," partly developed the performance during his experimental research residency in Houston, hosted by the UH Cynthia Woods Mitchell Center for the Arts. Throughout his residency, Joseph was profoundly inspired as he lived in Project Row Houses and engaged with those communities who influenced his mastermind project.  Artist and community activist Rick Lowe of Project Row Houses appears as a character in the rbG:b performance. 
The production is divided into three different components, each with its own unique form.  The first titled "the colored museum" (inspired in part by the George C. Wolfe play of the same name) invites spectators on stage to look into the windows of living installations that represent four urban regions and the stories and movements that take place in these areas.
The next phase of the performance is "colors and muses" where audience members will return to their seats and watch as the piece extends beyond conversation and focuses on central figures in Houston, New York and Oakland.  Lastly, the audience will enter into the conversation phase with the artists as they open up the discussion. 
Seven artists including writer/performer Joseph, director Michael John Garcés, choreographer Stacey Printz, drummer/beatboxer Tommy Shepard, documentary filmmaker Eli Jacobs-Fantauzzi, lighting designer James 
Clotfelter and media designer David Szlasa will come together to showcase a unique research-to-performance methodology.  Joseph will be joined onstage by dancer/actor Traci Tolmaire.
An especially outstanding contribution to the work is the set designed by visual artist Theaster Gates, who also performs in the piece.  Gates has become known in Houston art circles over the past few years for his inclusion in the Contemporary Arts Museum's Hand + Made exhibition, during which he also offered a live performance.  His work has also recently appeared in the Whitney Biennial, and his community-based performances are rising in frequency and visibility throughout the US.
"rbG:b" will make its' stop at the University of Houston Cynthia Woods Mitchell Center for the Arts following its' premiere in San Francisco at the Yerba Buena Center for the Arts.  The performance will tour nationally, concluding in New York at BAM/Next Wave Fest in November of 2012.
Tickets and information www.mitchellcenterforarts.org.
About the University of Houston Cynthia Woods Mitchell Center for the Arts
The Cynthia Woods Mitchell Center for the Arts is dedicated to groundbreaking, transformative collaborations across the performing, visual, and literary arts. Based at the University of Houston, the Mitchell Center commissions and produces new works, presents public performances and exhibitions, offers curriculum and scholarships, and hosts residencies with renowned visiting artists from throughout the world. The Mitchell Center forms an alliance among five departments at UH: the School of Art, Moores School of Music, School of Theatre and Dance, Creative Writing Program, and Blaffer Art Museum.
---