The "grito" celebrating Cinco de Mayo, the historic date of Mexican independence, today may come from literary circles where "Latino literature" is being regarded more as "American literature," moving into mainstream genres.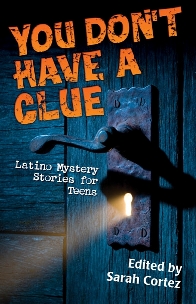 Case in point: the new collection of mystery stories edited by Houstonian Sarah Cortez.   "You Don't Have a Clue: Latino Mystery Stories for Teens" (Arte Público Press, 2011) includes tales about intergalactic criminals, 20th century assassins and the usual high school angst.  The collection reflects the universality of the teen experience-the topics, characters and writers' backgrounds just happen to be Latino.  
"A huge majority of both children and teens choose mysteries to read during their free selection reading periods," Cortez wrote in a blog post.  "It convinced me that a collection of short mystery fiction for the young adult market was a winner of an idea."
Cortez, along with contributing writers Gwendolyn Zepeda and Diana Lopez, will read from the collection at 6:30 p.m., Friday, May 6 at Murder By the Book, 2342 Bissonnet in Houston.  In addition to the thrills and chills the young Latino protagonists encounter, their situations prove to be typical for any young adults-first sexual encounters, problems with family and friends and academic and personal aspirations. 
"Beginning in the 1980s, Arte Público has been producing a steady stream of mystery/detective novels, written by authors such as Rolando Hinojosa and Lucha Corpi," said Nicolas Kanellos, director of Arte Público Press.  "This collection and others like, 'Hit List: The Best of Latino Mystery' continue to fill in literary gaps. 'You Don't Have a Clue' has the advantage of reaching teen readers."
The highly regarded 'Bulletin of the Center for Children's Books' recently affirmed that the new book of mystery stories "guarantees broad reader appeal," and called it, "an impressive collection."
"Cinco de Mayo is a celebration of a significant historical event. 'You Don't Have a Clue: Latino Mystery Stories for Teens,' and literature like it, offer reasons to celebrate what's happening now in the U.S.," Kanellos said. 
---