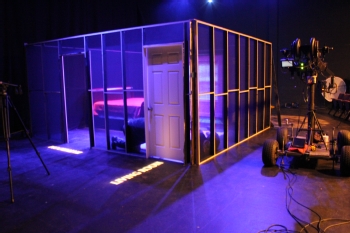 A group of University of Houston theater students weren't expecting to work on a long-running primetime television show this summer. Still, they have risen to the occasion after CBS producers approached them to assist with an episode of the award-winning news magazine "48 Hours Mystery."
A CBS crew has been on campus to tape segments that will be used in a fall 2011 episode focused on a controversial murder case in Fort Bend County. While the incident took place miles away, the crew needed an intimate theater space, as well as consultants with theatrical expertise. They found both at UH's School of Theatre & Dance.
Four students, a recent master of fine arts graduate and the school's director, Steve Wallace have been working with CBS to recreate the murder scene (a bedroom), provide lighting design and develop projections.
"Theater is a great training ground, and it reaches into so many areas including television," Wallace said. "We have the tools to do this. We have the team to do this. They needed somebody who understood what they were trying to do. It's a great experience for everyone, particularly the students."
Wallace added that this project is not too out of the ordinary for UH theater students. Theater, television and film are connected in many ways, he said.
"All three industries produce works differently, but they use the same kinds of professionals...stage managers, lighting designers, costumers," said Wallance, who has professional ties to both theater and television. "Our school aims to prepare student for careers in all of these industries."
Jacob Davis, who just received his MFA from the school, is among those benefitting from the extra work this summer. He is working on lighting and projections for the taping and is learning the subtle differences between stage and small screen.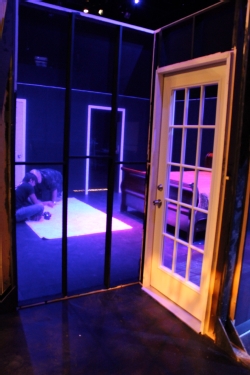 "It's an interesting process," he said. "In theater, everyone tries to capture specific emotions. In television it's more about what the camera picks up. I'm used to seeing a script and being guided by text. The TV shoot is more open-ended."
In recreating the murder scene, all of the dimensions had to match those of the original bedroom. The CBS production staff provided the measurements and lighting requirements to the UH team, who immediately put together a solid replica of the room where a man met his fate at the hands of his wife.
There's still more work to do, but the CBS crew is applauding the students' hard work and quick commitment to this project. Veteran journalist and "48 Hours" correspondent Richard Schlesinger said that he's been particularly impressed by how well everyone has adapted their talents to accommodating a TV shoot.
"We found a very eager workforce here at UH," he said. "It's gone like clockwork. These are students who wanted to get some experience building sets, and they did so under our editorial supervision. That was obviously new for them, but it's worked out really well."
Schlesinger is following up on a previous "48 Hours Mystery" story that focused on Charlene Hill, who admitted to shooting her husband in self-defense in 2006. A trial in 2009 resulted in a hung jury. A second trial concluded this year and through a plea deal, Hill received 10 years deferred adjudication.
---