This summer, students from the University of Houston's Graduate Design/Build Studio (GDBS) worked diligently designing and constructing a new outdoor amphitheater for Houston's T.H. Rogers School. Now, they're ready to observe the fruits of their labors with T.H. Rogers faculty, students and parents.
At 1:30 p.m., Oct. 8, the T.H. Rogers Parent Teacher Organization and GDBS will celebrate the completion of the amphitheater, which will serve as a space for both learning and socializing. During this ceremony, T.H. Rogers students will deliver performances in the new amphitheater.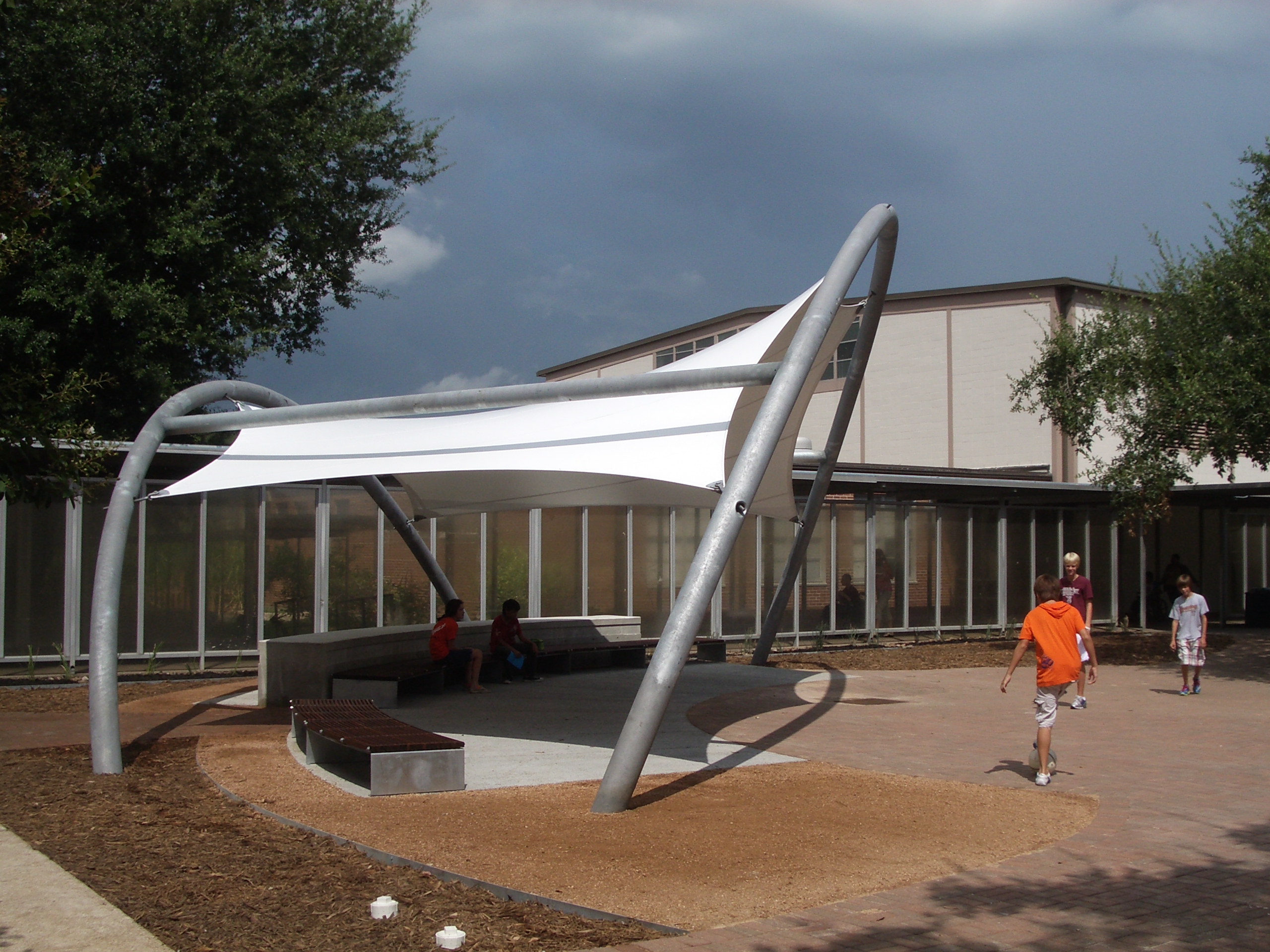 "Our students worked exceptionally hard on this project, and it shows," said Patrick Peters, GDBS director. "It was an incredible learning process for them, and I am pleased to see that the amphitheater will continue to serve students as a tool for education."
The T.H. Rogers amphitheater is wheelchair accessible and includes three levels of bench seating and a stage.  Arched steel beams extend overhead and support a tensile fabric canopy. It is GDBS' 21st project.
The project  kicked off in April and continued through August. GDBS students rendered its design and took the lead role in its construction.
The studio is part of UH's Gerald D. Hines College of Architecture. Each year, it creates community-enhancing projects for Houston non-profit organizations. Past projects have included an outdoor classroom and film projection canopy at Hamilton Middle School, an outdoor performing arts stage at Roberts Elementary School and an ecological classroom for the UH Charter School.
Projects are funded by clients with support from donors. The organizations that have contributed resources and expertise to the T.H. Rogers amphitheater project are Morris Architects, Murrell Tensile Works LLC, United Galvanizing Inc., Tolunay-Wong Engineers, CMC Construction Services, Bovis Lend Lease, Asakura Robinson Co., W.S. Bellows Construction Group, Ground Hog Foundation Drilling, Bright Landscape Designs, CBM Engineers Inc., Southern Star Concrete, Grounds Anderson LLC, School of Automotive Machinists, Tree Care Inc. and Tree Town USA.
To learn more about UH's Graduate Design/Build Studio, visit its website at http://www.uh.edu/gdbs/.
| | |
| --- | --- |
| WHAT: | Celebration for T.H. Rogers Amphitheater |
| WHEN: | 1:30 p.m., Oct. 8 |
| WHERE: | T.H. Rogers School (5840 San Felipe St.) |
| WHO: | UH Graduate Design/Build Studio, T.H. Rogers Parent Teacher Organization |
---