After seven decades of performing around the globe, legendary pianist Abbey Simon - now 88 years old - is showing no signs of slowing down. He continues to travel to concert halls far and wide and perform for countless admirers. The next stop on Simon's busy performance schedule is the familiar stage of the University of Houston's Moores Opera House.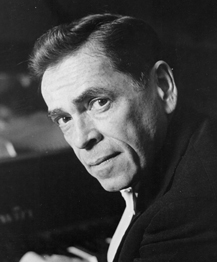 Simon, who holds UH's Hugh Roy and Lillie Cranz Cullen Distinguished Professorship, will perform alongside the acclaimed Moores Symphony Orchestra under the direction of Franz Krager at 7:30 p.m., Oct. 1. Simon will be featured during Beethoven's "Piano Concerto No. 3 in C Minor, Op. 37." The symphony also will perform "Trojan March" (from opera "Les Troyens") by Hector Berlioz and  Tchaikovsky's "Symphony No. 4 in F minor, Op. 36." Reserved seating tickets are $15 for general admission, and $10 for UH faculty/staff/alumni, students and seniors. To order tickets or for additional details, call 713-743-3313.
A natural behind the keys, Simon has been playing the piano since he was 3 years old and recalls the first time he sat down at the keys.
"Music was playing on the radio, and I just sat down and began recreating what I heard," he said. "I knew what keys were being played. I had absolute perfect pitch."
At age 11, Simon was invited to the exclusive Curtis Institute of Music in Philadelphia. Trained by some of the era's top pianists (including virtuoso composer Josef Hofmann), Simon quickly grew into a world-class musician.
Not long after graduating, a young Simon earned the prestigious Walter Naumburg Prize in 1940. The award led to a recital at New York City's famed Town Hall followed by performances at Carnegie Hall and worldwide tours.
In 1977, Simon arrived at UH at the invitation of then-music school director Milton Katims. Among his lasting contributions to the university is the International Piano Festival. He founded the festival in 1984, with the goal of bringing top professional pianists to campus for master classes and recitals. Since then, the festival has flourished, and Simon is among its participating performers and teachers. 
"When the festival first started, I was able to convince many of my friends, including John Browning and many other great pianists to come here," he said. "Lo and behold, the festival was a sell out! People began to come from around the region to attend this event. To this day, it continues to be very popular."
Simon's recitals and master classes continue to be a cornerstone of this annual festival. Even when he's not officially teaching young pianists, students at the Moores School of Music still receive an education from his mere presence on campus.
As Krager puts it, Simon's vast musical experience personally connects him with musicians from three different centuries. Students gain so much knowledge by talking to him or even simply watching him at work.
"He represents the 21st century because he's still performing. He represents the 20th century because that's when he built his career. And he has a direct connection to the 19th century because the people who taught him were from that era," Krager said. "When young people can have the experience of performing with someone like Abbey Simon, they essentially connect with an artist whose knowledge spans across generations. He is a treasure for the university, and I am pleased to have him as part of our concert on Oct. 1."
The Moores School of Music is one of the premier music schools in America. Offering bachelor's, master's and doctoral degrees, it serves approximately 600 students annually. Areas of study include composition, conducting, performance, theory and musicology. Its faculty consists of internationally recognized performers, composers and scholars. Among its ensembles are the Moores School Symphony Orchestra, Moores Jazz Ensemble, Moores Opera Center, Concert Chorale, Concert Women's Chorus, Spirit of Houston Cougar Marching Band, Wind Ensemble and Percussion Ensemble. A majority of the school's concerts are performed in the 800-seat Moores Opera House. For more details on the Moores School of Music, visit http://www.music.uh.edu/.
---