Media Archeology Festival curator Mary Magsamen didn't have to dig very deep to find artists or projects. Instead, she merely looked in her own backyard and found Texas-based multimedia innovators ready to entertain and engage Houstonians.
Media Archeology Festival: Texas Focus will showcase free site-specific multimedia events around Houston. The event is presented by Houston's Aurora Picture Show in collaboration with the University of Houston's Mitchell Center for the Arts.
"The festival mixes live cinema with performances, video, film and music," said Magsamen, who also teaches classes for the Mitchell Center's Interdisciplinary Arts program. "Media Archeology events are all about the connection between media and focusing on an expanded idea of what media is."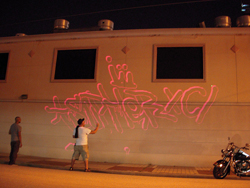 Media Archeology kicks off at 8 p.m., Sept. 16 at the Aurora Picture Show Video Library (1524 Sul Ross St.) with Laser Graffiti. Presented by Graffiti Research Lab Houston, the outdoor event will provide the audience with an opportunity to create its own wall art on the side of the neighboring Menil Collection. Instead of spray paint, would-be graffiti artists will use lasers or text messages. Simultaneous projections of actual graffiti imagery also will be displayed to provoke thoughts and questions regarding the art form.
At 8 p.m., Sept. 17, Potter-Belmar Labs (husband and wife artist team Leslie Raymond and Jay Stevens) from San Antonio will present "I Am Curious Remix" at Houston's Heights Theater (339 W. 19th St.). This video presentation/performance draws inspiration from a fire that nearly destroyed this theater during a screening of Vilgot Sjöman's controversial film "I am Curious (Yellow)" in 1969. Using clips from that film and its companion "I am Curious (Blue)," Raymond and Stevens will explore themes of censorship and violence. Due to adult content,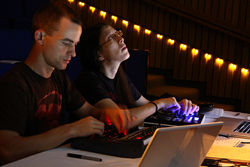 this event is recommended for mature audiences.
"Part of our interest in playing with these films is from a media archaeological perspective," said Jay Stevens of Potter-Belmar Labs.  "'I am Curious (Yellow)' is the centerpiece of a little-known chapter in Houston's history. Censorship protests of this movie sparked the arson of the Heights Theater. The film also was at the center of a very important national debate and trials over censorship and art in the early 1970s. Both 'Curious' films constitute a sweeping experimental work that confronts myriad issues of the turbulent age in which they were made. They also happen to mirror ongoing phenomenon our culture is experiencing 40 years later."
The festival will conclude with noted Austin artist Luke Savisky's interactive projection performance "E/x" at 8 p.m., Sept. 18. Savisky will project a host of images - including audience members' faces and bodies -- on the abandoned grain silos at the Buffalo Bayou Partnership's East End site (490 N. Live Oak). Pulsating lights and clips from Savisky's collection of 16 mm and 35 mm films will add to this visual spectacle. Augmenting the larger-than-life presentation will be a soundscape created by Austin-based duo Stars of the Lid.
This is the ninth year that the Aurora Picture Show has presented Media Archeology and the third year the Mitchell Center has collaborated on the festival. Bree Edwards, Mitchell Center director of programs served as curator for Media Archeology: Liquid Light to the Laptop in 2009.
For more details on Media Archeology Festival: Texas Focus, visit www.mitchellcenterforarts or www.aurorapictureshow.org.
###
---