It's not every day that a college student with zero stage experience earns A role in a with a major opera company's production. Luckily, every singer has his day, and this one belonged to University of Houston sophomore tenor Austin Dean.
Dean, a music education major in UH's Moores School of Music, recently was cast in Houston Grand Opera's "Dead Man Walking." The opera (based on the book by Sister Helen Prejean) runs Jan. 22 - Feb. 6 in HGO's Brown Theater.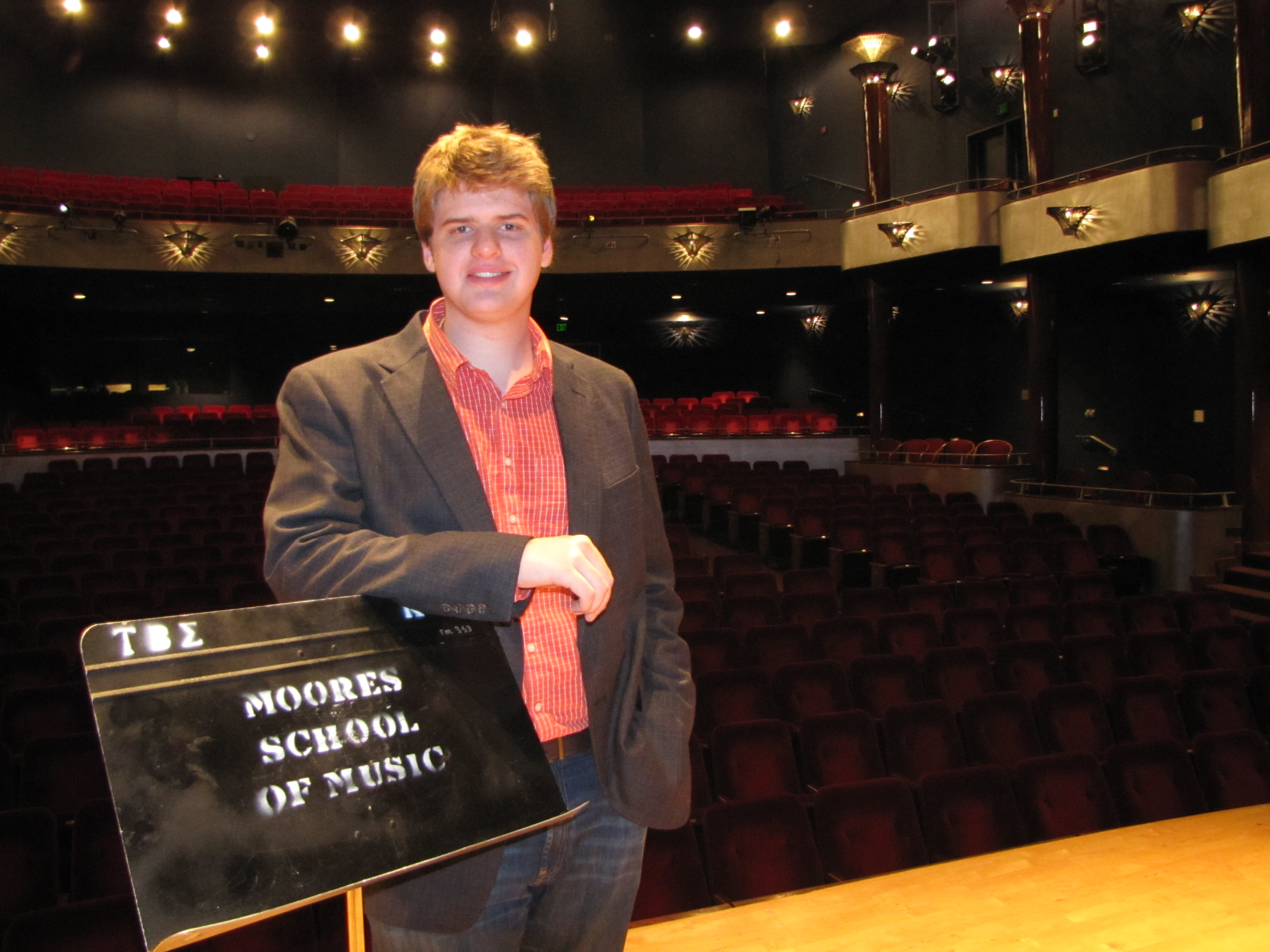 Dean will perform the supporting role of "Older Brother," a sibling of character Joseph De Rocher (played by Philip Cutlip).
"I almost hit the floor when I received the email telling me that I got the part," Dean said. "I printed it out and took it straight to my voice instructor Melanie Sonnenberg. At that moment, I thought this is it...this is my time."
A native of Baytown, Texas, Dean has been singing since the age of 6. As a child, he gave up singing for a few years, but picked it up again as a sophomore at Baytown Sterling High School. His older sister encouraged him to revisit his vocal talents and introduced him to the school's choir director. Following that meeting, Dean began performing with his high school choir. He also was a member of the Texas All-State Choir for two years in a row.
After graduating from high school, Dean headed straight to the UH Moores School of Music, where he continues to develop his talents as a musician and as an aspiring teacher.
His university experience also connected him with Melanie Sonnenberg, associate professor of vocal studies. She has served as Dean's mentor at UH. He said that her guidance was extremely helpful during the auditions for "Dead Man Walking."
Dean said he was initially discouraged during the first auditions. He believed his voice sounded too young in comparison to the other singers competing for the part. Sonnenberg reassured Dean and offered sage advice.
"She told me to be completely honest," he said. "She told me that the best thing I could do was to give the director the best representation of what my voice sounds like right now. I tried my best to follow this advice."
Although Dean might have been initially unsure about the auditions, Sonnenberg believed in his talents. In spite of his inexperience, she knew that he was a worthy candidate for this role.
"Even though this entire process was new to Austin, he maintained his cool," Sonnenberg said. "I had a very positive vibe that he would do well. He had all the right qualities, in that he was youthful, musical and genuine."
Dean is wrapping up the fall semester and will keep busy during the holiday break with "Dead Man Walking" rehearsals.
"Dead Man Walking" is the debut opera from Jake Heggie and features a libretto by Terrence McNally. It follows the story of death row inmate Joseph De Rocher and his relationship with nun Sister Helen. Convicted of murder, De Rocher is counseled by Helen, who attempts to obtain a confession and ultimately help him receive spiritual forgiveness. The HGO production is directed by Leonard Foglia. Other cast members include Jean DiDonato as Sister Jean and famed mezzo-soprano Frederica Von Stade as DeRocher's mother.
"Dead Man Walking" is providing Dean with a rare opportunity, and he said it would not be possible without the Moores School of Music. He credits faculty such as Sonnenberg and Betsy Cook Weber with his artistic growth and is looking forward to transferring their lessons from the rehearsal studio to the performance stage.
"Working with the Moores instructors and my fellow students has been a great experience," he said. "I am learning a lot and continuing to develop. It's very gratifying to be surrounded by so many talented people. I think that in itself can make me a stronger musician."
---