Houston has long maintained unique cultural and economic landscapes. Comprised of 88 super neighborhoods, the city continues to grow in population, but commercial development in some areas has stalled.
University of Houston architecture professors Rafael Longoria and Susan Rogers recently explored four of Houston's super neighborhoods: the Greater Third Ward, Harrisbug/Manchester, Independence Heights and Greater Heights. Their investigation of these areas and strategies for revitalization are documented in a new book "Collaborative Community Design Initiative: Corridors."
"We selected four neighborhoods with one thing in common," Longoria said. "At one time, all of these neighborhoods were thriving commercial districts. Because of various reasons, commerce disappeared from these areas. One thing that we focus on in our research is how to take advantage of all of these abandoned commercial buildings."
Longoria and Rogers conducted field research and mapped each of these areas. They also met with community leaders to learn more about these neighborhoods and the concerns and needs of residents.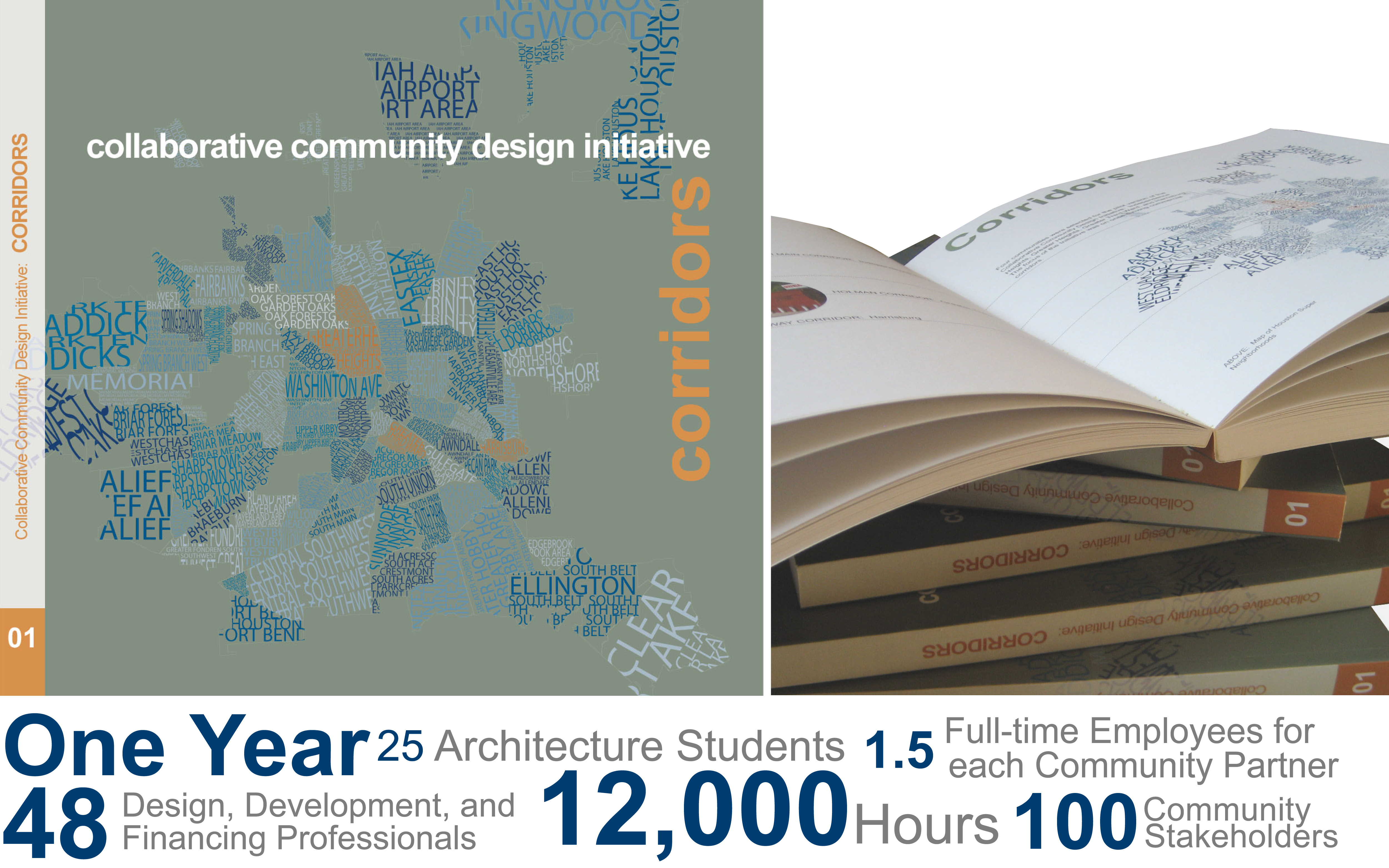 Once data was collected, Longoria and Rogers devised strategies aimed at promoting positive change in the respective communities. Strategies were developed in collaboration with UH architecture students, professionals and community stakeholders. These strategies address issues related to physical and cultural landscapes, the environment, economy, housing, infrastructure, public space and broader community concerns.
 "The strategies are tools for community change, and work at different scales-from the neighborhood, to the block, to the lot-and across different issues from ecology, to economics, to culture," Rogers said. "The strategies are catalysts, building on the existing strengths of the communities."      
Strategies were developed using eight principles:
Mix - Creating places for community members to interact
Thread - Creating pedestrian walkways and street amenities that connect places along a corridor
Patch - Building civic and public places in underutilized or vacant spaces
Fill - Eliminating vacant spaces by inserting commercial, residential or natural developments.
Frame - Using new programs such as housing or retail outlets to shape and focus public spaces
Anchor - Introducing civic and public programs such as libraries or community centers to serve as gathering places and spark additional private investment
Spark - Activating underutilized spaces and introducing layers of additional programs that make these spaces more useful (locating farmer's markets or performance/art spaces in unused lots)
Sow - Building partnerships within and outside of communities to achieve a vision
"The plans and strategies developed through the Collaborative Community Design Initiative are a guide for change in our four partner communities, as well as a resource for communities throughout Houston and elsewhere that are facing similar challenges," Rogers said.  
 "Before you start a trip, you need to know where you want to go," Longoria said. "Similarly, every community needs to reach a consensus about what they want to achieve before it figures out how to get there. Once the goals are clear, a community vision can be implemented, and several of our community partners have already begun moving forward on projects identified through the program."
These four super neighborhoods are just the beginning for Longoria and Rogers. Both professors led this recent research effort as part of UH's Collaborative Community Design Initiative (CCDI). The "Corridors" book is the first volume in the CCDI series. Future texts will focus on other Houston super neighborhoods.
CCDI is a program of UH Gerald D. Hines College of Architecture's Community Design Resource Center that builds partnerships between communities, faculty, students and professionals in design, planning, real estate and community development. The center works to promote sustainable and comprehensive community change. To learn more about the Community Design Resource Center, visit http://www.arch.uh.edu/resources.php?cdrc.
For a copy of the book, contact Susan Rogers at skrogers@mail.uh.edu.
---