During the spring 2010 semester, students from the Gerald D. Hines College of Architecture and the School of Art's Graphic Communications Program teamed up to help change the face of Japhet Creek through the project "Dis(solve): Natural Signs."
 Using biodegradable and recyclable materials, students designed and fabricated signs, benches and other amenities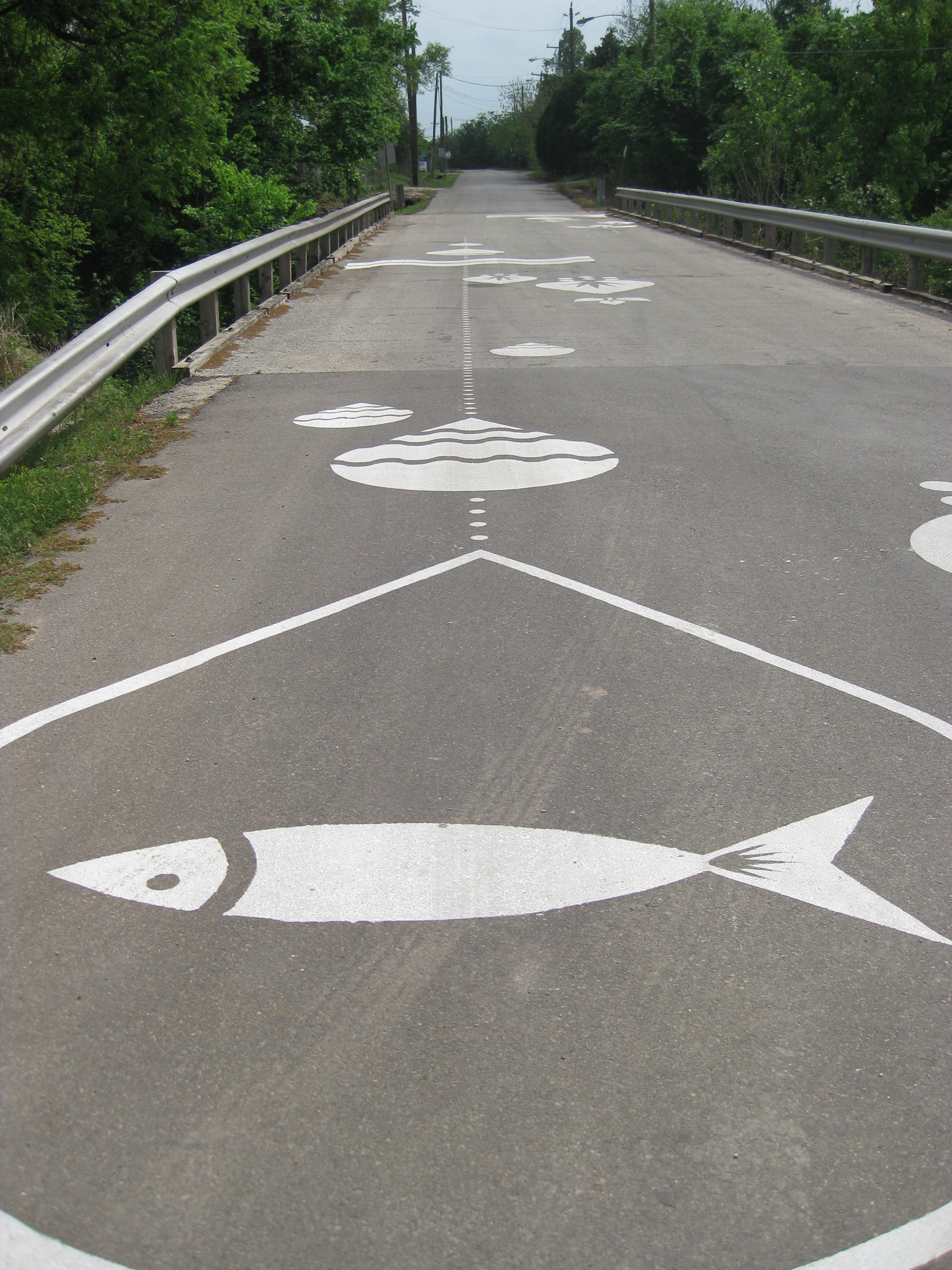 for this unique natural refuge that's just minutes from downtown Houston. Led by architecture professor Patrick Peters and graphic communications professor Cheryl Beckett, students created items that were both functional (a storage area for landscaping tools) and educational (informational graphics containing facts about Japhet Creek and the environment).
Now, Peters, Beckett and students are being recognized with the Mayor's Proud Partner Award. Presented annually through Keep Houston Beautiful, the award honors projects that enhance and beautify the city. Peters, Beckett and their students will officially receive this honor on Nov. 15 during the 26th Annual Proud Partners Luncheon at Houston's Westin Oaks Hotel.
"Working on a project such as "Dis(solve)" was a rewarding experience for everyone involved. To receive this award from Keep Houston Beautiful is a bonus," Peters said. "Our hope is that this award will not only bring attention to our work, but also inspire others to create projects that enhance our city's natural landscape."
Japhet Creek, at the intersection of Clinton Drive and Emile Street, is the first of Houston's Green Fingers projects. This initiative is focused on forming parks along bayous and creeks that feed into Buffalo Bayou.
"Dis(solve)" was commissioned by the Greater East End Management District, and funding was provided through a Center for Environmental Law and Policy grant. For this project, students developed nine amenities for Japhet Creek. Several of these works will break down and be absorbed into the environment over time, while others were constructed from recycled goods. These works include:
Directional Map: Stenciled icons and graphics on the street to guide visitors to the creek
Filtration Station: A repurposed shipping container transformed into a storage area and information center with a green roof that doubles as a water filtration system
Green Benches: Grass grows on and around these benches made from wood, cardboard, plastic and metal. Each is an encapsulated message and examples of the rate materials decompose in the environment. One bench is composed entirely of recycled election yard signs
Green Finger Filters: An educational tool that demonstrates how water is cleansed as it flows downstream
Modscape: Benches and planters composed of biodegradable materials, which will slowly break down over time. When Modscape dissolves, plant material will remain
Trash Extraction Device (TED): An end-of-pipe containment system that captures trash from storm drains before it enters the ecosystem
Trestle Poetry: Underneath the Emile Street bridge, at the site of a spring, letters (composed of recycled steel) spell out "clean, pure, wonder"
Tube Identity Fence: To give the park a street presence, a large scale "Japhet Creek" sign cut out of salvaged steel serves as marker to attract visitors to the site
Waste Oasis: A recycle dumpster has been reconditioned into a space for visitors to rest and contemplate nature
"Receiving the Proud Partner award speaks to the success of the architecture and graphic design students' collaborative efforts," Beckett said. "This particular partnership had benefits for Japhet Creek, but it also was very valuable for the students. It helped them understand new disciplines. As they enter the workforce, their ability to create a positive difference to a community is reinforced along with a reminder that what they make has impact on the built environment."
Organizations that donated resources and support to this project were Debner + Company, J.L. Proler Southwest, city of Houston Parks and Recreation Department, Buffalo Bayou Partnership, Japhet Creek Community Association and Trees for Houston.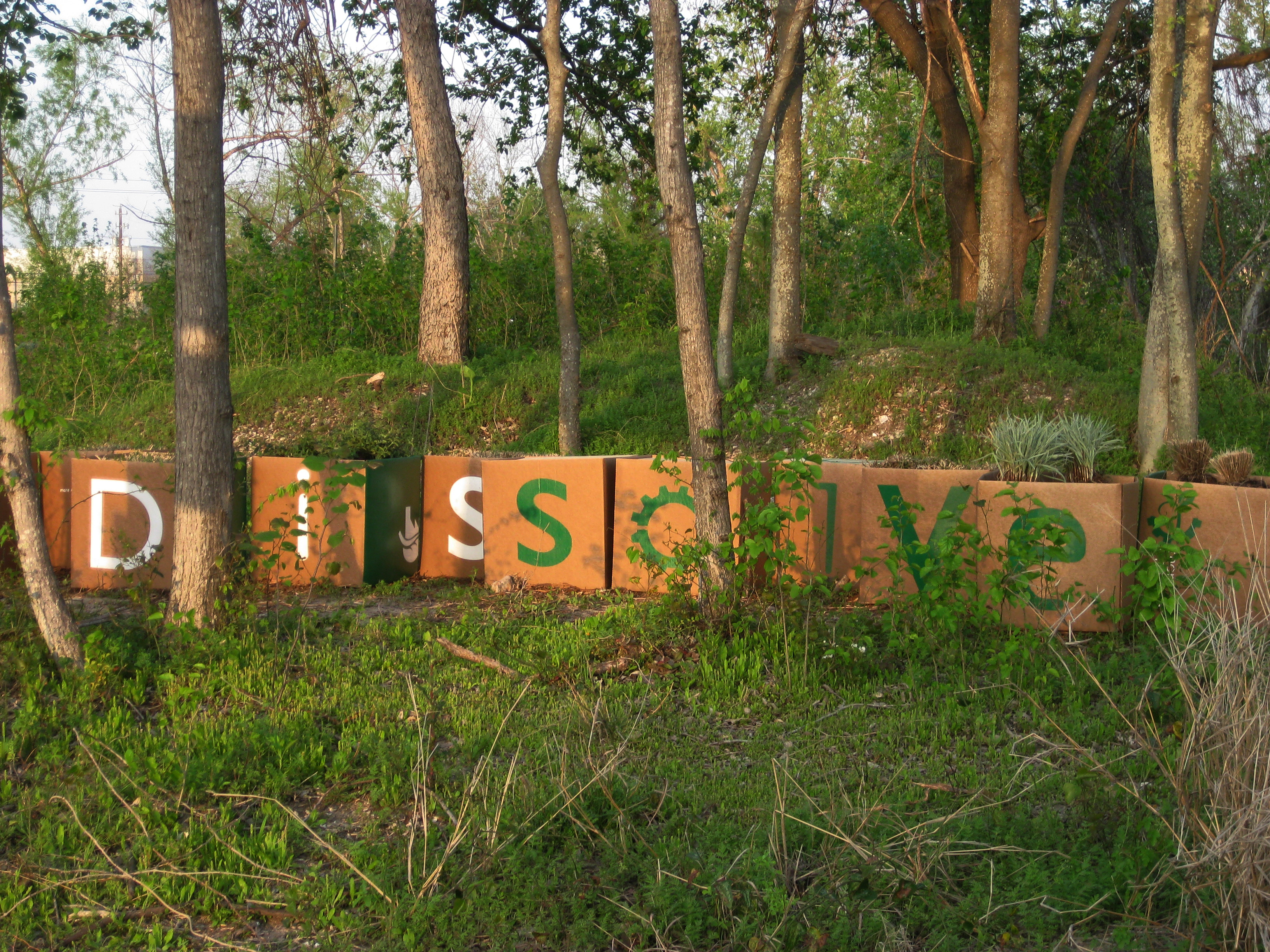 Japhet Creek is one of the last tributaries of Houston's Buffalo Bayou that hasn't been covered or channeled. As a natural stream, it is protected by the federal Green Fingers Program. Volunteers from the Buffalo Bayou Partnership and other community organizations help maintain the site. To learn more about Japhet Creek, visit http://www.buffalobayou.org/japhetcreek.html.
For more details on Keep Houston Beautiful and the Mayor's Proud Partner Award, visit http://www.houstonbeautiful.org/.
---