Keith Byron Kirk can act, sing, direct and write. Soon, students at the University of Houston's School of Theatre and Dance will discover that this multi-faceted performer also can teach.
This fall, Kirk will join the school's acclaimed faculty as an assistant professor.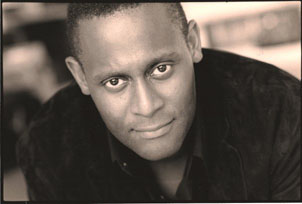 Kirk is no stranger to the university. From 1986 - 1987, he served as a research assistant for visiting artist Ntozake Shange. During this period, he developed lasting relationships within the city's theater community and was part of the Alley Theatre's Young Company Program. He also performed with the city's Ensemble Theatre.
"I've made a lot of friends in Houston over the years," he said. "I am certainly glad to be back in town. The thing that really drew me to the university was that it provides students with greater focus on contemporary theater and the inner workings of the entertainment industry."
Kirk certainly knows the business. The veteran artist has performed on Broadway in "The Civil War," King David" and "The Piano Lesson." He also has starred in national productions of "Evita," "Miss Saigon," "The Civil War" and "The Color Purple," as well as a recent London production of "Porgy and Bess."
As a writer, Kirk has contributed his talents to the Transport Group's production of "The Audience." He also created a one-man play, "Parable," detailing the complicated relationship between singer Marvin Gaye and his father. Kirk also had a hand in writing the book for a musical based on the Montgomery Bus Boycott and is writing a new play "Concealment/Coloration in the Animal Kingdom."
"I'd like to be very frank with them about the business," he said. "Ultimately, it's seen by many as just that...a business. There is a fantastical aspect of theater, where individuals seek fame or stardom. Sometimes, they forget that it is a business. It's important for them to know that the 'art' of theater is the reward that comes when you get through the business aspect of it...the auditioning...earning a living.  Many people are indeed successful in the theatre, and I want to help students see that the pursuit of their art, the cultivation of their artistic identity and self, can be attained. It can be done."
During his first semester at UH, Kirk will teach a course that explores performance practices and dramatic narratives and how they are often recontextualized and adapted. The course will explore the impact of varied cultures and how each can use varied genres and historical periods in the creation and presentation of dramatic works.
Kirk received his bachelor's degree from State University of New York and his master's degree from New York University. He is completing is doctorate at Northwestern University.
"Keith's background as a performer and his current work in dramaturgy and theatre history allow him to teach a range of classes," said Steven Wallace, director of UH's School of Theatre and Dance. "We are proud to add him to our roll of colleagues which includes exceptional faculty of national standing in acting, design, dramaturgy and history."
---