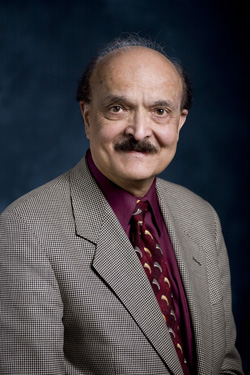 Surendra P. Shah, visiting professor at the University of Houston Cullen College of Engineering and Walter P. Murphy Professor of Civil and Environmental Engineering at Northwestern University, was recently inducted into the Chinese Academy of Engineering (CAE) as a foreign member. Shah is one of only four engineers in the world - and the only civil engineer - who is a member of the CAE and the United States National Academy of Engineering and a fellow in the Indian National Academy of Engineering.
These are among the highest professional distinctions bestowed to engineers in each respective country. The honorary academies advise government and industries on science and technology issues, research and development.
"These academies play a very important role in guiding the science and technology policies of these countries," said Shah. "I am looking forward to helping solve some of the critical global issues facing the United States, China and India through the three academies."
Shah was conferred this most recent membership at the 10th general assembly of CAE in Beijing, attended by Chinese President Hu Jintao. Shah is one of only 36 foreigners to earn membership into the CAE since its establishment in 1994.
Shah will join the UH engineering faculty full time in January. He is currently serving a year-long appointment at UH involving the promotion of interdisciplinary research and education on concrete materials. Specifically, he is working with UH researchers across engineering disciplines, research facilities and colleges to pioneer greener, more durable cement-like materials that will improve the nation's aging infrastructure over the next century.
Advanced materials are an interdisciplinary research focus at UH. Projects include the development of novel materials of nano-, high temperature superconductive, composite and magnetic properties that will serve in environments from space to subsea, and impact everything from infrastructure to industry, including medicine and energy.
Shah also is director of the National Science Foundation-funded Center for Advanced Cement-Based Materials at Northwestern, where he has been a faculty member since 1981. He is conducting research at both institutions during his UH appointment. Shah earned his bachelor's, master's and Ph.D. degrees in civil engineering from India's Birla Vishvakarma Mahavidyalaya Engineering College, Lehigh University and Cornell University, respectively. 
About the University of Houston   
The University of Houston is a comprehensive national research institution serving the globally competitive Houston and Gulf Coast Region by providing world-class faculty, experiential learning and strategic industry partnerships. UH serves 37,000 students in the nation's fourth-largest city, located in the most ethnically and culturally diverse region in the country.
 For more information about UH visit the university's Newsroom at www.uh.edu/admin/media/newsroom               
---