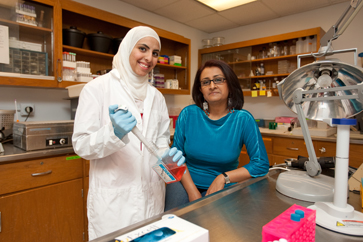 University of Houston student Nada Sarraj is busier than ever these days. But it's a good kind of busy.
Between keeping up with a full load of courses and applying to graduate school, Sarraj is preparing for a trip to Washington, D.C., to participate at "Posters on the Hill" on April 13.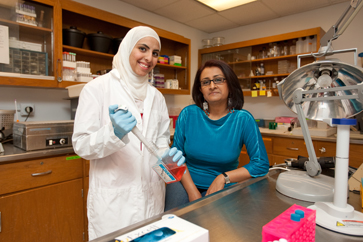 Sponsored by the Council of Undergraduate Research (CUR), the annual event showcases students' research efforts to members of Congress and representatives of higher education funding agencies.
At "Posters on the Hill," Sarraj, a senior nutrition major in UH's Health and Human Performance department, will present her poster detailing research on the effects of exercise in alleviating stress. This poster, "Moderate Treadmill Exercise Prevents Oxidative Stress-Induced Anxiety-like behavior in Rats," will be showcased in the Rayburn House Building, which is one of facilities used by the U.S. House of Representatives.
Representatives Sheila Jackson Lee and Ron Paul and senators John Cornyn and Kay Bailey Hutchison have been invited to view Sarraj's work.
"This is a wonderful opportunity, and I look forward to both presenting this poster and representing UH," said Sarraj. "I am particularly excited about this event because I get to share the experience with my mentor Dr. Samina Salim, who will accompany me to the Capitol. She is amazing. She's taught me everything I know about research. "
Under the guidance of Salim, research assistant professor in the UH College of Pharmacy, she compared two groups of rats that were exposed to anxiety-inducing medications. One group was exercised regularly, and the other group had limited physical activity. At the conclusion of the study, Salim and Sarraj found that the rats with prior exercise had little to no oxidative stress or anxiety.
"When I was seeking student volunteers last year, Nada convinced me that she was genuinely interested in my research and would appreciate the opportunity to learn. I was impressed with her persistence, determination and curiosity," Salim said.
In addition to volunteering in Salim's lab, Sarraj received a Summer Undergraduate Research Fellowship at UH (SURF-UH) that allowed her to continue working with and learning from her mentor. The experience significantly broadened her research abilities.
Along with Salim and other researchers, Sarraj is credited as an author in a recent international journal article published in Behavioral Brain Research. She also has contributed to a presentation of an abstract for the 2009 Society for Neuroscience Meeting.
Sarraj will graduate in May and plans to attend pharmacy school.
"Nada is an exceptional model of how students can succeed in research under the mentorship of a faculty member," said John Antel, senior vice president for academic affairs and provost. "At UH, undergraduates benefit from attending an emerging Tier-One institution with access to student research and travel fellowship programs, leading researchers and state-of-the-art research facilities."
Sarraj's participation at "Posters on the Hill" is aided through the support of UH's Office of Undergraduate Discovery Programs. The office oversees the university's Learning through Discovery Initiative, which is aimed at bolstering undergraduate students' research abilities, providing research resources and partnering them with mentors.
Administered through The Honors College, SURF-UH seeks to provide funding for rising UH sophomores, juniors, and seniors to participate in a 10-week research experience under the direction of UH faculty. For more details on this program, visit http://www.uh.edu/honors/undergraduate-research/uh-research/surf/index.php.
To learn more about "Posters on the Hill," visit http://www.cur.org/poh/programinfo.html. 
For additional details on the Office of Undergraduate Discovery Programs and the Learning through Discovery Initiative, visit http://www.uh.edu/discovery/.
---