Oral Finals: Conversations and Connections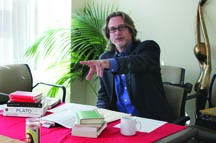 "All these texts we've read pursue a connection between the living and the dead; who among the dead haunts you and why?" This question is one that might have launched a recent oral final exam for the Human Situation, starting a conversation about the texts, themes, and ideas from the course. Oral finals have been the culminating event for the Human Situation—replacing the written final—since the late Professor Ross Lence launched the idea in 2003. 
Alpha team leader Dr. Iain Morrisson recalled, "Dr. Lence believed an oral exam would be a distinctive trademark for the Human Situation and would provide a connection to other classic liberal arts courses." As Human Situation coordinator Dr. Richard Armstrong commented, "There is a notion that a liberally educated person can read the great books and talk about them." The oral final lets students prove to themselves and to their instructors that they have these skills. 
The oral final piloted for about four years in Team Omega, until the deans and team leaders merged the best practices from both teams to create a more uniform Human Sit experience. Now, the oral finals give students and faculty alike a chance to get to know those outside their own discussion sections. Like the grading for lecture papers for the course, students sit for the 20-minute exam with a professor from their team (Alpha or Omega) who is not their discussion leader. "Getting to know other students helps us develop their talents and foster relationships," commented Dr. Morrisson. "Then we can help students by introducing them to programs and courses they might not otherwise find." Students like getting to know other professors better, too. "I love oral finals because they allow for a deeper connection with professors and a greater understanding of the themes and ideas," said senior economics major Diego Cervantes. "The experience made me a much better student in all my other classes."
At their best, oral finals become conversations. One benefit of these discussions, said Professor Armstrong, is that "the oral final becomes more than just an assessment—it becomes a final teaching moment." Dr. Jonathan Zecher agreed. "During questioning I find students who have assumptions they haven't challenged when thinking about the texts." Plus, as Professor Morrisson said, "The oral exam really puts a spotlight on the student. There's no hiding out; it's a direct, immediate intellectual experience" that serves as the perfect capstone to their work in the course.
One of the best surprises that can happen for student or faculty is when they connect with each other over their reactions to the texts. Said freshman Erika Lai, "I used to wonder, 'Am I the only one who gets so excited about books?' But I found when talking to Dr. Mikics during my exam that we shared a love of the texts and connections."
Faculty members also agree that the skillset required by the oral final makes good preparation for students' futures. Students practice articulating their ideas and learn to volunteer their thoughts. "They are thinking on their feet and learning to mix preparation and improvisation—good skills for a job interview," said Professor Zecher. Rising senior Chris Powell reflected that oral finals encourage "more variety in how you discuss topics, and the purpose-driven discussion builds confidence."
Most faculty and students believe that preparing for the final is, as communications freshman Ellie Pardee put it, "a combination of everything we've done—looking at the big picture, thinking aloud in discussion to test ideas, pulling arguments from papers, and then expanding those arguments." Some students emphasize the benefits of using study groups to prepare for the oral final. "We went over our notes from lecture, the plot and characters from the different texts, did mock finals, and discussed and drew connections between various texts," recalled psychology sophomore Sandra Yan. Chris agreed, "We talked about the running themes and what connected the texts, really put all the texts and writers next to each other to examine the concepts rather than just memorize details." 
Concluded Ellie, "If you're thinking about [the oral final] all semester, it helps you get the big picture of what you're reading, why you're reading it." 
In the end, while students are often nervous going in to their oral finals, and while faculty worry about staying attentive through the sheer number of oral finals they give, both sides believe the exams are an important aspect of the Honors experience. As Chris said, "the classes with oral exams are the ones I really remember, the ones that made the most impact on how I think."