Richard Murray Scholarship
The Richard Murray Endowed Scholarship was established in 2008 for the purpose of honoring Dr. Richard Murray's service to the Houston community and over 50 years of teaching and research at the University of Houston.   
An Overview of Dr. Murray's Accomplishments
Taught political science at UH since 1966

Founded the Hobby Center for Public Policy (HCPP) in 1981 with a small group of UH faculty

Established the HCPP's polling operations in 1981

Co-authored Pro-Growth Politics Change and Governance in Houston (1991)

Served as director of the HCPP from 1996-2006

Created the HCPP's Houston Government Internship Program in 1996

Launched the computer assisted survey system in the Survey Research Institute in 2000

Awarded the Bob Lanier Chair in Urban Public Policy in 2004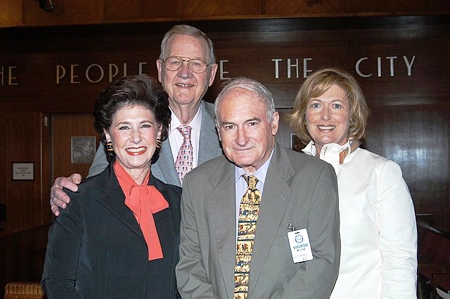 From left to right: Mrs. Elyse Lanier, Mayor Bob Lanier, Dr. Richard Murray, and Debbie Hartman-Murray
The Award 
The Richard Murray Endowed Scholarship will be awarded to an outstanding undergraduate student who shares a passion for politics and policy, has a strong academic commitment and demonstrates a dedication to public service. A minimum of one $1250.00 award will be presented every year. Private funds were raised to endow this scholarship.   
Congratulations to Christine Le, 2021 Richard Murray Endowed Scholarship Recipient
Christine Le: "I cannot thank the Richard Murray Endowed Scholarship enough for the financial support awarded to me, as well as the vast number of opportunities this opens up for my bright future. As an upcoming junior who has borne the brunt of outstanding tuition fees, housing bills, and grocery costs, I am overjoyed to know that there is support for students like me too succeed in a climate of financial precarity. This scholarship gives me the confidence and enthusiasm necessary to focus on excelling in the field of political science—whether that be through pursuing research, finding the time to build personal relationships with professors, or simply throwing my weight into coursework."
Eligibility Criteria 
The scholarship recipient(s) will be determined by the Richard Murray Scholarship Committee comprised of Hobby School of Public Affairs representatives. Criteria includes the following:
Scholarship prospect exhibits leadership qualities as determined by the Hobby School Scholarship Committee.
Scholarship applicant should have a strong academic commitment and demonstrate dedication to public service.
Scholarship applicant should demonstrate a passion for politics and policy.
Scholarship applicant can be a certified full-time undergraduate or graduate certificate or degree-seeking student in good standing at the University of Houston.
Scholarship recipient must maintain a GPA in accordance with the standards set by the Hobby School Scholarship Committee.
Scholarship recipient may accept other scholarships and grants in conjunction with the Dr. Richard Murray Scholarship.
Funds can be used to cover expenses for tuition, books, fees. and/or supplies for the coming academic semester. Any expenses of a recipient in excess of the amount deposited must be borne by the student.
Application 
Download the spring 2022 application.  The application deadline is Monday, May 2.  Multiple awards of $1250 are available.