Richard Murray Scholarship
The Richard Murray Endowed Scholarship was established in 2008 for the purpose of honoring Dr. Richard Murray's service to the Houston community and 40 years of teaching and research at the University of Houston.   
An Overview of Dr. Murray's Accomplishments
Taught political science at UH since 1966

Founded the Hobby Center for Public Policy (HCPP) in 1981 with a small group of UH faculty

Established the HCPP's polling operations in 1981

Co-authored Pro-Growth Politics Change and Governance in Houston (1991)

Served as director of the HCPP from 1996-2006

Created the HCPP's Houston Government Internship Program in 1996

Launched the computer assisted survey system in the Survey Research Institute in 2000

Awarded the Bob Lanier Chair in Urban Public Policy in 2004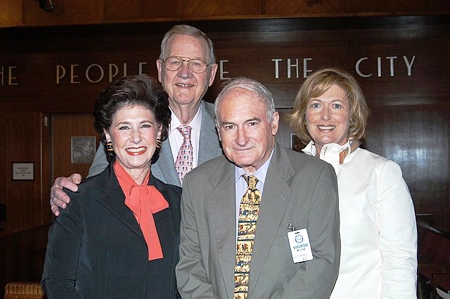 From left to right: Mrs. Elyse Lanier, Mayor Bob Lanier, Dr. Richard Murray, and Debbie Hartman-Murray
The Award 
The Richard Murray Endowed Scholarship will be awarded to an outstanding political science undergraduate student who shares a passion for politics and policy, has a strong academic commitment and demonstrates a commitment to public service. A $1250.00 award will be presented every year. Private funds were raised to endow this scholarship.   
Congratulations to Britnee Chuor, Spring 2018 Recipient
Britnee Chuor 
is a senior at the University of Houston double majoring in Political Science and Liberal Studies. In spring 2018, Britnee interned in the office of State Representative Gene Wu.  After graduation, Britnee hopes to work with organizations and government sectors that value diversity and support the refugee community in Houston.
"I know that the Murray Scholarship will make a positive impact on my undergraduate career by lifting the financial burden of pursuing higher education and allowing me to continue gaining experience in the public sector through unpaid internships. I am committed to a career as a public servant, but I am still learning. Receiving this award encourages me seek more learning opportunities that will help me advance my goal of influencing policy to positively impact the lives of refugees in the United States and in the global community."
Eligibility Criteria 
The scholarship recipient(s) will be determined by the Richard Murray Scholarship Committee comprised of political science faculty and Hobby School of Public Affairs representatives. Criteria includes the following:
Scholarship applicant's experience inside and outside of the classroom should show a passion for politics and policy.
Scholarship applicant should have a strong academic commitment and demonstrated dedication to public service.
Scholarship applicant must exhibit leadership ability through campus and/or community activities.
Scholarship applicant must have a major in political science declared in the College of Liberal Arts and Social Sciences.
Scholarship applicant must be a full-time undergraduate student in good academic standing at the University of Houston. 
Scholarship applicant must have completed a minimum of 60 semester credit hours by the conclusion of spring 2019.  Transfer students must have at least 30 hours of coursework completed at UH documented on their official transcripts at the time of the application.
Scholarship applicant is expected to complete satisfactorily at least 75% of the enrolled semester hours for each semester in which the scholarship is applied. 
A cumulative grade point average of at least 3.0 is required for eligibility. 
Scholarship recipient may accept other scholarships and grants in conjunction with the Richard Murray Endowed Scholarship.
Funds can be used to cover expenses for tuition, books, fees, and/or supplies for the coming academic semester. Any expenses of a recipient in excess of the amount deposited must be borne by the student. 
Application 
Download the application for spring 2019.  The application deadline is May 13, 2019.  Late applications will not be accepted.