Education Professor Wins Competitive Grant to Study STEM Schools Virginia Snodgrass Rangel aims to improve student engagement with her work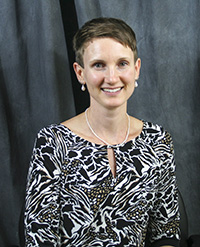 Virginia Snodgrass Rangel
Posted Jan. 17, 2017 – Perhaps no bigger buzzword has permeated schools over the last decade than STEM, as the United States seeks to be more competitive in science, technology, engineering and math fields.
Yet not all STEM programs are created equal, likely producing mixed academic outcomes for students, says Virginia Snodgrass Rangel, assistant professor at the University of Houston College of Education. Snodgrass Rangel recently won a competitive grant from the Spencer Foundation for nearly $50,000 to study STEM education. The funding covers work from January 2017 through December 2018.
Her project focuses on defining the different types of STEM schools across the country and analyzing which programs produce the best results, particularly for students traditionally under-represented in science and math careers.
"One way that schools try to differentiate themselves is by having some kind of focus. STEM is an obvious choice for schools because there's a lot of demand for graduates who have STEM skills," Snodgrass Rangel said.
However, as she wrote in her grant application, "[T]here is evidence suggesting that schools that label themselves as 'STEM-focused' do not, in fact, differ from regular, comprehensive public high schools."
Anthony Rolle, chair of the Department of Educational Leadership and Policy Studies at the UH College of Education, praised Snodgrass Rangel for securing the grant from the Spencer Foundation. The Chicago-based foundation receives more than 800 proposals a year and has funded roughly 10 percent, according to its website.
"For an emerging scholar to win a Spencer award is quite a feather in his or her cap," Rolle said. "Dr. Rangel has the drive and the diligence to pursue ideas that are relevant not only to academic researchers but to educators, from teachers to superintendents, and will continuously improve instructional outcomes for children."
The federal government has made STEM education a priority, as projections show the number of jobs in related fields will increase significantly. As President Barack Obama said at the National Academy of Sciences annual meeting in April 2009, when he pledged "a renewed commitment" to math and science education, "We know that the progress and prosperity of future generations will depend on what we do now to educate the next generation."
Snodgrass Rangel said she hopes her research will help school districts implement a well-designed portfolio of programs to keep students engaged in school. She plans to evaluate a nationally representative sample of 900 schools, using data from the National Center for Education Statistics and zooming in on Texas.
Improving STEM education is especially important in Houston, where energy companies and the Port of Houston rely on workers with strong STEM skills.
"STEM, when done well, can be a hook for a lot of students that we're losing," said Snodgrass Rangel, who previously taught fourth grade in Austin and admits to disliking science when she was in high school. "I think I didn't like it because I didn't understand it well."