Staff Spotlight: Instructional Designer Turns Love of Tech Into Teaching Tool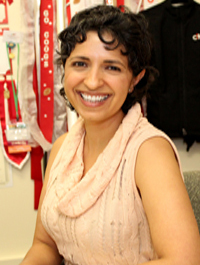 Posted Oct. 13, 2020 — As an instructional designer, Velvette Laurence regularly helps professors at the University of Houston College of Education enhance their courses to keep students engaged.
When COVID-19 forced all classes to go virtual in the spring, Laurence's support became even more important.
"It's a challenge, but the benefit is instructors are learning to be more flexible," Laurence said. "This online environment has helped them get to know their students on a more personal level."
Laurence began her career at the College 16 years ago as a web developer.
"My father is a computer engineer, and, in our house, we had a lot of technology," she said. "I always loved testing and having fun with it."
Her degrees in early childhood education and instructional technology, both from UH, gave her the tools she needs to assist faculty in her current role.
Learn more about Laurence and how she has helped the College address virtual learning in the Q&A below.
Explain your role as an instructional designer.
Every day is different. A major piece of it is technical support, working with the CITE technology team in our college. I create a lot of support documentation and videos that give instructors a go-to place for information. I also host weekly sessions where we talk about college trends and share tech tips that may improve their courses or business operations even further.
How has the quick transition to virtual instruction changed the way you do your job?
It was not about curriculum, per se. It was more about the technology. "How are we going to talk to our students? How are we going to mimic that face-to-face environment?" Luckily for many years I have been giving trainings on how to successfully transition from one environment to the other while keeping the course rigor high.
My job has been consistent. Instead of meeting face to face, I meet online. I meet with more instructors with this environment because their availability is better.
What improvements have you made this semester in terms of virtual instruction?
Professors are advised to redefine course participation, to prepare a plan B when technical failures occur and to have an agenda for students to help encourage on-task behavior and self-discipline during online synchronous sessions. Being super organized, structured and consistent are the biggest things that our instructors are working toward.
How do you think this situation will impact the future of higher education?
I think it's going to become a new normal. I think we're going to have more programs offered online that instructors were nervous to do before but now they're not so nervous.
Many people have had personal challenges during COVID-19. Are you open to speaking about the challenges you've faced during this time?
I've been very lucky! As far as personal challenges, it's been very minimal. One that has been a challenge is prioritizing myself. When work is at home, it's very easy to forget about yourself. I had to make time to have lunch and step away.
— By Jordan Hart
— Photo courtesy of Velvette Laurence