Staff Spotlight: James Johnson, Emily Miller Lead College of Education Staff Council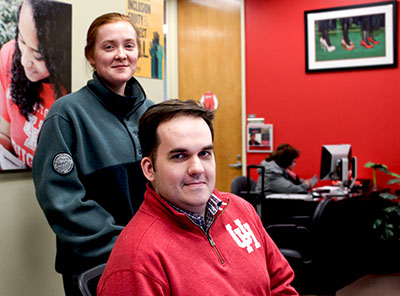 Posted November 13, 2018 – James Johnson and Emily Miller joined the University of Houston College of Education staff only a few months ago, yet they've delved in as the recently elected co-chairs of the College's Staff Council.
Both work in the Office of Undergraduate Studies – Johnson as an office assistant, fielding questions at the front desk, and Miller as an advisor to students studying health. Though new, both said they wanted to get more involved in the College.
The Staff Council represents and supports the staff and organizes events such as the upcoming holiday lunch on Dec. 12. Miller and Johnson said they also hope to launch a service project.
They recently took time to introduce themselves.
Q: Where are you from?
Miller: Los Angeles, California
Johnson: Chatham, New York
Q: Why did you move to Houston?
Miller: For the medical center. I wanted to do something in health, and the med center in L.A. is a bit different. It's not as structured as it is here. Here, everything is interconnected, and everyone communicates better.
Johnson: My fiancée got accepted to a Ph.D. program at the University of Houston's College of Pharmacy, and I decided to move here to support her through that. My other option was to move to Europe with my boss who I had worked for as a business administrator and strategic analyst.
Q: What's a normal day in the office like?
Johnson: Every day has a unique set of challenges or problems to solve, so it's hard to say what a normal day is like.
Q: How would you describe the office environment?
Johnson: From my perspective the office is very friendly and fun. It's a really different kind of work environment that cultivates just generally being kind to people, and I think that really says a lot about the staff and faculty here.
Q: How has your time at the College of Education been?
Miller: I love this department and advising students who are in the same major [public health] as me. I can tell them what classes are like, sort of like a spy.
Johnson: I love this job and my co-workers. People are so nice in Houston, especially here at the University of Houston. I've never been happier.
Q: Who on campus has had a big impact on you?
Miller: My old boss in the Office of Admissions, Laura. She oversaw the Ambassador Program, and she promoted me to a director position as a student, which is normally for graduates. That's where I got a huge amount of my leadership experience and that's what made it so easy for me to find a job right out of college.
Johnson: Dr. Teresa Edgar has had a tremendous impact on me. I've been inspired by her leadership. She is one of few people I've worked for who I would actually call a leader and not just my boss.
Q: What is your ultimate career goal?
Miller: I want my doctorate in epidemiology and probably to become a professor.
Johnson: I don't know exactly what I'll be doing at UH a few years from now, but I know I want to be here. Ultimately? I'd like to be a graphic designer or web developer.
Q: Favorite hobbies?
Miller: I am a runner and I am currently working on the half marathon in January. I also like to travel. I've visited New Hampshire, the Philippines, Japan, France and England.
Johnson: I'm a software designer. I'm self taught and I've been doing it since I was 12 years old. I find the psychology of it really interesting because a lot of software design is more about the psychology than it is entertainment.
Q: Favorite pastime in Houston?
Miller: [I like to] try all different kinds of food. I didn't expect when I moved here to have as much as food as in L.A. My favorite food right now is Indian.
Johnson: I like to just go walk around at the mall. I can't count how many times I've been to a mall and walked out spending zero dollars.
Q: Favorite movie?
Miller: "The Conjuring"
Johnson: I like just about anything with Robin Williams. He starred in a really interesting movie called "What Dreams May Come," and I think that's probably my favorite movie now.
–By Alberto Huichapa
–Photo by Jaime Questell