UH College of Education Online Digital Storytelling Course Tops Enrollment of 20,000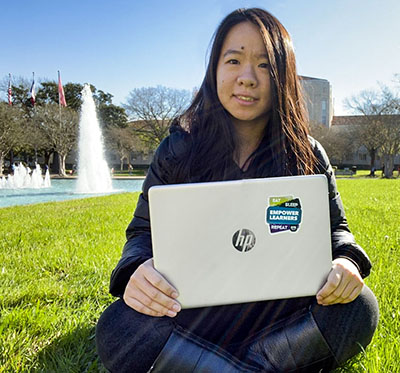 Posted Feb. 12, 2020 — While Haoyue Zhang was in New Jersey earning her graduate degree in cognitive psychology, she took an online course on digital storytelling offered by the University of Houston College of Education. An aspiring teacher, Zhang said she wanted to learn how to better incorporate technology in the classroom, and the five-week class showed her how.
"Digital storytelling is an efficient way to engage different learners," she said. "It involves audio, video, images to represent the content — it helps connect students to the learning material."
The course, developed in 2014, recently reached a cumulative enrollment of more than 20,000, drawing students from as far away as Brazil, India, Portugal and Tanzania.
The class is part of a series of MOOCs, or massive open online courses, created by College of Education professors Sara McNeil and Bernard Robin in collaboration with graduate students. The other course is called Web 2.0 Tools.
Both MOOCs in the Powerful Tools for Teaching and Learning series, available through the UH Online & Special Programs website, require about 17 hours to complete. Students can take the ungraded course for free or the graded course, where they can earn a certificate, for $49.
"Everybody uses technology, but people don't always know how to integrate it into a school or teaching environment," said Robin, who teaches graduate courses in the learning, design and technology program. "The goal of our master's and doctoral programs is to help educators be better teachers by learning to capture students' attention and motivation through technology."
Taking a MOOC gives students from around the world the chance to experience what a College of Education course is like. It allows them to grow professionally, learning from experts in educational technology in the comfort of their own home or office.
"We develop new MOOCs for new audiences, especially folks who don't have the time to enroll in a traditional degree program," said Robin. "MOOCs make education more accessible to people who, because of their work, financial and family obligations, can't be traditional students."
After completing the Digital Storytelling course and graduating from Rutgers University with a master's degree, Zhang flew to Houston to enroll in the College's curriculum and instruction Ph.D. program, with a specialization in learning, design and technology.
She loved learning about integrating technology into education so much while in the doctoral program that she also started working as a teaching fellow alongside McNeil and Robin. She now works on developing new MOOCs and helps students from a variety of backgrounds create effective educational materials.
"I can't wait to help teachers engage with all types of learners," Zhang said.
— By Lillian Hoang
— Photo courtesy of Haoyue Zhang