Student Spotlight: Lindsey Ballinas Conquers Fears to Pursue Teaching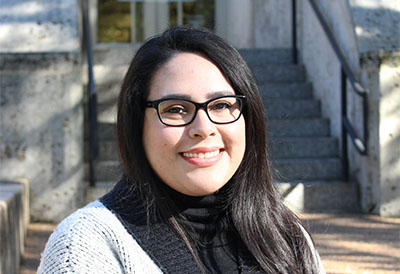 Posted November 26, 2018 – Inspired by her three children to chase her dream of teaching elementary school, Lindsey Ballinas is about to make them proud. She's set to graduate in December with a degree in teaching from the University of Houston College of Education.
A Houston native and first-generation high school graduate, Ballinas said her childhood experiences influenced her to become a teacher.
"As a young student in elementary, I was the type to never really be noticed," she said. "I was a good student, but I never had a strong relationship with my elementary teachers. I want my future students to know they matter, they are important and that I see them."
To that end, she said she's particularly interested in teaching kindergarten. She loves the excitement the young students bring to learning and believes if she can nurture that spirit when they're young, they'll keep the fire burning throughout their years of school.
Ballinas recently took time to answer some questions. 
Q: What is your inspiration? 
A: My three children are my inspiration. I wanted to show them that no matter what cards life dealt you, you are in control of your future. I wanted them to know that you're never too young or too old to get an education and make your life better. 
Q: What is your favorite course you've taken? Why?  
A: My favorite course would hands down be my Math Methods 1 and 2 class. Growing up I was the student who was deathly afraid of math. Dr. (Carrie) Cutler has explained different ways to teach math so well. I feel confident and capable. 
Q: Has anything or anyone impacted you since you've been attending UH?
A: Dr. Cutler has impacted my life in many ways. She is the teacher I wish I had teaching me as a child. She is so patient and caring. She makes you feel like you are noticed and important – that's something that could have impacted my life greatly if I had that as a child. She has given me an appreciation of math and taught me about growth mindsets. Dr. Cutler taught me that every student is capable of understanding math; you just must find what works for them because there are many 'rights.' She is a teacher I try to model. 
Q: What are some of your favorite hobbies? 
A: I really love spending as much time with my family as possible. I am always so busy with school that whenever I get some down time my family and I love to go to the movie theater and discover new parks.
Q: What is your favorite thing to do in Houston? 
A: I really enjoy going to the zoo and walking around the museum district. 
Q: Can you share some more about yourself? 
A: I am a first-generation high school graduate, and I will be a first-generation college graduate with the honor of magna cum laude. I want to thank my babies, Joseph, Jocelyn and Jacob, for supporting mommy and believing in me. 
Q: What advice can you give other students seeking a degree in teaching and learning? 
A: Never underestimate yourself! Surround yourself with a strong support system and remember to enjoy the experience. UH won't disappoint you!
–By Asia Jackson-Sublet
–Photo by Jaime Questell