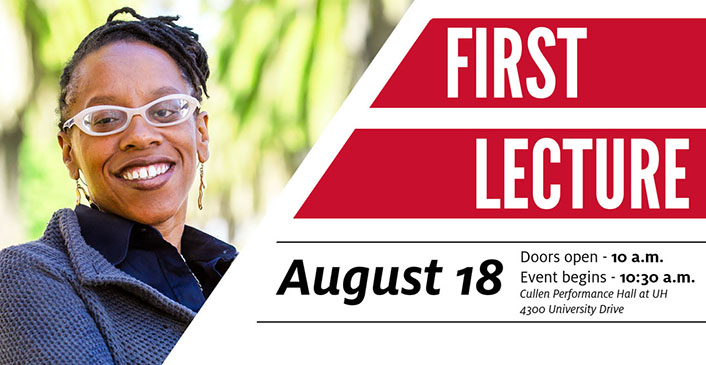 Please join the University of Houston College of Education for our seventh-annual First Lecture event, featuring guest speaker Lateefah Simon, a nationally recognized advocate for civil rights and racial justice.
SPECIAL GUEST: Mayor Sylvester Turner (UH '77), whose journey to elected office began in Acres Homes
Free T-shirt (while supplies last) • Door prizes • Student group information
Date: Friday, August 18, 2017
Time: Doors open at 10 a.m. Lecture begins at 10:30 a.m.
Place: Cullen Performance Hall at UH, 4300 University Drive, Houston, TX 77204
RSVP: Please RSVP by August 14 at https://tinyurl.com/UHFL2017.
Simon, a former high school dropout and teen mother, became the youngest woman ever to win a MacArthur "Genius" Grant, for her work with a California nonprofit dedicated to helping young girls on the streets and in the criminal justice system. She now serves as president of the Oakland-based Akonadi Foundation, which provides grants and other advocacy in support of racial justice.
Born legally blind, Simon has never driven a car and recently was elected to serve on the board of the BART public transit system in California. She's been recognized on the Chronicle of Philanthropy's 40 Under 40 list, was on O Magazine's first Power List and won a Jefferson Award for extraordinary public service.
Simon's appearances around the country have received rave reviews.
"An all-star speaker."
— University of Minnesota
"Awesome event! Amazing person!"
— Tennessee Tech