UH Professor Championing Approachable Math Receives Teaching Excellence Award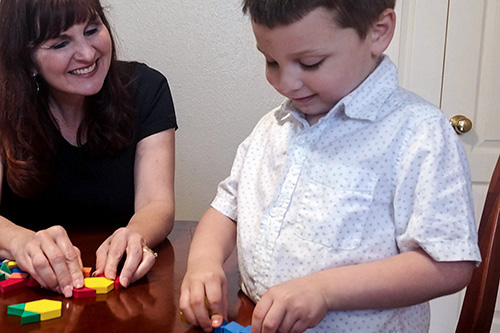 Posted May, 29 2020 — Carrie Cutler, a clinical assistant professor at the University of Houston College of Education, says she understood early in her career that anyone can learn math — whether or not they see themselves as a "math person."
She shares this important lesson with her classes of future teachers.
"I tell my students I want them to become teachers who help all their students realize they're math people," she says.
For her inspiring teaching and dedication to students, Cutler was recognized this spring with a 2020 UH Teaching Excellence Award.
As a mother of eight children — ages 4 to 22 — and former elementary school teacher, she aims to provide resources for parents and teachers alike. Her practical, parent-to-parent approach to teaching is reflected in her first book, "Math-Positive Mindsets: Growing a Child's Mind without Losing Yours," published in May.
Cutler also has taken to social media and her blog to assist parents as schools transitioned to virtual teaching due to the pandemic.
"I want to help parents see that they don't have to be their child's main math teacher, but they can be their child's math supporter," she said.
Learn more about Cutler's teaching style, love of math and her book in the Q&A below.
What is your teaching philosophy?
Many of my students had bad math experiences and believe they're not a "math person." This isn't true. Anybody can learn mathematics.
What advice do you give your students who are training to work with elementary students?
I'll tell them at the beginning of the semester we're going to do elementary math. It's not because I don't think you can do harder math. It's because I want you to do math with hands-on materials and work in small groups to solve difficult problems together. I want your students working in groups that use lots of materials to solve important problems.
What inspired your book?
I've taught a lot of classes at UH over the last 17 years. This book is a compilation of the best practices that I've taught my students.
What do you hope readers will gain from this book?
I hope they will understand that they have what it takes to help children in mathematics. They can be a cheerleader and a challenger, and they don't have to have a doctorate in mathematics education to do that.
As a child, were you good at math?
I was good at math, but I had to work really hard. From junior high all the way through my doctorate, I had a math tutor. I tell my students that, and I tell my own children that it's OK to work hard at something. Even if you think you don't have a natural gift for it that doesn't mean you can't achieve it.
How have you been handling the pandemic as a parent and a teacher?
I had to stop feeling bad about what my kids are missing and start celebrating what we get to do. I'm spending a lot more time with my kids. I also had to be realistic about their education. Maybe there are fewer academic objectives and more social and emotional objectives, which are still important.
As a teacher, I'll plan for the worst, but we can do a lot with virtual learning — think outside of the Chromebook.
— By Lillian Hoang
— Photo courtesy of Carrie Cutler