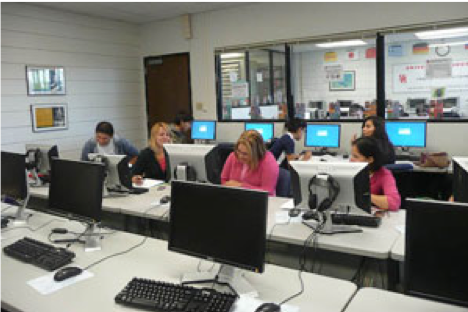 UH Spanish Language Heritage Learners Placement and Credit Exam - OVERVIEW
Based on performance, students may be placed in Spanish 1507, 2307, 2308, 3307, 3308, or higher, and may earn up to 12 credit hours in Spanish.
The exam may take up to two hours and consists of several sections on vocabulary, dictation, grammar, reading, writing, listening and speaking.
Who should take the test?
If you answer YES to  one or more of the following statements, you need to take the Placement-Credit Exam for Spanish Heritage Learners: 
When I was a child, Spanish was spoken in my home
I lived in a Spanish-speaking country for two years or longer
My first language was Spanish (or both Spanish and English)
I speak Spanish, or both Spanish and English with family and friends
My parents and/or grandparents often speak to me in Spanish
Important Note:  Students cannot enroll in any Language Program (Second Language or Heritage Language) if they have not taken the Placement Exam required in each track. Failure to comply with this requirement may result in being dropped from the class.
What can I expect on the exam?
Test Fee: $15
Remote Testing Fee: $25
Submit Test Registration Request 
Results
The results will be available immediately for lower level courses, and 7 - 10 business days for higher level courses.
The results will expire after two years from the day that the exam was taken.
For additional information visit Testing Services
If you have Advanced Placement (AP) or International Baccalaureate Degree (IB) test scores please submit your test scores to UH.
If you have questions, contact:
Ms. Ithiel Benavides: ibenavi4@Central.uh.edu
I am not a Heritage Learner...
The Department of Hispanic Studies offers the Spanish as a Second Language Program for non-native and non-heritage Spanish speakers. Students who have taken Spanish in high school need to take the Spanish Placement Exam at the UH Testing Center. (For more information please call 713-743-5444 or visit Testing Services)