Student Wins National Fellowship
Congratulations to first year PhD student Naomi Nubin-Sellers, who was appointed to the American Political Science Association's 2018-19 Minority Fellowship Program.  This nationally-competitive program will support her studies and provide her with networking opportunities.  Naomi's broad research interests are in the fields of American politics and public policy, with an emphasis on incorporating intersectionality into our current understanding of the political process. She is currently researching how intersectionality affects support for redistribution policies and whether legislative infrastructure affects how often African American female candidates run for office in state legislatures. She earned a BS in administration of justice and political science and an MPA, both from Texas Southern University, where she also worked as a research assistant. Naomi is planning to pursue an academic career in teaching and research.
Fake News?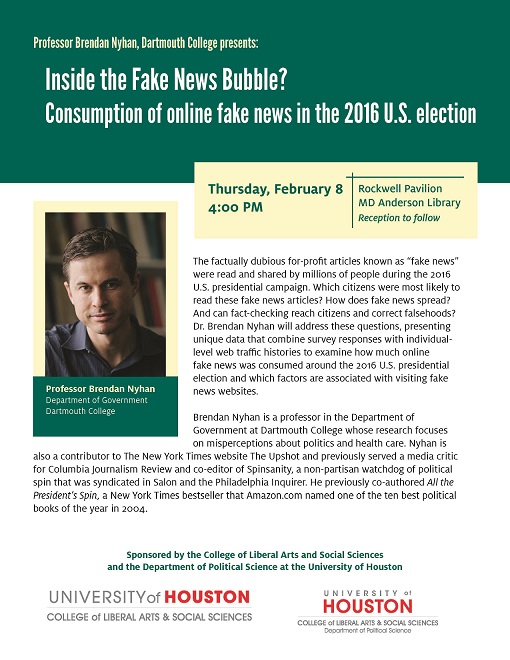 Political Science Students Explore Graduate School Options
| | |
| --- | --- |
| | |
| Prof. Saundra Schneider (ICPSR) with students | UH Associate Prof. Jason Casellas with Prairie View A&M student Roman Zapeda |
In early November political science majors from all over Texas --and beyond – attended a workshop on the University of Houston campus to learn about opportunities for graduate studies in political science, public policy and related fields.  The 2 day workshop was sponsored by the UH Department of Political Science and the Inter-University Consortium for Political and Social Research (ICPSR).  One aim of the workshop was to de-mystify graduate school in order to support students who are interested in pursuing advanced degrees. During the weekend UH political science faculty helped students to sharpen their research skills using examples from the 2016 Presidential elections.  In other sessions faculty and current UH graduate students offered individualized coaching on topics such as how to choose the right graduate program and how to write a successful application. Attendees included students from the University of Houston, Rice University, Prairie View A&M, Texas A&M Corpus Christi, UT Rio Grande Valley, and Georgia Gwinnet College.   Special guest speakers were Jay Aiyer from Texas Southern University and Professor Saundra Schneider, from the ICPSR (University of Michigan) and Michigan State University.
New! Political Science Minor at UH-Sugar Land now in Hybrid Format
The Political Science Department offers a rota of courses at the Sugar Land campus allowing students to complete the Political Science Minor within two years (or less).  Courses are taught in the evening, in hybrid format. Click here for more information
International Affairs Internships: Seeing How the World Runs!
The UH Political Science International Affairs Internship Program (IAIP) has just completed its successful first year.  Taking advantage of our global city, the program placed 15 students in internationally-oriented internships around Houston, including in foreign consulates (United Kingdom and France), the World Affairs Council of Houston, the Asia Society of Texas, the Mayor's Office for International Trade and Development, and in human rights non-governmental organizations.  Student interns gained perspectives on potential career paths and helped them to build their professional networks.  Some students' internship experiences prompted them to apply for graduate studies; for instance, two of the 2016-17 interns will be attending George Washington University's MA program in International Relations in fall 2017. Some internships led directly to related employment opportunities, such as for the former intern who is now working in a full-time job at the UK embassy in Washington D.C. 
Thinking about trying your own international affairs internship?  To learn more about this program, contact the IAIP coordinator, Dr. Zachary Zwald  zjzwald@Central.UH.EDU
Political Economy Conference at UH
On February 10 and 11, scholars from around the country gathered together at UH for a conference on the political economy of elections, co-organized by the Political Science and Economics departments. Graduate students and faculty had the opportunity to find out cross-cutting research by scholars from UPenn, Harvard, Duke, UCLA, University of Arizona, Texas A&M, Berkeley, Emory, Columbia, and the University of Virginia. Presentations covered several topics, including turnout, voter fraud, corruption, campaign finance and public goods provision in the US and developing countries.
Political Science majors attend the Air Force Academy's Annual Assembley
Over spring break three Political Science majors travelled to Colorado to attend the Air Force Academy's 58th Annual Assembly, an invitation-only conference for undergraduates from select schools from around the U.S.  This year's conference, "Inside the Wire: American Security and Cyber Warfare," examined the cyber domain and related issues for U.S. national security.  Attendees participated in small group discussions and attended plenary sessions addressed by leading policymakers in the cyber-security area.  The UH Political Science Department sponsored three applicants to attend, who were selected in a competitive process.  All three are political science majors with interests in international relations, national security and foreign policy.  They are pictured here (from left to right):  Gaby Calderon (Sophomore);   David Anthony Martinez (Junior); Mah-Noor Ahmed (Senior). 
Fullbright Specialists Program
Ryan Kennedy is traveling to Bosnia and Herzegovina as part of the Fulbright Specialists Program. There he will be giving a series of lectures about the promise and pitfalls of big data analysis, work with the Federal Bureau of Statistics on analyzing the first census of the country in more than 20 years, and will be a keynote speaker for a conference on statistics in public policy. In addition, he will be meeting with the faculties of political science and economics around the country to explore opportunities for cooperation and potential future research projects. 
Department of Political Science Hosts Conference on Representation in State Legislatures
October 27th-29th the Department of Political Science hosted a gathering of nationally renowned scholars whose research focuses on representation in state legislatures. Over the course of two days, scholars from around the country presented work on the origins of representation and the performance of modern legislatures in representing their constituents' interests. We were glad to be joined by scholars from The University of Missouri, The University of Iowa, The University of Denver, George Washington University, The University of California San Diego, Washington University in St. Louis, Indiana University, the University of Notre Dame, The University of Pittsburgh and many others. As a result of the conference's success, co-hosts Jennifer Hayes Clark and Justin Kirkland will be guest editing a special issue of State Politics and Policy Quarterly focused on Policy Representation in the States late in 2017.
Hispanic Leaders Program

Associate Professor Jason Casellas has been selected to participate in the Hispanic Leaders Program sponsored by the Embassy of Spain and the Carolina Foundation.  This competitive program brings together emerging leaders from all professions to introduce them to the culture and politics of contemporary Spain.  During the program, participants will meet with Spain's economic, political, and cultural leaders.  The goal of the program is to cultivate and sustain positive relationships between Spain and the United States.
Students and Faculty win prizes at the American Political Science Association Annual Meeting
At the September 2016 APSA annual meetings Assistant Professor Boris Shor received two "best conference" paper prizes for a paper presented at the 2015 APSA annual meetings.  The paper, "Unequal Incomes, Ideology and Gridlock: How Rising Inequality Increases Political Polarization," was co-authored with John Voorheis and Nolan McCarty.  It won the Franklin L. Burdette/Pi Sigma Alpha prize and the CQ Press Prize, both for best paper presented the previous year's meeting.
5th year graduate student Matthew Ward was given a Distinguished Junior Scholar award from the APSA Political Psychology Section, a travel prize which helped to fund his participation in the APSA annual meetings.
Congratulations to both of them!
The Department of Political Science Welcomes Tyson Chatagnier and Boris Shor to the Faculty
Tyson Chatagnier comes to the University of Houston from the University of Rochester, by way of Vanderbilt University. After earning his Ph.D. at Rochester, he worked for three years at the Bruno Kessler Foundation, in Trento, Italy, before taking a postdoctoral fellowship at Vanderbilt. His research interests include the relationship between economics and international conflict, civil-military relations, and the micro-level components of militarized conflict and military effectiveness.

Boris Shor is an Assistant Professor at the Department of Political Science at the University of Houston. Previously, he was a Visiting Assistant Professor at the Department of Government at Georgetown University. In 2011-2013, he was a Robert Wood Johnson Foundation Scholar in Health Policy, located at the University of California, Berkeley. Before that, he was Irving B. Harris Graduate School of Public Policy Studies at the University of Chicago. He earned his Ph.D. in political science from Columbia University. His research interests include legislative institutions, ideology, political parties, and polarization often but not exclusively at the state level. He has specific policy interests in health care and policy reform.



Political Science's major attends the U.S. Naval Academy Foreign Affairs Conference
Political Science major Charlotte Christian recently represented the University of Houston at the United States Naval Academy's 56th annual Foreign Affairs Conference.    The conference hosted students from over 60 universities and 40 countries, including delegates from military schools from around the world.  The theme of this year's conference was "Women and Security: The Implications of Promoting Global Gender Equality".  The theme was a great fit for Charlotte, who has already done research in this area.  Charlotte writes about her experience:
"The conference gave us access to speakers with incredible insight like the Honorable Michele Flournoy [former Under Secretary of State for Defense Policy], and even Ambassador Samantha Power [current U.S. Ambassador to the United Nations] …When we weren't listening to these distinguished speakers, the delegates were broken up into seventeen different roundtables hosted by senior Midshipmen. My roundtable had students from different parts of the country, civilian delegates from Azerbaijan, Kuwait, and Russia, and military delegates from Japan, Germany, and Israel. These civilian and military delegates had all done research on women and security, and the diversity of research and experiences allowed for many in depth and meaningful discussions."
Political Science's Second Annual Spring Poster Session
On May 2nd at the Department of Political Science's Second Annual Spring Poster Session, more than 20 graduate students participated in poster presentations of their ongoing research efforts. Projects ranged from studies of the effectiveness of foreign aid to the influence of personality types on ideological extremity. For the past two years, seminar students in the department have participated in the poster session in order to prepare them for presentations at academic conferences over the course of the summer and fall
Phi Beta Kappa Inaugural Class
Congratulations to Political Science majors Kelley Cloud, Ryan Graham, Emily Joslin, Sarah Kim, Sahar Sadoughi and Noah Young, on their recent election to the inaugural class of the UH Phi Beta Kappa chapter.   Phi Beta Kappa is a nationwide academic honor society.  Membership is reserved for top academic achievers who have completed a broad liberal arts education, including foreign language study.
Student Wins National Essay Contest
Congratulations to Joshua Freed, whose essay won first place in a national essay contest sponsored by The Center for Political and Economic Thought at St. Vincent College.  His essay addressed this year's topic on the relevance of George Washington's Farewell Address to contemporary American politics. This annual essay contest is open to students from all over the country.   Joshua is a junior in The Honors College, who is double-majoring in Political Science and Economics.  He is active in the Student Government Association, and is captain of the UH Speech Team, among many other activities.  He also has done research supervised by Professor Jeremy Bailey with support from the Tocqueville Forum on American Ideas and Institutions.
Political Science Major wins Outstanding Poster Award at UH Undergraduate Research Day
Congratulations to Maria Ferreira, for her prize-winning research on female presidents in Latin America.  Her advisor for this project was Dr. Eduardo Aleman.  She conducted this research with the support of a Summer Undergraduate Research Fellowship.  You can learn more about this program at http://www.uh.edu/honors/undergraduate-research/uh-research/surf/  
Students Meet Their Representatives at Congressional Student Forum
On Monday, October 5th UH students had an opportunity to talk with two Houston-area members of Congress, Rep. Gene Green (D) and Rep. Randy Weber (R).  These Members of Congress (both UH alumni) came to campus to participate in a forum organized by the Institute for Civility in Government and by the UH Political Science Department.  Students questioned their representatives about political issues with personal implications, ranging from immigration and Social Security funding to student loans.  After the forum, students were able to talk one-on-one with the representatives, and many got their pictures taken with them.   
Congratulations to UH Political Science faculty members for their award-winning research
Professor Jeronimo Cortina is the 2015 winner of the Theodore J. Lowi Policy Studies Journal Best Article Award of the APSA Public Policy section for his 2014 article "Subsidizing Migration? Mexican Agricultural Policies and Migration to the United States".
Professors Justin Kirkland and Jonathan Slapin have been awarded the 2015 Leon Weaver Award for best conference paper presented in the Representation and Electoral Systems Section of the 2014 American Political Science Association Meetings.  Their paper examined "Ideological and Strategic Party Disloyalty in the U.S. Congress."
Students Conduct Summer Research in Philadelphia 
UH rising senior Jalyn Gordon and 2014 UH graduate Domonique Washington both participated this summer in the nationally-competitive Mellon Scholars Internship Program organized by the Library Company of Philadelphia.  During the month-long seminar they conducted original archival research on an African American History topic of their own choosing, using Library Company resources.  They also gained intensive graduate school preparation, attended colloquiums, and learned about the management of research libraries. Both Jalyn and Domonique are political science majors with a minor in African American Studies.  
Dr. Justin Kirkland wins one of the Provost's Teaching Awards 
Congratulations to Assistant Professor Justin Kirkland, winner of a Provost's Award for Teaching Excellence!  Dr. Kirkland was recognized for his excellence in teaching and mentoring in a wide range of courses, from first year Core courses through upper level graduate seminars. His summer program for grad-school bound seniors has helped multiple students win scholarships and get into top graduate programs.
Student wins best paper award
Abdullah Aydogan, a PhD student in comparative politics, received the prize for Best Student Paper in political science presented at the 2014 Southwest Social Science Annual Meeting.   The paper, "Constitutional Design and Military Intervention in Domestic Politics", is taken from his dissertation on the same topic.  Abdullah will graduate in May, and will take up a post-doc position at Rice University.  The picture shows him with Dr. Juan Carlos Huerta, a UH PhD who is currently serving as president of the Political Science section of the Southwest Social Science Association.
Student wins Prestigious Rangel Fellowship
Senior Cassi Gianni was one of 30 fellowship winners selected in a nationwide competition.  Rangel Fellows receive support for two years of graduate study, internships and professional development activities, with the aim of preparing them for entry into the Foreign Service.  This year Cassi has participated in, and helped to organize, international events as a Fellow in the Center for International and Comparative Studies.   She is an Honors College student taking an Economics major with a minor in Phronesis and Spanish. 
Technology Workshop
This month's Political Science's Technology Workshop will feature Scott Clifford who will do a session on Mechanical Turk (MTurk) for the department and his experimental methods class. MTurk is a very cool system developed by Amazon, which allows researchers to recruit large numbers of individuals to help complete research tasks at a very low cost. It has become an invaluable resource for experimental studies, large data collection efforts, and a number of other tasks. It has already been used in several award-winning political science articles and is likely to become a regular resource in the near future. Don't miss it! February, 27 @ 12pm PGH 405.

Undergraduate completes State Department internship in Macedonia
This fall political science/psychology double major Alex Fisher experienced U.S. foreign policy first hand on a State Department internship at the U.S. Embassy in Skopje, Macedonia.  His duties in the public affairs section included giving presentations to high school students and participating tin the Fulbright interview panel.  Alex, who hopes to pursue a career in diplomacy or international development, is enthusiastic about how much he learned from the experience: "I recommend applying for anybody who is interested in a career as a Foreign Service Officer. As an intern, you meet so many FSO's that you leave with a solid idea of what the job entails. You also learn thoroughly about how embassies operate, and as expected, most employees will have great stories to tell about their experiences around the world."   UH students who are interested in applying for State Department internships (in Washington or in a foreign location) should contact Mr. John Roberts, the State Department's Diplomat-in-Residence who is based at the University of Houston.  There are three application deadlines per year for internships, as well as other related programs for students with an interest in public diplomacy. The next deadline is March 2. For  more information, see the State Department's web site.
Conference on Executive Unilateral Politics
The Department of Political Science at the University of Houston will host a conference on executive unilateral politics on February 27 and 28.  Topics presented will include the politics of recess appointments, administrative use of presidential "czars," and presidential use of executive orders in the legislative process.  Many excellent scholars from top universities and colleges will be in attendance, including Louis Fisher (William and Mary), Terry Moe (Stanford), Richard Waterman (Kentucky), Kenneth Mayer (Wisconsin), William Howell (Chicago) Matthew Dickinson (Middlebury) and Andrew Rudalevige (Bowdoin).
Prof. Scarrow's New Book: Beyond Party Member
In her recently published book, Beyond Party Members (Oxford University Press 2014), Professor Susan Scarrow examines how political parties in parliamentary democracies are changing the ways that they try to mobilize supporters.  She shows that for many parties this change involves a fundamental shift in thinking about whom and how the party represents.   As a result, many parties have been experimenting with new methods for selecting candidates and party leaders, ones that ballot party members and sometimes other supporters as well.  In addition, many parties have been making party membership easier to obtain.  These shifts are re-drawing lines of accountability within political parties, and are affecting the types of candidates who get elected to public office. 
UH Political Science Election Week 2014 Commentators
Members of the Political Science Department offered their expert commentary on Election Night with Houston's TV diverse audience. Dr. Jason Casellas at Channel 13, Dr. Brandon Rottinghaus, at Houston Public Media Channel 8, Dr. Richard Murray at Channel 13 and Dr. Jeronimo Cortina at Univision.
Political Science Majors Present at Undergraduate Research Day
Four political science majors presented research posters on Thursday, October 9 for the university's Undergraduate Research Day. The posters summarized the results of the research the students conducted this summer while holding Summer Undergraduate Research Fellowships.  
Charlotte Christian, mentored by Professor Patrick Shea, did a project on "Gender in Legislatures and Humanitarian Interventions".
Hadill Calderon, mentored by Professor Elizabeth Simas, did a project titled "Partisanship and the Gender Dynamic: Their Roles in Electoral Campaign Strategies".  Hadill Calderon won an "outstanding poster" award for her work.
Ton La, mentored by Professor Ryan Kennedy, presented research on "The Politics of Fear: Biology, Environment, and Public Opinion".  
Eric Schroeder, mentored by Professor Natalia Zhivan in Economics, presented his research on "Interstate Variation in Mental Illness Disparities".     
The Political Science Department congratulates all these student researchers!  

Students interested in participating in UH research programs are reminded that the application deadline for the spring Provost's Undgraduate Research Scholarship is November 14.  For more information: http://www.uh.edu/honors/undergraduate-research/uh-research/purs/index.php
Graduating Students Pursue Diverse Careers
The College of Liberal Arts and Social Sciences celebrated spring graduation on May 9, 2014. Students (and parents) often wonder what people do with degrees in political science... read more
Students Pursue Doctoral and Post-Doctoral Studies
University of Houston Political Science Ph.D. candidate Matthew Lang has been awarded a fellowship from the Strategic Data Project at Harvard University. The Fellowship is a two-year program that places and develops talented data strategists in partner agencies where they can have an immediate impact. Mathew is completing his dissertation on presidential party building.
Four UH Political Science majors who graduated in May 2014 will be pursuing doctoral studies in political science fields next fall. Derek Fan will study comparative political economy and the politics of development at Ohio State University, Sidney Simpson will study political theory at Notre Dame University, Joshua Jackson will study international relations at the University of Georgia, and Ryan Jewell will study American politics at the University of Houston.
Rottinghaus in National News on Texas Politics
Click here for audio interview
Harvard Political Scientist Presents McGovern Lecture on Healthcare Regulation
On October 24th, political scientist Daniel Carpenter (Harvard University) presented the 2013 McGovern Endowed Lectureship in Family, Health, and Human Values.  His well-attended talk examined how health care policies and regulations developed in Washington affect average Americans and their families.  The Political Science Department and the Master of Public Administration Program jointly organized this year's McGovern lecture, which is one of the premiere events on the annual calendar of College of Liberal Arts &Social Sciences (CLASS).  Dr. John P. McGovern, who generously endowed this lectureship, was nationally recognized for his contributions to medicine, as well as his efforts in health education, diseases of lifestyle and drug addiction, and family values.
Jeremy Bailey's The Contested Removal Power, 1789-2010 gets ravishing reviews
Jeremey Bailey's and colleagues' new book is out in print. http://www.kansaspress.ku.edu/alvcon.html
PolSci Student Cynthia Millan's Summer Research
Cynthia Millan was awarded the Summer Undergraduate Research Fellowship (SURF) and conducted research supervised by Prof. Jennifer Clark on women's representation in state legislaturesto determine new types of legislative practices that will help employ qualified female candidates to run for legislative offices and increase their representation. 
Jeff Church's Infinite Autonomy wins prestigious APSA Award
The Foundations of Political Theory section of the American Political Science Association has awarded Jeffrey Church the Best First Book award, for a book published in 2012 by a scholar in the early stages of his or her career in the area of political theory or political philosophy.  Professor Church's book, Infinite Autonomy: The Divided Individual in the Political Thought of G. W. F. Hegel and Friedrich Nietzsche, was published by Penn State University Press
New Faculty Offer Courses in Fall 2013
Francisco Cantu is a specialist in Latin American and Mexican politics who will be joining the UH Political Science Department after completing his doctorate at University of California San Diego.  His research focuses on electoral politics, including how to recognize—and prevent—electoral fraud.  In Fall 2013 he will be teaching Politics of Mexico (POLS 4397) and Introduction to Comparative Politics (POLS 3311).
Jason Casellas is an expert on U.S. legislative and Latino politics who will be joining the UH Political Science Department after several years of teaching at U.T. Austin.   He received his PhD from Princeton University.  His first book focused on the voting behavior of Latino representatives in state legislatures.  In Fall 2013 he will be teaching Latino Politics (POLS 3372). 
Patrick Shea is an International Relations scholar who will join the University of Houston faculty after completing his doctorate at Rutgers University.  His research focuses on how war financing affects the initiation and resolution of conflicts.   In Fall 2013 he will be teaching Politics and Causes of War (POLS 4343) and Introduction to International Relations (POLS 3313).
Congratulations to all our recent PhD placements
Aldo Ponce - CIDE, Mexico

Nathan Hosey - South Texas College

Eva Coffey - U.S. State Department

Marwa Shalaby - Post-Doctoral Fellow, Baker Institute, Rice University

Bianca Easterly - Lamar University

George Hawley - University of Alabama

Inaki Sagarzazu - Glasgow University, Scotland

Anna Mikulska - Post-Doctoral Fellow, Department of Political Science, Rice University
New Grant to Studdy Immigration Policy and Hispanic's Social Service Use
Assistant Professor Ling Zhu and her colleague Francisco Pedraza (Robert Wood Johnson Fellow, University of Michigan) were recently awarded a $25,000 grant to support their research examining the impact of immigration policy on the Hispanic population's social service use.  This grant is supported by the Stanford University Center on Poverty and Inequality, through the seed grant program sponsored by the U.S. Department of Health and Human Services.
Computational Social Sicence
Assistant Professor Ryan Kennedy will be taking a visiting research fellowship in computational social science for the 2013-2014 school year. The fellowship is jointly sponsored by Northeastern University and Harvard University's Program on Networked Governance. While there, he will be continuing his research on the application of machine learning techniques for political forecasting among other projects.
Professor wins Fulbright Fellowship for Study in Germany
Professor Susan Scarrow was recently awarded a Fulbright Fellowship to attend the 2013 Fulbright German Studies Seminar in Berlin, Germany.  Participants in this seminar discuss recent changes in German political and cultural life, and have opportunities to engage in substantive dialogue with political, academic, scientific, and cultural leaders.  In Fall 2013 Professor Scarrow will teach a course on German Politics as the University of Houston that will draw on what she learns at the Fulbright Seminar.  This class will use the German national elections of September 2013 as a tool for understanding Germany's political and economic system and social conflicts.   Professor Scarrow is an expert on European political parties and elections who sits on the editorial boards of the journals German Politics and German Politics and Society. 
Join UH's National Political Science Honor Society
Pi Sigma Alpha, the National Political Science Honor Society, is the only honor society for college and university students of government in the United States. The UH chapter, Pi Sigma Alpha - Rho Zeta, strives to stimulate productive scholarship and intelligent interest in the subject of government; to seek to promote a better understanding of government among its members; and to promote worthwhile curricular and extracurricular activities related to political science. 
Particular events for the spring semester include two general member meetings; a Political Science Social with UH Republicans and UH Democrats; a trip to the State Capitol in Austin; a visit to the Harris County Court House; Government tutoring/mentoring at a local high school; a Formal PSA Induction; and a seminar at the World Affairs Council of Houston ("The Triple Agent: CIA's War Against Al Qaeda").
Full membership is a one-time fee of $75 and affiliate membership is $35. Applications can be accessed on our Facebook. To learn more and stay connected, "like" us on Facebook at www.facebook.com/PiSigmaAlphaUH
Election Night Watch Party with Pi Sigma Alpha
On Election Night 2012 Pi Sigma Alpha, the Political Science Honors Society, and the Political Science Department organized an election watch party at the Rockwell Pavilion in the M.D. Anderson Library. Students, including many first time voters, dropped in all evening to catch the latest updates projected on the big screen television, and tracked on a hand-colored map of Electoral College votes. Political Science Assitant Professor Beth Simas watched along with the students and added her own interpretations.
Visit the Pi Sigma Alpha Facebook Page to see more pictures, and to find out more about this Honor Society.
Professor Church's AJPS Article
Professor Churc's article G.W.F. Hegel on Self-Determination and Democratic Theory is featrued in the current issue of the American Journal of Political Science. Congratulations Prof. Church! Click here for the article.
Revolution on Cullen
October 1, 2012 | Rockwell Pavillion in the M.D. Anderson Library | University of Houston 4:00 - 7:00pm
The Department of Political Science celebrates its 150th PhD
In May 2012 the Department graduated its 150th PhD. The UH doctoral program in Political Science began in the late 1960s, onlya few years after the University of Houston became a State University. The Department granted its first doctorate in 1974. More than half of our doctorates are working in higher education in institutions as dispersed as University of California Riverside and Strthclyde University, Scotland, and countless institutions in between. Outside of academia, our alumni work in federal agencies such as the EPA, FBI, and NASA, in state an dlocal government, and in public opinion research firms. Others practice law or work in private business.
The Department of Political Science congratulates all of our doctorates, and looks forward to educating our next 150 PhDs!
Professors Basinger and Rottinghaus on Presidential Scandals
Professors Basinger and Rottinghaus gave comments related to their research about an Obama scandal to the Arizona Star.
Professor Slapin's new book
Professor Slapin's new book Veto Power: Institutional Design in the European Union has been published by the University of Michigan Press. In his book, Professor Slapin traces the historical development of the veto privilege in the EU and how a veto—or veto threat—has been employed in treaty negotiations of the past two decades. As he explains, the importance of veto power in treaty negotiations is one of the features that distinguishes the EU from other international organizations in which exit and expulsion threats play a greater role.
Professor's Rottinghaus Comments to the Media
Professor Rottinghaus has given comments to several media outlets on the Texas legislature, the Texas Senate race and on the presidential race in recent weeks.
New Lecture Series: Conservatism and Progressivism in America
The aim of "Conservatism and Progressivism in America," the lecture series sponsored by Phronesis: a Program in Politics and Ethics and the Honors College, is to deepen and enrich contemporary political discourse by taking an intellectual, historical, and philosophical approach to our political debates. Click here for a description.
Professor Eduardo Aleman and Political Science graduate students Aldo Ponce and Iñaki Sagarzazu's article
Professor Professor Aleman's and graduate students Aldo Ponce's and Iñaki Sagarzazu's paper Legislative Parties in Volatile Non-Programmatic Party Systems: The Peruvian Case in Comparative Perspective is featured in the current issue of Latin American Politics and Society. Click here for the article
Professor Lydia Tiede and Political Science graduate student Aldo Ponce's article
Professor Tiede's and graduate student Aldo Ponce's article on Ruling Against the Executive in Amparo Cases: Evidence from the Peruvian Constitutional Tribunal is featured in the current issue of the Journal of Politics in Latin America. Click here for the article
Political Science Student Aldo Ponce and Prof. Susan Scarrow's forthcoming article
Graduate student Aldo Ponce's and Prof. Susan Scarrow's article on Who Gives? Partisan Donations in Europe will be published in the forthcoming issue of West European Politics. Click here to preview the article
Professor Kennedy's Comments on the Death of Osama bin Laden
Professor Kennedy provided commnents to KUHF on Bin Laden's death.
Professors Rottinghaus and Bailey's at the Houston Chronicle
Professors Rottinghaus's and Bailey's OpEd piece featured at Houston Chronicle suggest how President Barack Obama could use his upcoming Proclamation of Thanksgiving to reflect on economic hard times.
Professor Cortina's Comments on Immigration
Professor Cortina provided commnents to KUHF on a new Pew Hispanic Center report on undocumented immigration.
Professor Rottinghaus's Comments on the Oil Leak in the Gulf of Mexico
Professor Rottinghaus provided comments to the Houston Chronicle on President Obama's efforts to address the crisis in the Gulf of Mexico concerning the rig explosion and oil leak.
Professor Murray's Analysis in the New York Times
Professor Richard Murray provided political analysis for The New York Times on the Texas' Primaries.
Professor Isabella Alcaniz in LARR
Professor Isabella Alcañiz' article on Transnational Bureaucratic Networks was published in the current issue of the Latin American Research Review (LARR). Click here to view the article "Bureaucratic Networks and Government Spending: A Network Analysis of Nuclear Cooperation in Latin America"
Professor Rottinghaus on President's Day, the Texas' Democratic race for Governor and Obama's First Year in office
Professor Rottinghaus recently gave comments to Minnesota Public Radio on President Obama's first year in office and to our own Houston's Public Radio on the Democratic race for Governor in Texas and on the meaning of President's Day to the Houston Chronicle
Professor Jeffrey Church in AJPS
Professor Jeffrey Church's work on Hegel, Rousseau and civil society was published in the current issue of the American Journal of Political Science. Click here to view the article The Freedom of Desire: Hegel's Response to Rousseau on the Problem of Civil Society, AJPS Vol. 54 No.1 January 2010.
Call for Papers: 2nd Annual Texas Political Science Student Conference.
The Political Science Graduate Student Association at the University of Houston and the University of Houston Department of Political Science invites you to submit papers for the 2nd Annual Texas Political Science Student Conference. The conference will be held on April 10, 2010 at the University of Houston. We welcome papers on any topic related to government and/or politics. All subfields and political science perspectives are welcome. If you are interested in participating in this exciting event, please e-mail you abstract to psgsa@uh.edu by February 18, 2010. Those selected to participate will be contacted by March 1, 2010 and papers must be submitted by April 1, 2010.
Professor Murray's Analysis in Time Magazine and the New York Tiemes
Professor Richard Murray provided political analysis for a range of national media outlets such as Time Magazine, The New York Times, and others; leading up to and following the December 12th run-off election for Houston's next mayor.
President Obama's Thanksgiving Day proclamation
The Presidential Proclamations Project at UH run by Professors Rottinghaus and Bailey was referenced in Politico.com on President Obama's Thanksgiving Day proclamation to the nation.
Impact of the financial crisis on remittances and social assitance
Professor Jeronimo Cortina delivered a paper at the UNICEF-ODI Conference in London on the impact of the economic crisis on remittances and social assistance on families left-behind.
Strategies in Presidential Primaries
Graduate student Nathan Hosey recently published a paper with Professor Brandon Rottinghaus and Washington State University faculty member Travis Ridout at Social Science Quarterly. The article is titled "Following the Rules?: Candidate Strategies in Presidential Primaries.
Professor Rigby's research on Houston's Public Radio
Professor Elizabeth Rigby's research examining public support for government intervention to reduce health disparities was featured on Houston Public Radio (KUHF), as part of the weekly "UH Moment" series that features stories of the innovative research, programs, and successes that make up the University of Houston. Click here for the Audio.
Professors Bailey's and Rottinghaus's work in Slate Magazine
The Presidential Proclamations Project at UH run by Professor Bailey and Rottinghaus is mentioned in Slate in an article aobut the use of presidential proclamations for political constituency building.
Selecting Clients: Partisan Networks and the Electoral Benefits of Targeted Distribution?
Professor Ernesto Calvo, will be giving a talk on Tuesday, October 26th at 12:00pm Room 448 PGH on partisan networks and electoral benefits: To whom should parties redistribute clientelistic goods? Should they target core voters that are physically proximate to networks of partybrokers or should they target off-the-network voters in an effort to expand the parties core constituency? In this paper we take on one of the most active agendas in the field of comparative politics today –targeted redistribution-, to provide a comprehensive test of the core vs. swing voter models. In doing so, we provide an in-depth analysis of the behavioral effect of partisan networks on voters.
Do Political Parties Represent Citizens in Europe?
Professor Robert Rohrschneider, Sir Robert Worcester Professor of Public Opinion at the University of Kansas, will be giving a talk on Friday, October 30th at 11:00am Room 448 PGH on political representation in Europe.
Stonewalling: A Formal Model of Presidential Scandal
Professor Scott Basinger delivered a paper (co-authored with Professor Brandon Rottinghaus) at the Center for Public Policy.Find the article online here: Stonewalling: Explaning Behavior During Presidential Scandals
Presidential Leadership of Public Opinion
Professor Rottinghaus's work on presidential leadership of public opinion referenced in Pollster.com, U.S. News and World Report and the National Journal.
Rottinghaus calls GOP primary Governor's race a 'tossup' in op-ed piece
Professor Brandon Rottinghaus published a guest editorial in the Amarillo Globe-News about the "wide open" Texas Governor's Race. Find the article online here: http://www.amarillo.com/stories/090609/opi_opin4.shtml
Aldo Ponce is publishing a co-authored book chapter titled "From Cardoso to Lula: The Triumph of Pragmatism in Brazil"
Aldo Ponce is publishing a co-authored book chapter on the political and economic performance of Lula's government in Brazil titled "From Cardoso to Lula: The Triumph of Pragmatism in Brazil." The book chapter is part of a collection of essays examining the functioning of leftist governments in Latin America. This book will be published by Cambridge University Press.
Trade and Coalitions Revisited: Argentine Political Networks under Changing Trade Policy Environments
Professor Ernesto Calvo and Aldo Ponce are presenting the paper: "Trade and Coalitions Revisited: Political Networks under Changing Trade Policy Environments" at the 2009 American Political Science Association Conference (APSA).
Presidential Proclamation Database
Professors Brandon Rottinghaus and Jeremy Bailey launch the Presidential Proclamations Project at the University of Houston. This unique website has a searchable database of proclamations (and related directives) collected, information on the function of proclamations and frequently asked questions about proclamations.
Conference on Underrepresented Groups in Subnational Politics
The University of Houston Political Science Department is co-sponsoring an upcoming conference on "Underrepresented Groups in Subnational Politics," which will include research presentations from invited faculty from across the country who examine issues of representation in state legislatures, city halls, school boards, and other state and local policymaking venues. For additional information, please contact, Elizabeth Rigby (erigby@uh.edu).Click here for the flyer.
The Richard Murray Endowed Scholarship
The Richard Murray Endowed Scholarship was established in 2008 for the purpose of honoring Dr. Richard Murray's service to the Houston community and 40 years of teaching and research at the University of Houston. The first scholarship will be awarded after the conclusion of the spring 2009 semester.
Scholarship applicants must have a major in political science declared in the College of Liberal Arts and Social Sciences. For more information, visit http://www.uh.edu/cpp/murrayscholarship.htm. This webpage also includes a link to the downloadable application form (in Word).
If interested in applying, please read the eligibility requirements carefully and include all requested materials in your application packet. The application deadline for the 2009 Richard Murray Endowed Scholarship is Friday, May 29, 2009. Incomplete or late applications will not be considered.
Questions? Email Mike Angel at mangel2@uh.edu.
Please share this information with your classmates or political science students. We look forward to receiving applications from many exceptional political science students!
Professor Brandon Rottinghaus published a co-edited volume titled "Criminal Disenfranchisement in an International Perspective"
Professor Brandon Rottinghaus published a co-edited volume on international criminal disenfranchisement titled Criminal Disenfranchisementin an International Perspective (Cambridge University Press). The book is a collection of original essays by leading scholars and advocates offers the first international examination of the nature, causes, and effects of laws regulating voting by people with criminal convictions.
New research on the impact of multiple identities and political participation among Muslim Americans
Professor Jeronimo Cortina and Malak Chabkoun presented their new research on the impact of multiple identities and political participation among Muslim Americans. Cortina and Chabkoun argue that that individuals, regardless of religious background, actually relate to multiple identities such as race, religion, profession, nationality, and race, rather than one single factor. Their research highlights that the probability and mode of participation is determined by a combination of multiple identities, rather than a single immobile identity.
Article about presidential public opinion accepted by journal
Professor Brandon Rottinghaus had his article "Strategic Leaders: Identifying Successful Momentary Presidential Leadership of Public Opinion" accepted at Political Communication. He is completing a book on the same subject scheduled to be published in late 2009.
Grad student, professor collaborate to present at conference
Professor Rottinghaus and UH graduate student Chris Nicholson presented their paper "Counting Congress In: Patterns of Success in Judicial Nomination Requests by Members of Congress to the President" at the Southern Political Science Association Annual Conference in New Orleans, LA. The paper is also currently under review at a journal.
Britain in the 1990s
Anna Mikulska and Susan Scarrow recently presented new research titled: "Assessing the Political Impact of Candidate Selection Rules: Britain in the 1990s." Here's the opening lines of the project's abstract: "Does the inclusiveness of candidate selection rules affect political outcomes? The likely effects of greater inclusiveness have been much debated, with some assuming that they bring parties closer to voters, and others assuming that a party which adopts more inclusive selection rules is likely to pick candidates that diminish its electoral appeal." Here is an expanded overview of the research.
Professor Jeronimo Cortina participated in the U.S. Census Suitland Working Group meeting
On March 16-17, 2009, Professor Jeronimo Cortina, participated in the Suitland Working Group meeting co-organized by the U.S. Census Bureau, UNECE, Eurostat, United Nations Population Division, and the UK Office for National Statistics. Professor Cortina's participation focused on using household surveys to inform key policy issues in the area of international migration and development. For more information go to http://www.unece.org/stats/documents/2009.03.migration.htm