Departmental Requirements for the BA in Philosophy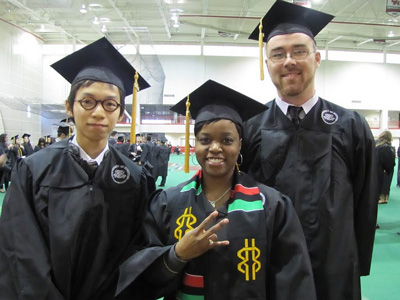 Featured in the photo on the right are William Tam, Carolyn Taylor, and Robin Lewis who graduated at the December 2010 commencement ceremony.
Philosophy majors must complete 27 hours in philosophy, 18 of which are advanced. One course in ethics and two approved courses in the history of philosophy must be included.
Ethics courses include PHIL 1305, 3350, 3354, 3355, 3375, and appropriate selected topics courses. Of the two courses in history of philosophy, one can be from any historical period. The other must be from either the ancient period (e.g., PHIL 3383) or from the early modern period (e.g., 3304, 3305, and 3376). A selected topics course from one of these periods may be substituted.
Majors must also meet the general university requirements for any Bachelor of Arts degree.
The study of philosophy can reasonably be pursued in so many ways that to suggest a uniform program of study would be at best unhelpful and quite possibly misleading. Students should, of course, begin with one of the introductory courses (PHIL 1301 or 1305) and should also take Logic I relatively early. Beyond that, the individual student's program should be worked out in close consultation with the departmental undergraduate advisor. This consultation will range not only over the proposed program of philosophy courses, but also over the entire undergraduate curriculum, in an attempt to ensure that it is both coherent and appropriate to the student's long-range goals.
Helpful documents:
Departmental Requirements for a Minor in Philosophy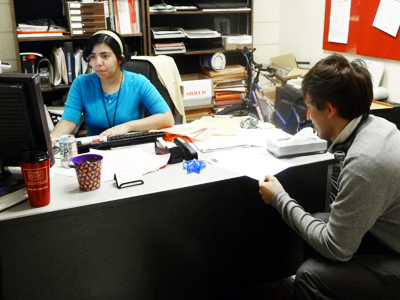 Students may earn a minor in Philosophy by satisfying certain requirements. The minimum requirements for a minor in the College Liberal Arts and Social Sciences are as follows:
Fifteen semester hours of which nine must be advanced.
Nine semester hours in residence of which six must be advanced.
A 2.00 grade point average on all courses attempted in the minor field at the University of Houston.
In addition, the philosophy department requires one course in the history of philosophy, from either the ancient or early modern periods, e.g., PHIL 3383, 3304, 3305, or 3376. It is strongly recommended that students completing a minor in philosophy include a course in either logic or ethics in their 15 semester hours, but primary emphasis is on the development of a sound and coherent program relevant to the student's other pursuits. The program is to be determined in consultation with the departmental undergraduate advisor. For example, students entering business or law should consider including PHIL 3350, 3355, and 3375, and students in the sciences or engineering should consider PHIL 1321, 3335, 3344, and 3376.
Helpful documents:
BA Philosophy/Master of Public Policy Accelerated Pathway Program
Students who are interested in pursuing graduate work in public policy may wish to consider our accelerated pathway to achieving both a Bachelor's Degree in Philosophy and a Master's Degree in Public Policy, in cooperation with the Hobby School of Public Affairs.  This pathway allows students to achieve both degrees in five years.  For more information, click here.