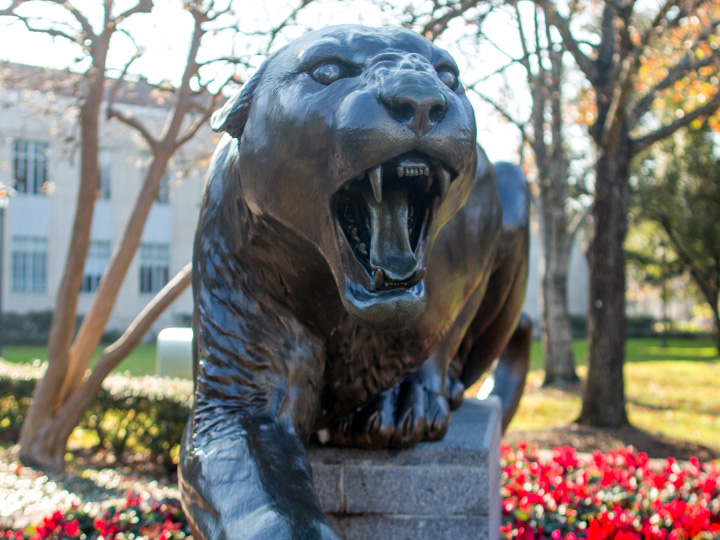 The College of Liberal Arts and Social Sciences has recognized 58 students with a wide range of scholarships, highlighting their incredible ambition, exceptional talent and dedication to success.
"Administering the scholarships is always rewarding because there are so many inspirational, outstanding and compelling students," Todd Romero, associate dean of undergraduate studies, said. "At UH, and at CLASS especially, students are always doing so well in every way imaginable, taking on internships, belonging to university-based and community-based organizations, and tutoring as they perform at a high level."
These scholarships serve as a testament to the college's commitment to academic excellence and its dedication to empowering students to pursue their passions. A total of $72,000 college-level scholarships have been awarded for the 2023-24 academic year, commending students with individual awards ranging from $500 to $2,500.
"The scholarships enabled me to travel to the Middle East and get that cultural knowledge that you cannot get without traveling," said Ibrahim Islam, an Honors sophomore double majoring in middle eastern studies and computer sciences. "I went to Egypt, Jordan and the Palestinian territories, and I did a backpacking trip through the borders and the cultures, experiencing cultural knowledge firsthand."
Islam, a recipient of the David and Jackie Gardner Scholarship, is interested in Arabic culture, specifically the intersection of gender, disability and the Quran. He is fascinated by the effects of media and technology on the development of culture and global politics. "How does what is printed affect society?" he questions, mulling over the before and after of technological developments, such as the internet, that have changed the overall human experience.
"These scholarships are just so crucial for not just me but a lot of first-generation students," sophomore Omar Castañon said. "I was born in San Luis Potosí, Mexico, and no one in my family had been to a university or knew the resources available. This just gives you a hand up on that opportunity and the confidence to continue to pursue your higher education."
Castañon was awarded the CLASS Scholarship and has been heavily involved in different organizations and resources provided by UH. He is an incoming director for the Metropolitan Volunteer Program, the national communications coordinator for the Residential Hall Association as well as an active participant on the UH Orientation team. He will continue to live on campus for his second year, pursuing a major in strategic communication and a minor in human development and family studies.
"It was very emotional being at Orientation and knowing that I could potentially help other students who are Hispanic or first-generation and visiting a four-year university while potentially thinking it's not a possibility," Castañon said. "It is definitely possible, and the scholarships make it happen."
CLASS offers multiple scholarships at the college level, in addition to scholarships offered by specific departments within the college accumulating an estimated $845,000. Funds from alumni associations, endowments, donors and grants provide students with unique opportunities for growth and success.
"A vital asset is also the people who came before you and your professors," said Sarah Belew, a psychology senior and Honors student. "Just ask — even if they do not respond or are not helpful themselves, they could redirect you to the correct place for scholarships or ways to best benefit you at that time."
Currently working in the Petoskey Center, a small, specialized mental health private practice serving the greater Houston-area, Belew hopes to grow her clinical and research experience in preparation for graduate school. Active in the Bonner Leaders program, Belew hopes to continue to work with children within a school or family setting.
"These winners really represent the tradition of excellence that is being performed at the college, and the dynamic of work that students are doing in and out of the classroom really rises to the top," Romero stated. "These are students who will go on to be leaders in their fields, and it is an honor to be able to support them in a small way."