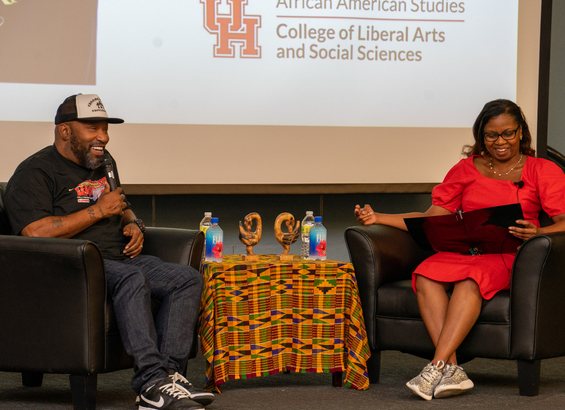 On Oct. 20, rap legend Bernard James "Bun B" Freeman joined University of Houston Department of African American Studies (AAS) Chair Tara T. Green in a vivid conversation about hip hop's influence on Black culture, religious parallels and much more.  
"The conversation with Bun B was our first step in showing our new department's commitment to educating our community about the diverse lives and cultures of Black people," Green said, "He spoke of the relationship between rap as an expression of Blackness and the importance of being present and active in communities, especially at their time of need." 
Attended by a live audience of 200+ students and community members, Green's conversation with Bun B wrapped up her weeks-long introduction as the new chair of African American studies. The conversation touched on self-worth and the importance of speech and action, the brutality of George Floyd's murder at the hands of police, and hip hop's segue into art, brand and identity. 
"When people want to know where you are and what you are doing, take them somewhere that they need to see, somewhere they would not have gone on their own," Bun B said. "As I grew in status and my audience platform increased, I have tried to be a voice for the voiceless, to fight for those that don't have the strength to fight, and I try to lead by example." 
A Texas native and successful businessman, Bun B is as notorious for his entrepreneurship and presence in the Houston community as he is for his music. He has launched Trill Burgers, named after his debut album Trill, assisted in the creation of the first-ever Bored Ape Yacht Club-themed NFT fast food restaurant and made a pop-up at the Coachella Valley Music and Arts Festival. 
"Bun B's life and work in hip hop speaks of Black people's experiences from a Southern perspective, but his lyrical art also has an ability to move across communities in the U.S., abroad and from one generation to another," Green said. 
Bun B gives inspiration to creative minds at UH, standing testament to trials overcome. With a musical flair that intertwines cultural experiences, hip hop and passion, he calls to listeners of all genres. 
"Bringing Bun B here to UH, to the African American studies department, shows an example of 'Communiversity,'" African American Studies Program Manager Kevin Thompson said. "It shows that while we are focused on academics and things of that nature, we are also in tune to what's going on in the community and we are bold enough to reach out to ask for input. This event was testament of more to come."