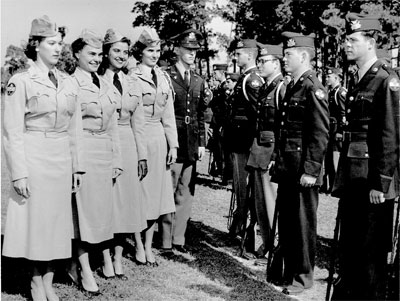 ROTC has been a voluntary organization since its inception at UH in 1948. The University of Houston's ROTC program was unique in 1948 in that it was the only all Quartermaster ROTC in the United States. Initial enrollment for the 1948 Fall semester was 175 cadets, one-third being veterans of World War II. Since that time, the program has commissioned thousands of Second Lieutenants.
The Corp reached an all time high of 827 cadets in 1953 and was designated 1st ROTC Quartermaster Regiment. In 1955 the peak number of 97 cadets, were commissioned. The unit converted in 1956 from a branch material Quartermaster course to a general Military Science course, and occupied its own military science classrooms. In 1958 ROTC took on a new look on campus. The advance course students started wearing the Army Green uniform for the first time.
The program basically remained unchanged until 1965, when the two year program was introduced to the ROTC program. The program reached the second highest enrollment of 327 cadets in 1966. During this time frame the department also saw its first casualties of the Vietnam War, Major Hendon (APMS) and Captain Walker (class of 54) were killed in action.
The middle 60's and early 70's UH emerge as a national power in rifle marksmanship. The rifle teams won 2 Southwest Conference championships; 66 and 68, four 4th Army matches; 65-68. In addition to the championships the teams were rated nationally as number 1 in 67 and 71, and ranked 3rd in 72 and 76. The department has also had two all Americans, Jesse Reynolds in 66 and Senoid Legge in 72 and 73.
In 1970 the ROTC department moved to its current location in Hofheinz Pavilion. In 1972 women were allowed to enroll in ROTC, and the first woman was commissioned at the UH in 1975. The program is the only Army Reserve Officers Training Program (ROTC) servicing the greater Houston Community. For the past 71 years the University of Houston Army ROTC has been entrusted with the honor and responsibility to commission graduates of the University as Officers in the United States Army. Throughout this time the program has endured significant changes and has continued to evolve along with the University of Houston and the Army. Over the past 25 years the program has expanded to function as the host institution to nine additional collegiate organizations, to include Rice, Texas Southern, St. Thomas and Houston Baptist Universities. The cadre and staff of the Military Science department not only function as fully integrated members of the University but, also share in and actively promote its goal of providing world class education. The leadership of the ROTC program is committed to working with the University of Houston and each of its partnership institutions to provide outstanding leadership training and opportunity for collegiate level education.