Brand Fundamentals
The University of Houston Brand
The University of Houston is a renowned public research institution surrounded by global influencers in art, culture and commerce in one of the nation's largest cities. We are fearlessly driven toward a bold, innovative approach to education, research and problem-solving as we work to improve the lives of those we serve, whether that means adhering to longstanding tradition or challenging the status quo. Enriched by one of the nation's most diverse populations, we proudly serve tens of thousands of tenacious undergraduate, graduate and doctorate-seeking students.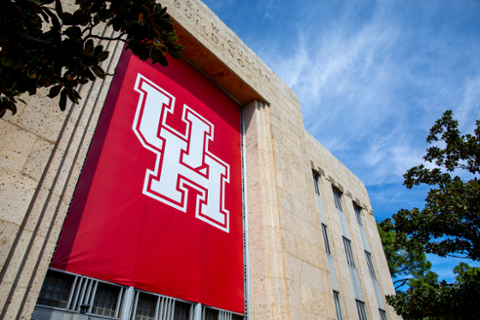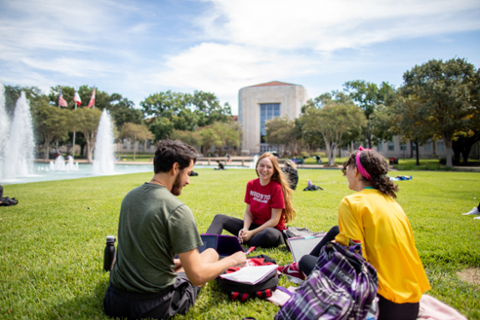 In a world where there are endless opportunities to make significant and positive impacts (on the environment, society, health care, and everyday life), our students, faculty and staff selflessly work toward building better lives for not only themselves, but for the global community.
Our Personality Traits
Confident, but not cocky
Accomplished and influential. Humbly taking pride in who we are and what we've achieved.
Fearless
Willing to take risks, work hard, make tough choices and explore, even in the face of uncertainty or challenges. Undaunted.
Vibrant
Energetic, spirited and dynamic. A brightness that exudes positivity and to which others are drawn.
Warm & Sincere
A warmth, openness and acceptance of all. Genuine in our word and our tone.
Engaged & Attentive
A deep level of care and support for those in our community.
Digital Accessibility Statement
The University of Houston's Commitment to Accessibility
At the University of Houston digital accessibility isn't optional — it is a mandatory mindset and practice for everyone working on UH communications. Part of being a public university is being inclusive to everyone who engages with us.
Access to websites and electronic content is integral to UH's academic, research and engagement activities. As communication trends and platforms continue to evolve, we must be mindful of accessibility across the entire range of media. The choices we make, such as colors and fonts, are not simply aesthetic decisions; they are important to usability. The University's brand guidelines have been developed to ensure digital accessibility for all who engage with us.
What is digital accessibility?
"Digital Accessibility" ensures individuals with disabilities can access the same information, engage with the online content and participate in the same programs as anyone else, with substantially equivalent ease of use.
Electronic and Information Resources Accessibility Policy
UH recognizes our responsibility to foster an open, welcoming environment where all individuals can collaboratively learn, work and serve. We are committed to providing equal access to information and services for everyone. The Electronic and Information Resources Accessibility Policy (SAM 01.D.13) addresses the responsibilities and processes for ensuring that the University's electronic content, including its websites and mobile applications, is accessible for individuals with disabilities.
Accessibility Guidelines
Our website aims to meet the 1 TAC 213 and 1 TAC 206.70 web accessibility requirements, including meeting the World Wide Web Consortium's (W3C) Web Content Accessibility Guidelines version 2.0 (WCAG 2.0) at level AA.
We Value Digital Accessibility
The Office of Equal Opportunity Services (EOS) offers a range of resources for faculty and staff who want to learn more about resolving accessibility issues on their website.
Reporting Digital Accessibility Issues
We welcome your feedback about the accessibility of any of the UH websites, mobile applications or other digital assets. If you cannot access content or use features on any University of Houston website due to a disability, report your accessibility issue, email us at accessibility@uh.edu, or call us at (713) 743-8835.