Overview
Creating a low-carbon flexible grid is the cornerstone to achieving a net zero world. While this grid will be moving toward increasing amounts of renewables (both wind and solar) as well as energy storage with more distributed energy resources providing additional grid reliability, the timing, technology and scope of this new grid is not clear. Questions include: what will be the role of electric vehicles in driving additional demand for electricity, what is the role of energy efficiency, how can we address the need for long duration and seasonal storage in this model? In addition, there are hard to address sectors that will not be easily electrified and will need to be completely redesigned.
Symposium Moderator
Gina S. Warren is the George Butler Research Professor of Law and the co-director of the Environment, Energy, and Natural Resources Center at the University of Houston Law Center where she teaches classes in Property law, Energy Law, Oil & Gas Law, and Renewable Energy Law. Her research explores the role of policy and regulation in the area of sustainable energy, with a focus on renewable energy, climate change, and distributed generation. Her research explores the role of policy and regulation in the area of sustainable energy, with a focus on renewable energy, climate change, and distributed generation. Warren has published nearly a dozen scholarly articles on energy-related topics in such prominent journals as the Columbia Journal of Environmental Law, the Nebraska Law Review, the Maryland Law Review, the Pittsburgh Law Review, the Wake Forest Journal of Law & Policy, the Rutgers Law Journal, and the University of Cologne (Germany) Business Law Journal. Her scholarship has been cited by the Colorado Supreme Court and was showcased by the Washington Post. Warren's work has also been excerpted in a prominent energy and renewable energy textbooks. She is the past chair of the Association of American Law Schools Section on Natural Resources and Energy Law and has served for the last several years on the section's sub-committees. Professor Warren has also served on many other committees and boards in her career, including being the law school representative for the Institute for Energy Law and advisory board member for the Association of International Petroleum Negotiators. Professor Warren was in private practice for several years prior to entering academia. She worked as a litigator in energy and utility law for the international law firm of Perkins Coie based in Seattle, Washington as well as a litigator in a prominent regional firm Post & Schell based in Philadelphia, Pennsylvania. Professor Warren also completed a clerkship for the Honorable Michael Winkelstein of the Appellate Division of the Superior Court of New Jersey. Warren holds a Bachelor of Science in Psychology from the University of Arizona and a Juris Doctorate from Rutgers School of Law.
Symposium Speakers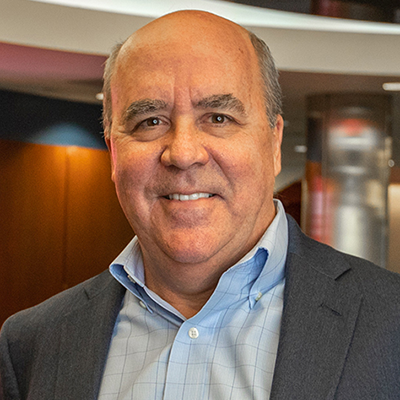 Greg Bean is the Executive Director of the Gutierrez Energy Management Institute in the Bauer College of Business at the University of Houston. Prior to joining Bauer, he spent over thirty years in global oil and gas management consulting after starting his energy career with ExxonMobil. He is a graduate of Texas A&M University.
Vijay has over 15 years of energy industry experience in utility, ISO, energy financing, and consulting roles. As an Associate Director at Guidehouse, he helps utilities, ISOs, and state commissions in the areas of disaster recovery, smart grid deployment, renewable energy procurement, DER implementation, and energy policy. Before joining Guidehouse, Vijay was a Senior Consultant with Baker Tilly where he provided financial advisory and project management support to local communities, commercial & industrial loads, and renewable energy developers. Prior to Baker Tilly, Vijay worked at ERCOT for over 10 years providing engineering support and developing situational awareness solutions for the control room. He was a key contributor to many prestigious ERCOT projects including Nodal Implementation project. He served as a board director and treasurer for the Texas Renewable Energy Industries Alliance (TREIA) and currently serves as an Energy Transition Fellow at the UT Energy Institute. He has a Master of Science in Electrical Engineering (MSEE) degree from University of Texas at Arlington and a Master of Business Administration (MBA) degree from University of Texas at Austin.
MaryAnne Brelinsky is President of EDF Energy Services, EDF Group's customer platform for Retail Supply and Generation Optimization Services in North America. Mrs. Brelinsky has held positions in Trading, Origination, and currently serves as an Executive Committee Member for EDF Trading Limited. Mrs. Brelinsky started her career with Exxon where she held several engineering and operations positions. Mary Anne later accepted a position with Dynegy where she managed power plants, developed bidding strategies, and traded spark spread positions for Dynegy's generation assets. Mrs. Brelinsky serves on the Board of Directors for Anahau Energy, Atlas Scholars, DK Energy, the Gulf Coast Power Association, the Greater Houston Women's Chamber of Commerce, the Advisory Council for Women's Energy Network, and the St. Mary Magdalene Catholic School. She has an engineering degree from Rensselaer Polytechnic Institute and an MBA from the University of Houston-Clear Lake. MaryAnne lives in Houston with her husband and their three sons.
Mr. Farley is the CEO & President of Apex Compressed Air Energy Storage LLC – a company launched in early 2011 to develop, build, operate, and commercialize utility-scale compressed air energy storage facilities. Apex was founded by Haddington Ventures, and has worked on CAES projects in ERCOT, WECC, SPP, and PJM. Previously, Mr. Farley was Senior Vice President of Cinergy Corp., (now owned by Duke Energy) where he was responsible for the Power Trading and Marketing group. Prior to joining Cinergy, Mr. Farley was President of the West Region at Reliant Resources (now owned by NRG Energy). He was also a consultant with McKinsey & Company, mainly focused on the energy sector. Currently, he serves on the board of directors for the Hines Global REIT and Live Power Intelligence. Mr. Farley graduated with highest honors from the University of Kentucky with a B.B.A. and received his M.B.A. with a concentration in finance and operations management from the Wharton School at the University of Pennsylvania. Prior to attending business school, he was a Captain in the U.S. Army.
Dr. Becca Jones-Albertus is the Solar Energy Technologies Office Director within the Office of Energy Efficiency and Renewable Energy, where she leads a team that supports early-stage research and development in the technology areas of photovoltaics, concentrating solar-thermal power, and systems integration with the goal of improving the affordability, reliability, and performance of solar technologies on the grid. Dr. Jones-Albertus has spent her career advancing solar technology, from fundamental research and development to manufacturing. Prior to joining the Department of Energy, Dr. Jones-Albertus was at Solar Junction, where she led efforts developing the company's two-time world record solar cells and transitioning the technology to manufacturing. Dr. Jones-Albertus graduated magna cum laude from Princeton University with a B.S. in electrical engineering, and also holds a M.S. and Ph.D. in materials science and engineering from the University of California, Berkeley. She has more than 10 patents and 40 technical publications.
Student Presenters
Hamzah Ansar, Bachelor of Business Administration in Accounting and Finance
Cameron Barrett, Masters of Science in Finance
Turner Harris, Masters of Business Administration
Nishchala Naini, Bachelor of Business Administration in Finance and Management