Pricing

Individual Badge Price: $900 each | Belt Bundles: $2,500

Schedule

EVC Badge Starts: TBD |ESEO Badge Ends: TBD

MON & TWED | 7:00pm - 9:00pm
Executive Summary
UH Energy is pleased to announce the launch of the new asynchronous version of the Sustainable Energy Development Energy Value Chain Bronze Badge. This program is available online, starting April 15, 2022, and you have up to 6 weeks to complete 8 study modules. Weekly "office hours" are available for real-time discussion of the course materials and questions. The program includes topics such as energy measurements, energy transition, energy efficiency, electricity generation, recycling, cement production, steel production, transportation fuels, transnational comparisons, public policy, and government incentives. Price: $500.
PROGRAM OVERVIEW
Energy professionals – current and future – have to be informed and equipped for an industry that is in transition. UH Energy's new Sustainable Energy Development Program answers this need. Designed and presented by leaders from industry and accomplished faculty from the University of Houston, the program provides a structured series of micro-credentials or "badges" that cover the changing energy landscape and build the skills to succeed in it. Each badge is a 15-hour module, delivered over a 4-week period, and the badges are stackable.
QUESTIONS?
If you cannot find the information you need on the webpage, please refer to the FAQ section and/or contact us.
Why This Program?
The world is changing faster than at any time in history – especially in the world of energy. Society today has 3 fundamental expectations for our energy future: It must be affordable, accessible & reliable, and environmentally responsible. These requirements make up the Energy Trilemma. Advancing solutions that simultaneously satisfy all elements of this trilemma are the foundation and essence of Sustainable Energy Development.
To meet this challenge, and in response to the needs identified by key leaders in energy, UH Energy has developed the Sustainable Energy Development Program. It is an interactive online program, to equip you – the rising energy professional – with skills, knowledge and expertise to tackle the Energy Trilemma.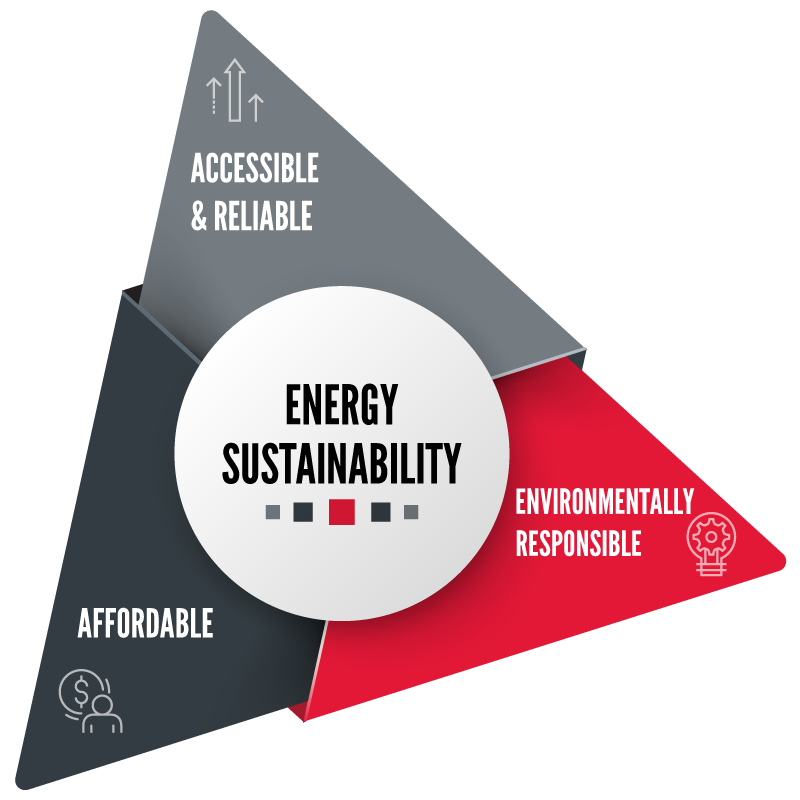 Who should attend?
The Sustainable Energy Development Program has been designed with two distinct groups in mind:
Those of you already in the energy industries are seeing significant changes almost daily. The Sustainable Energy Development Program will provide the new information, new insights, and new skills you need to manage the new demands that are placed on you as you play your part in the Energy Transition
Those of you readying yourself for an energy career need to prepare for a dynamic, exciting and challenging professional life. The Sustainable Energy Development Program provides a unique perspective and skillset, giving you a competitively advantaged competence as you enter the energy marketplace
Learning Objectives
After successfully completing this program, participants will be able to understand:
Key characteristics and drivers of the Energy Transition and the Energy Trilemma
Critical perspectives for the decision-makers in the key energy market segments of O&G, Petrochemicals, and Electric Power
The Energy Trilema and the fundamentals of meeting the Energy Transition Challenge
What are the requirements for Sustainable Energy Development
Fundamental components of the energy value chain(s) in O&G, Petrochemicals and Electric Power
Industry segment fundamentals of O&G, Petrochemicals, and Electric Power including of renewables and storage
Drivers for renewables and energy storage and key enablers for the integration into the energy mix
Applications of Techno-Economic Analysis and Life Cycle Analysis in sustainable energy development
The business drivers of the energy industry and future scenarios
The requirements of project management for sustainable energy development
Corporate social responsibility in sustainable energy development
Technical and Business drivers for investments and decision-making
Pricing
INDIVIDUAL BADGE PRICE:
$900
EACH
BRONZE BELT BUNDLE (All 3 Badges purchased together):
$2,500
ALL 3
Credentialing Overview
The credentialing program delivers a multi-disciplinary understanding of challenges and solutions to achieve sustainable energy development, and it is taught by world class instructors, including leaders from industry and the marketplace and accomplished faculty from the University of Houston, the Energy University, in the Energy Capital of the World.
The program will be offered in 15-hour modules, each over a 4-week period. Digital badges are awarded for each module, and sets of 3 badges you will earn a Belt. The introductory Bronze Belt is followed by an intermediate Silver Belt, and finally an advanced Gold Belt. The badges and belts provide a permanent record, endorsed by UH Energy and the University of Houston, that can be made a part of your resume to credential your new skills.
---
Bronze Belt
The Bronze Belt provides a framework for the energy trilemma and the key ingredients of sustainable development and decision-making. This is designed to ask and answer the key questions in each of the energy markets – Oil & Gas, Petrochemicals, and Electric Power, inclusive of renewables and storage. The framework is structured within a life-cycle analysis and techno-economic modeling discipline.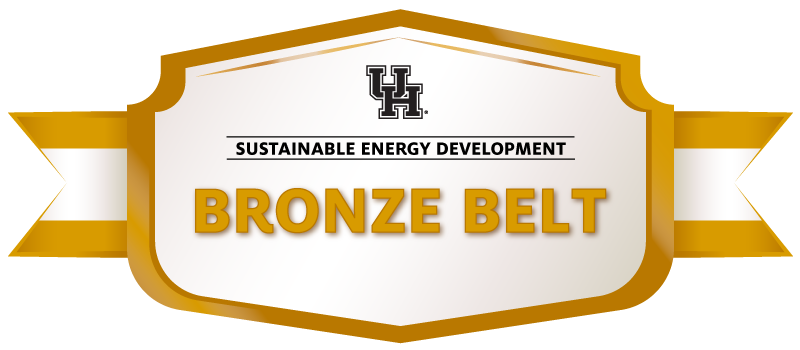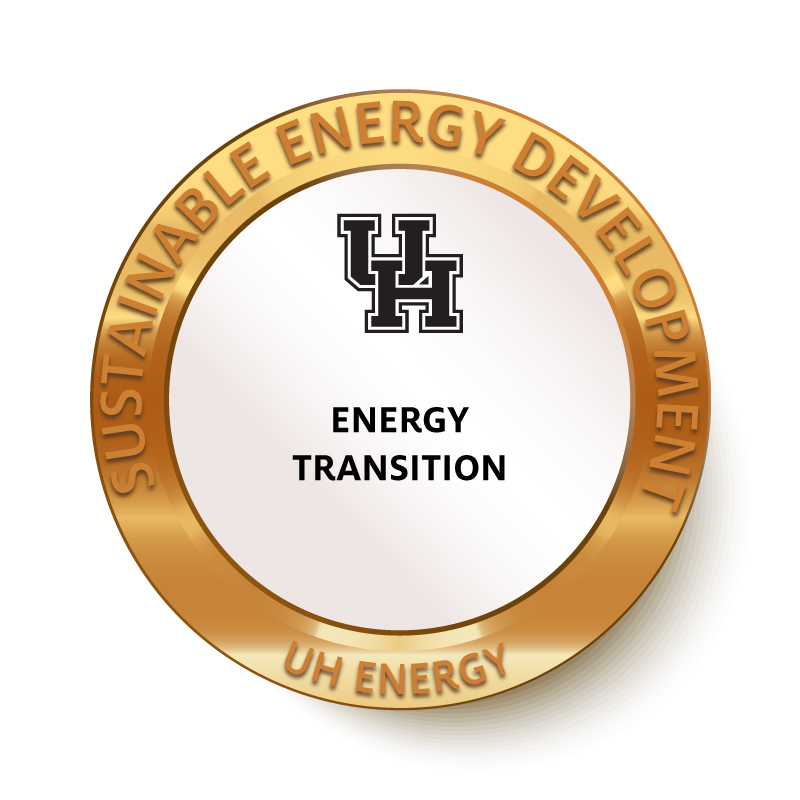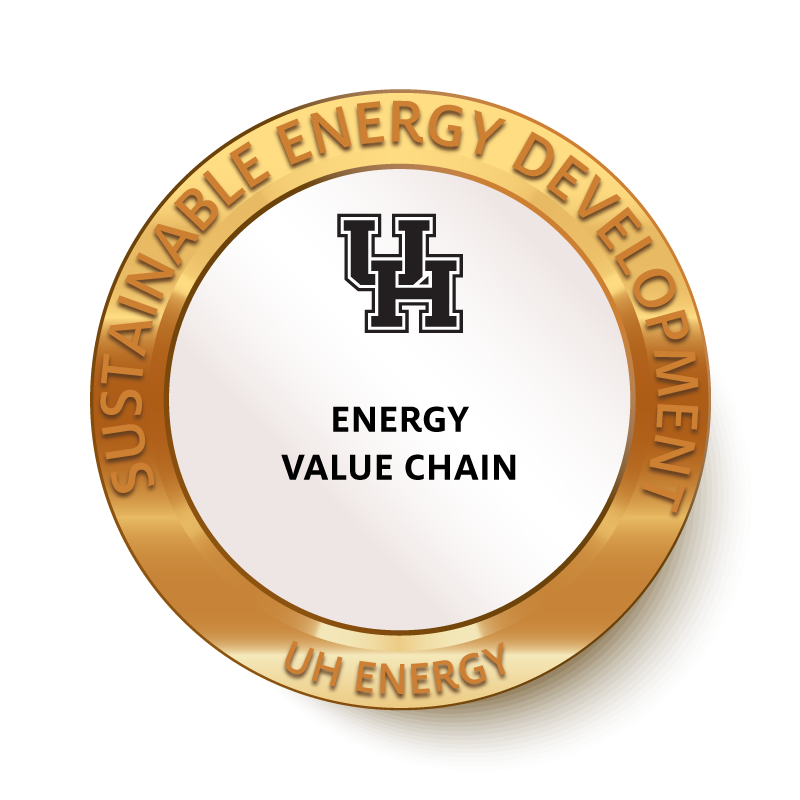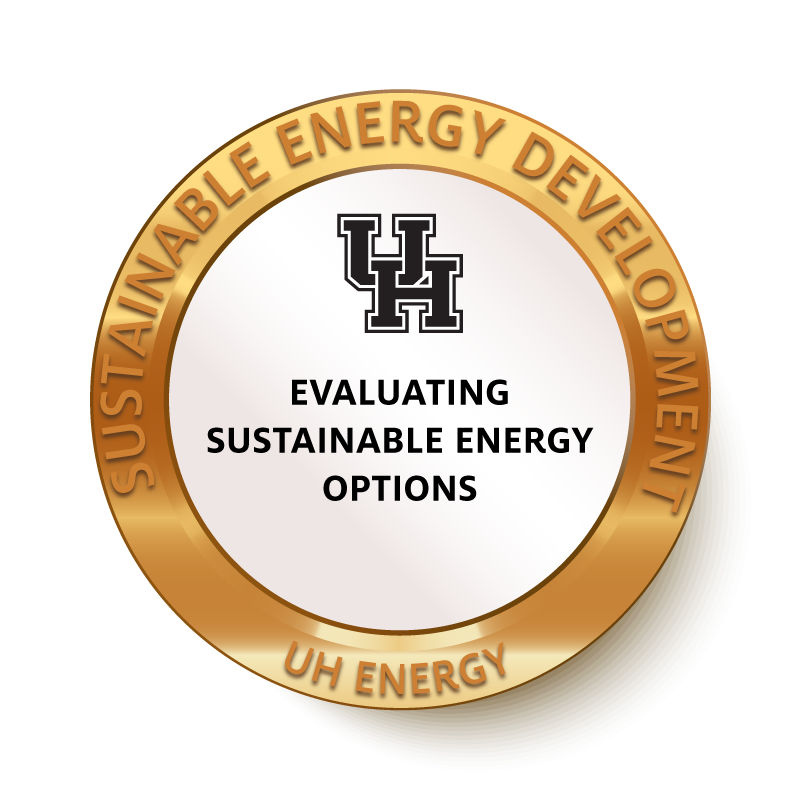 ---
Silver Belt
This Silver Belt program builds upon the introduction to the energy transition given in the Bronze Belt in Sustainable Energy Development. It provides a deeper look at hydrogen – one of the most promising vehicles for decarbonizing the global energy system. The three badges explore hydrogen production, hydrogen transportation, safety and use, and the commercial opportunity for hydrogen. A capstone project is included, to consolidate the multidisciplinary learnings of this exciting new program.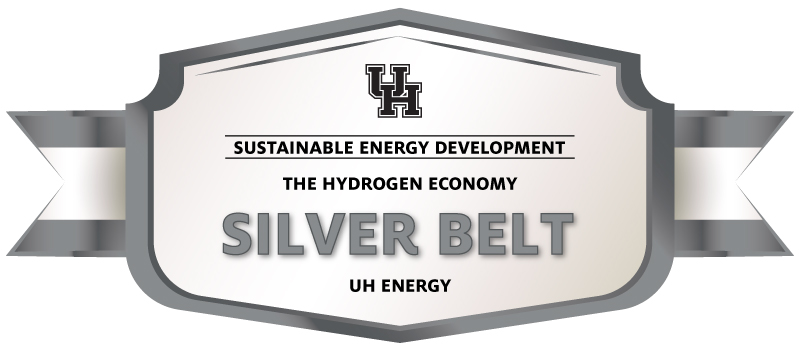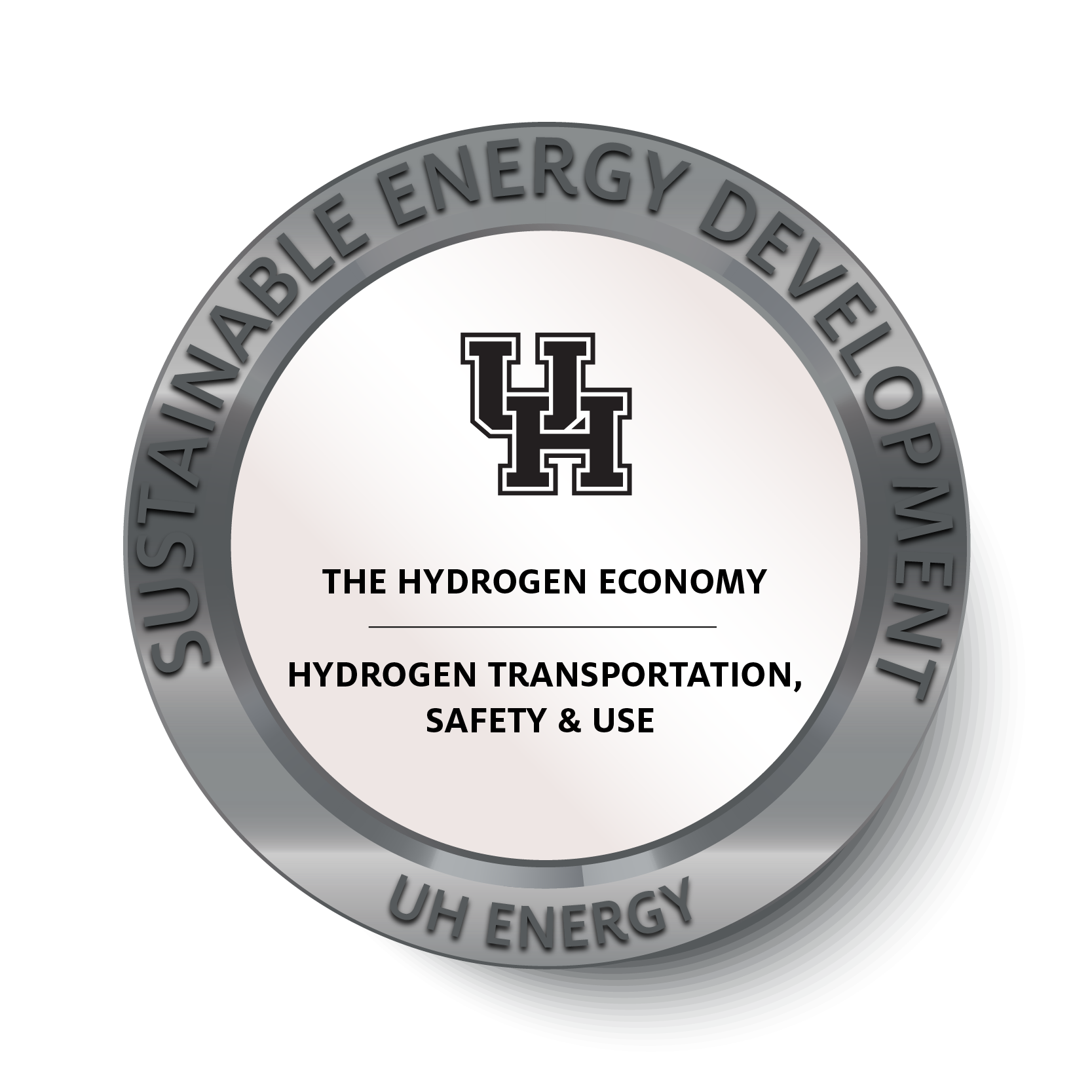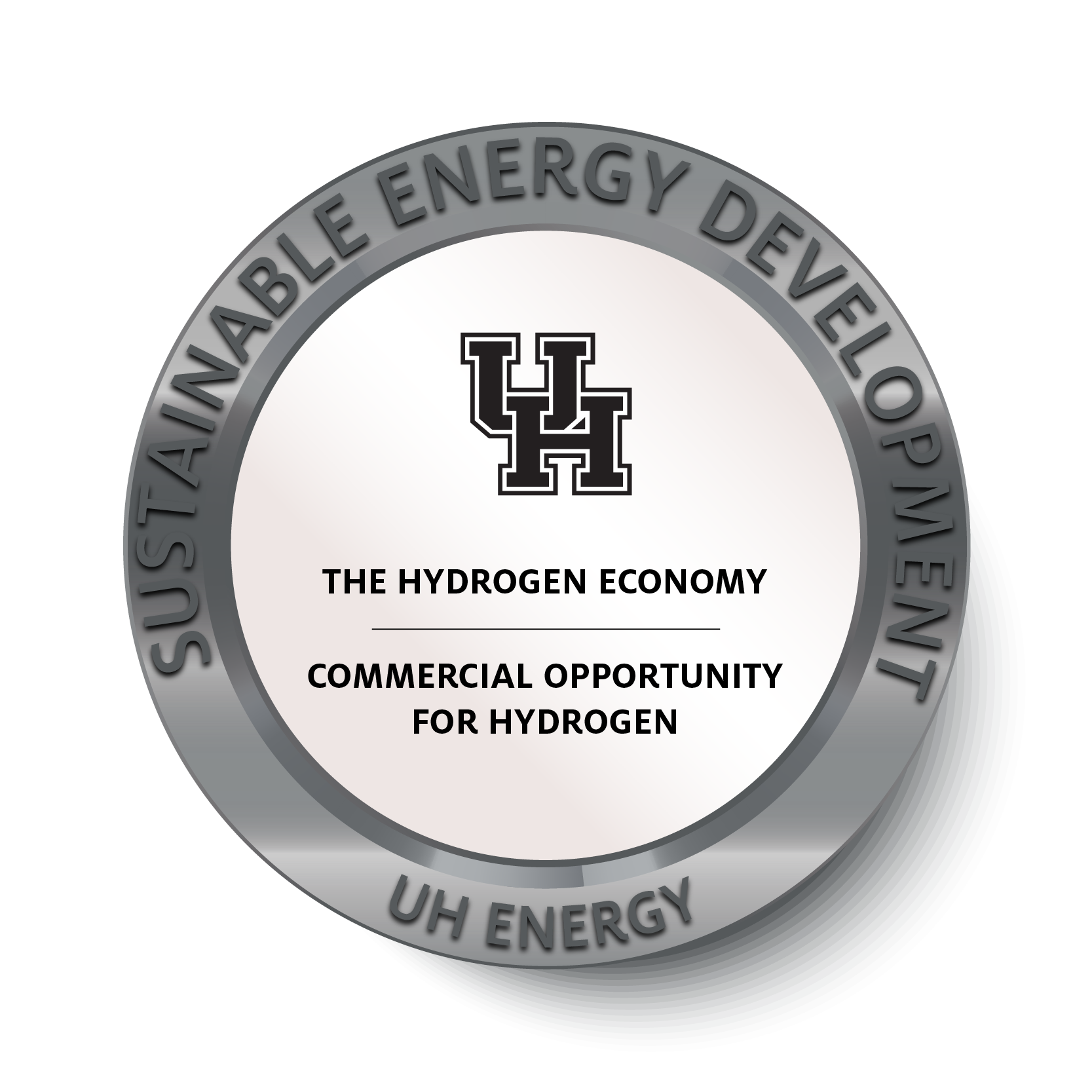 ---
Gold Belt
The Gold Belt provides tools and techniques to evaluate technical and business solutions for the development of sustainable energy solutions that encompass carbon management and socially responsible investments. The focus of the evaluation is business feasibility, environmental impact, scale-up and implementation, and overall business viability.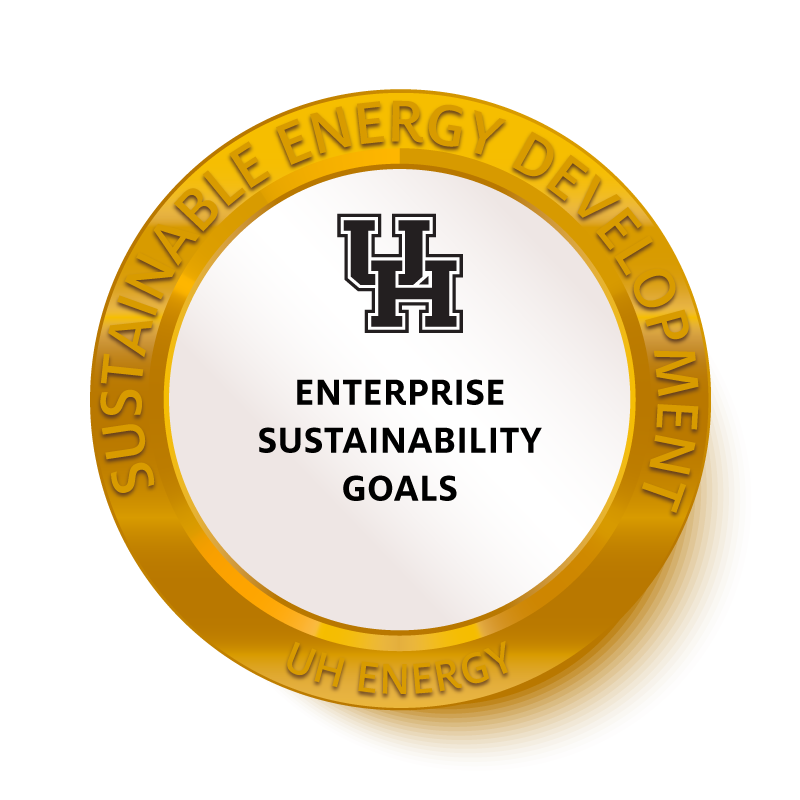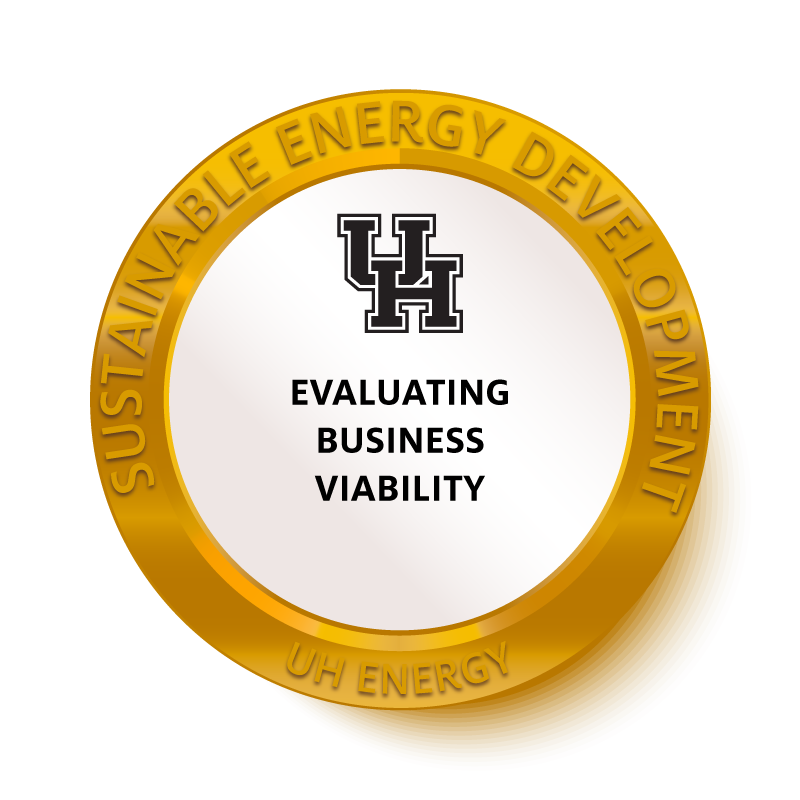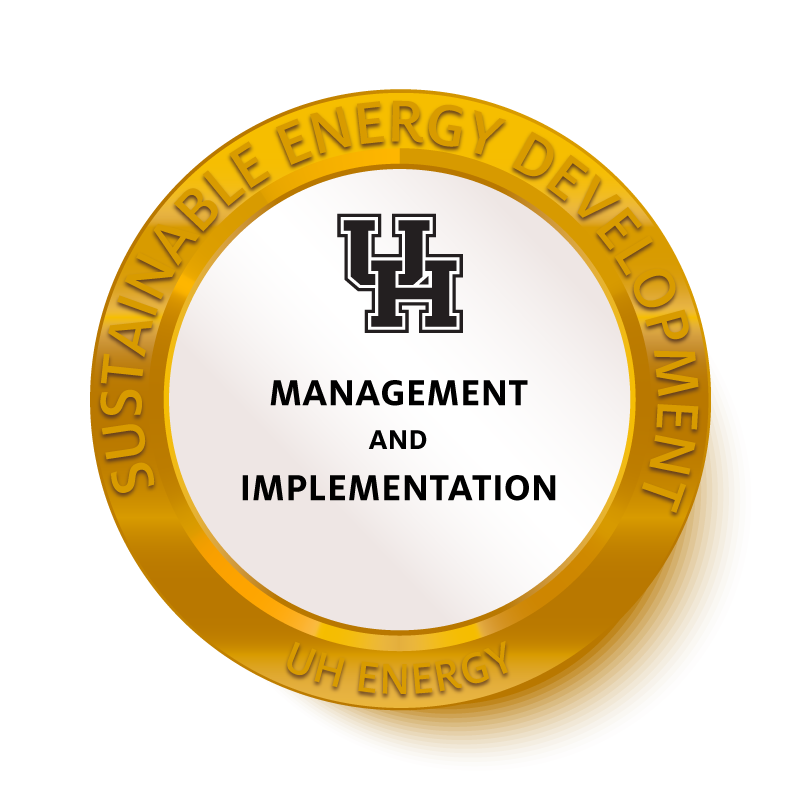 Instructors
UH INSTRUCTORS
Greg Bean

Executive Director of the Gutierrez Energy Management Institute, Bauer College of Business, University of Houston

Aparajita Datta

Research Scholar, UH Energy, University of Houston

Dr. Birol Dindoruk

American Association of Drilling Engineers Endowed Professor, University of Houston

Dr. Ramanan Krishnamoorti

Chief Energy Officer, University of Houston

Charles McConnell

Energy Center Officer, CCME, University of Houston

Dr. Ognjen Miljanic

Professor of Chemistry, University of Houston

Dr. Suryanarayanan Radhakrishnan

Managing Director, UH Energy, University of Houston

Dr. Alan Rossiter

Executive Director, External Relations & Educational Program Development, University of Houston
INDUSTRY INSTRUCTORS
Dr. Richard Helling

Director, Sustainability/Life Cycle Assessment, Dow

Nigel Jenvey

Managing Partner - New Frontiers, Baker Hughes

Dr. Teresa Jurgens-Kowal

Founder and President, Global NP Solutions

Scott Nyquist

Senior Partner, McKinsey & Company

Dr. Joe Powell

Principal | Retired Shell Chief Scientist – Chemical Engineering, ChemePD LLC

Dr. Pieter Smeets

Sr. Manager, Industrial Sustainability (MEA), SABIC

Andy Steinhubl

Vice Chair of the Board, Center for Houston's Future (CFH)
Credentialing Program Prerequisites
Either:
Rising senior in a bachelor's degree program or graduate student; business, engineering, or technology preferred.
Industry professional
Program Resources
Sustainable Energy Development Program Info Session Video
Recording Date: July 9, 2020
Have Questions about the Sustainable Energy Development Program? Join program instructors on Thursday, July 9th from 10:00am - 10:45am to learn more and have your questions answered.
Frequently Asked Questions
Joel Castro, MBA, PE –

MBA /Professional Civil Engineer

"This summer, I had the opportunity to learn about the Energy Transition through UH Energy's Sustainable Energy Development Program. It was indeed a privilege to hear industry experts lecture about macro trends, current energy portfolios, and the energy trilemma."

Ana Prebisch - Process Engineer at Technip Energies

"So glad and thankful my team leader shared with me an invitation to take this course."

Emily Haussmann

 

–

Mechanical Engineer at Dresser Utility Solutions

"Last week, I completed the first course in a three part series on the energy transition. We discussed the challenges of solving the energy trilemna- creating enough energy for human development that is affordable and environmentally sustainable."

Amy Gasca –

Electricity, Sustainability, Energy Transition, Business Development, Professor and Author

"So excited that just completed Badge Energy Transition UH Energy Institute provides the development that supports leaders. "