Technology Summer Camps in Sugar Land, UH Main Campus
April 27, 2023
The University of Houston at Sugar Land is offering three summer camps for elementary, middle, and high school students designed to develop the next generation of coders, digital storytellers, game designers, and molecular biologists.
There is a $350 fee for each camp which includes work materials. Discounts are available for UH employees, teachers, and siblings. Scholarships are available for students with financial needs.
ITECH-STEM for Elementary School
Elementary school students will learn coding, 3D modeling and printing, game design, digital storytelling, video production, and STEM.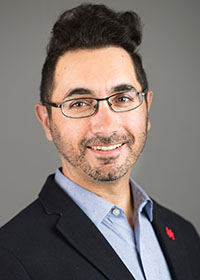 "ITECH-STEM has been our flagship summer STEM program and one of the most popular summer camps in the local community," said Bulent Dogan, clinical assistant professor in the UH College of Education. "We introduce the world of coding and how STEM projects can be used in an interdisciplinary way to solve the problems of our community. Students receive excellent hands-on instruction from UH Mentors in small groups and are challenged in camp competitions in a fun-filled project."
During the camps, undergraduate and graduate students will be teachers and role models for the elementary students.
This camp will be offered at the UH at Sugar Land instructional site. Register by June 1, 2023.
GIRLS & BOYS CODING ACADEMY for Middle School and High School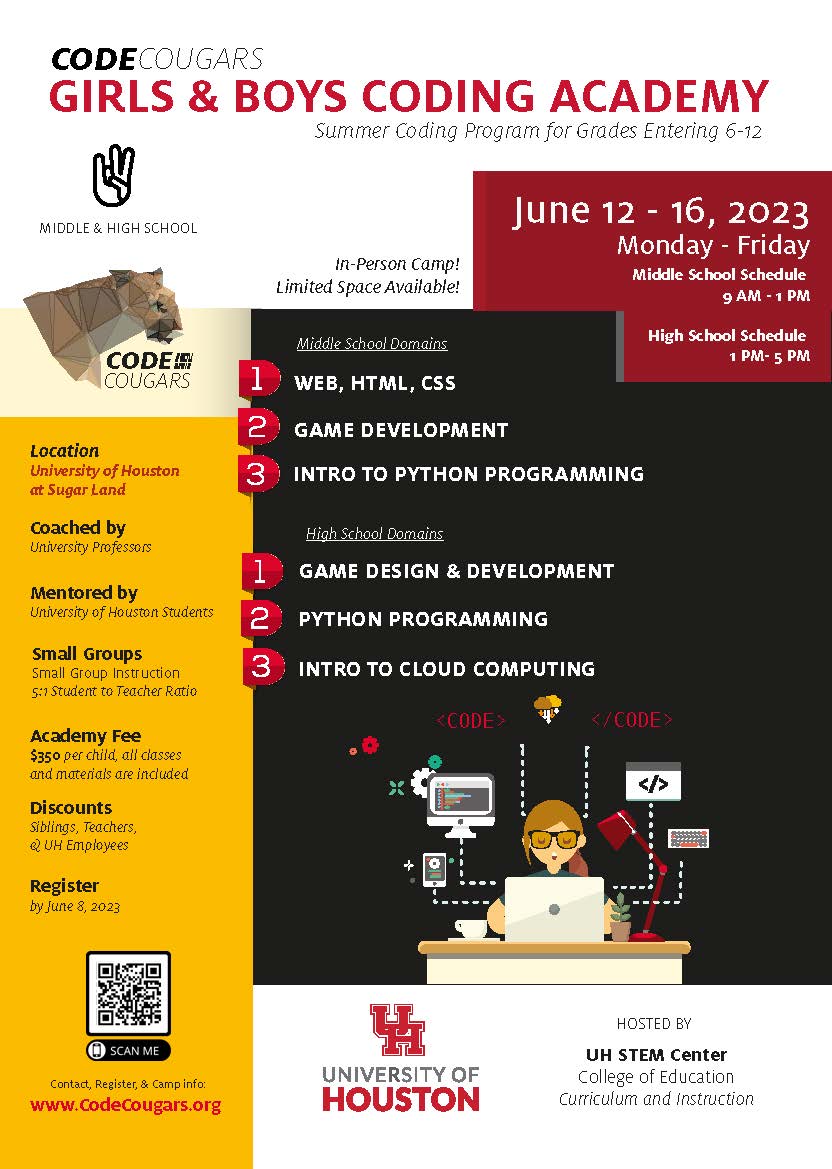 The Girls & Boys Coding Academy will teach computer science, coding, game design, HTML web development, Python programming language, and cloud computing. Heather Domjan, clinical associate professor in the UH College of Education and executive director of UH STEM Center co-directs the program with Dogan.
Participants will be coached by UH professors and mentored by UH students.
This camp will be offered at the UH at Sugar Land instructional site. Register by June 8, 2023
"This camp provides an excellent introduction to one of the easiest-to-learn programming languages, Python, where we work on creating relevant projects, such as chatbots and locating the International Space Station (ISS) at any given time," Dogan said. "Students also learn how coding can be used to design virtual worlds in Roblox Studio and develop a platform or shooter game in the Academy."
Participants will meet and work with engineers from Hewlett Packard Enterprise (HPE), who will provide presentations on the latest HPE technology.
BIOTECHNOLOGY ACADEMY for High School
In collaboration with the UH College of Education, the UH STEM Center, and Cougar Initiative To Engage (CITE) camp offerings expand with a biotechnology academy for high school students.
Students will learn about artificial intelligence, coding, and molecular biology fundamentals, as well as protein docking scenarios, coding, and algorithms.
This camp will be offered at the University of Houston main campus. Register by June 9, 2023.
The project is hosted by the UH departments of Biology and Biochemistry, as well as the UH department of Curriculum and Instruction.
"The Biotechnology Academy is a unique opportunity previously available to post-doctoral students," Dogan said. "But we believe younger generations, including undergraduate and high schools students, can learn about drug discovery and molecular research. We need more researchers to find solutions to pressing problems such as delivering effective drugs for cancer and COVID-19 proteins."
Participants will learn about artificial intelligence, coding and the basics of molecular biology. They'll also explore ways of administering medication and treatments to proteins by working on protein docking scenarios using algorithms and coding.
"We aspire to motivate the next cohort of molecular biologists. We've seen the impact of our program on students as they continued to work in our labs, publishing manuscripts, and involving in research after completing this prestigious camp," he said. "We hope our participants can one day work in the constantly evolving field of biotechnology, with drug companies, creating vaccines, or even discovering a cure for cancer."
Read more