Students Meet their Supporters in Annual Nursing Scholarship Events
October 4, 2022
"Being a nurse connects you to your community in a way that illustrates how needed and how valued you are."
The words from Kathryn Tart, Professor and Founding Dean of the University of Houston College of Nursing, rang true for the nearly 100 nursing students, their families and other supporters who gathered for the UH College of Nursing 2022 Scholarship Banquets. The college held separate events for students at the Sugar Land and Katy instructional sites.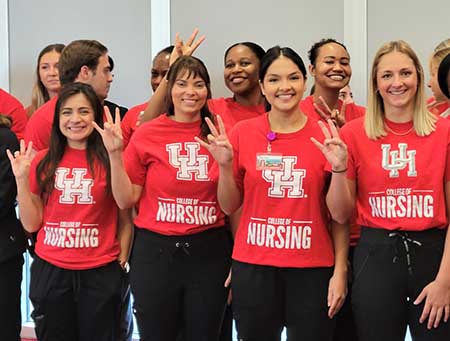 "You do not pursue this work on your own," she said. "You are held up by people you may not even know, but who support the work of nurses and acknowledge the need for more of them."
This year 23 donors gifted 107 scholarships to students in programs at UH at Sugar Land and UH at Katy, totaling $218,322 in scholarships:
Bajwa Endowed Nursing Scholarship
Roberto J. and Agniela (Annie) M. Bayardo/TMAF Hispanic Nursing Scholarship
Ginger Blomstrom Nursing Scholarship
Dean's Fund Scholarship
Barbara Dan and Howard Butt Endowed Scholarship
Andrew Delaney Foundation Endowed Nursing Scholarship
John S. Dunn Foundation Scholarship
The George Foundation Nursing Scholarship
Gessner Family Scholarship
Gulf Coast Medical Foundation
The Marjorie Akers Hilty Gurasich Endowed Scholarship
Hamill Foundation Scholarships
Hamman George and Mary Josephine Foundation
HCCS Endowed Scholarship in Honor of Dr. Sophie Lin Rydin
Nancy Louise McKenna Scholarship
Earline Moreland Scholarship
Fred and Mabel Parks Foundation Nursing Scholarship
Shah Family Endowed Nursing Scholarship
Smith Vivian L Foundation
Vivian and R. E. Bob Smith Scholarship
Inez German Warren Endowed Scholarship in Nursing
David and Kathryn Tart Endowed Scholarship
Sherry Luce Memorial Endowed Scholarship
"We are grateful for all of our donors and appreciate their generosity in supporting the College of Nursing and our students," Tart said.
Scholarships for the College of Nursing support students pursuing studies in these programs:
Read more