'Considerate and Accommodating' Profs Credited for First-Gen's Successful Road to Graduation
By Dennis Spellman
May 17, 2022
First-generation college students frequently have a more challenging experience acclimating to college than students whose parents have college degrees, but a University of Houston Class of 2022 graduate says his professors made the process easier.
"My professors were all very considerate and accommodating," said UH student Yomi Sowunmi. "Professor Alfred Henson, who taught Practicum in Supply Chain, made an especially lasting impression. He was always willing to work with me and was very understanding."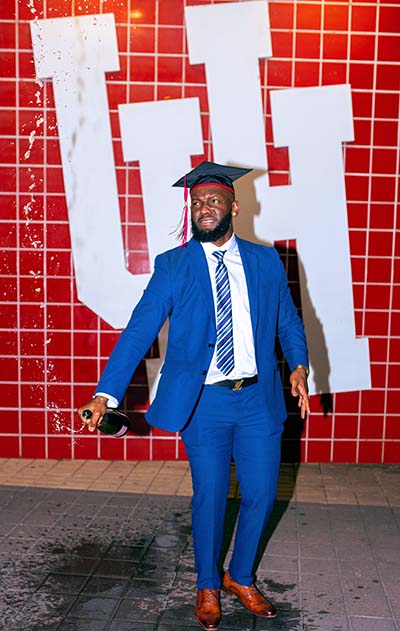 According to the National Center for Education Statistics, first-generation college students are less likely to graduate than their peers. The study found that being first-gen is even more challenging than coming from a low-income family.
"While income matters, first-generation status matters even more," according to an article published by Brookings that explained the NCES study.
The most common problem is first-gen students have few people in their social sphere who can guide them.
"It was difficult adjusting to a new environment, let alone navigating the college system without much guidance," Sowunmi said. "My parents were unfamiliar with the requirements and process involved in enrolling and attaining financial aid."
Earlier this month, he earned his bachelor's degree from the UH College of Technology's Supply Chain and Logistics Technology program. He was successful, even without the support structure students have when their family and friends have degrees.
"My peers served as a frame of reference, but even their knowledge was limited. I needed to do my own research," he said.
He suggests other UH first-gen students can smooth the transition to college by working closely with their professors and other students.
"I would advise other students to use all the resources available to them, including their professors," he said. "I found that developing a relationship with my professors made the biggest difference. I would also suggest connecting with like-minded individuals and forming study groups."
Earning his bachelor's degree has him feeling confident about the future. He's moved through the first-gen challenges and sees opportunity ahead.
"I'm hoping to complete a Master's in cybersecurity," he said.
Read more