University of Houston College of Nursing Opens Clinic for Homeless and Working Poor
Sept. 22, 2021
By Dennis Spellman
The University of Houston College of Nursing is providing healthcare services to Houston's homeless population and the working poor at its first nurse-managed health clinic in the city's Midtown neighborhood.
Located at the Abraham Station on the campus of St. Paul's United Methodist Church at 5401 Fannin Street, the clinic draws patients from those who visit the food pantry and clothing center operated by the Emergency Aid Coalition (EAC) that's housed at the church.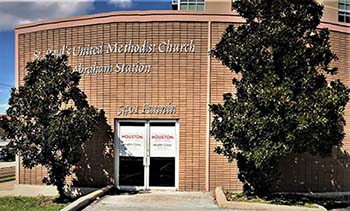 "They feed 250 people per day," said UH College of Nursing Dean Kathryn Tart, EdD, MSN, RN. "It's very vibrant work that they do."
The EAC is an interfaith effort supported by the members of fifteen churches, mosques and synagogues. It's been helping those in need for nearly 40 years.
"The working poor come to get groceries and clothing. The homeless come for sack lunches," said Shainy Varghese, UH associate professor of nursing, nurse practitioner and clinic director.
Now, healthcare is available at the same location.
The nurse-managed clinic will initially be staffed by nursing faculty and students. Dr. David Buck, associate dean of community health at the UH College of Medicine, will work as a collaborating physician. Patients will be treated by Patricia Obulaney, certified adult nurse practitioner and UH clinical associate professor. The clinic also has a registered nurse and receptionist on staff. It provides wellness exams, management of acute and chronic conditions and treatment of minor injuries, colds and flu.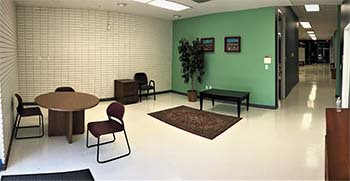 Patients who come to the clinic with other intricate medical conditions can also utilize telehealth and be treated virtually by a physician or nurse practitioner who is working at another location. The referring doctor assesses the injury and quickly provides a treatment plan.
The use of Telehealth became commonplace when the pandemic struck, as many doctors chose to see patients virtually, but long before COVID-19 Varghese understood the value of integrating virtual technology with medicine.
Varghese's doctoral dissertation topic detailed the creation of a telehealth clinic. That was in 2009. Twelve years later her vision is a reality and it's financially more feasible.
"It's getting more cost-effective because technology is getting less expensive every year," she said.
Some of the population served by the clinic does not have a way to get to a doctor's office. Telemedicine solves that problem.
"Transportation can be a problem for the homeless population," Varghese said. "If we need to refer patients to a specialist, they can use telemedicine to do so. It's also good for the working poor who can't take time off from work."
The clinic is providing an unparalleled learning experience for UH nursing students. They are taking what they learn in the classroom and applying it in a clinical setting.
"We want our students to know the cutting edge of medicine," Tart said. "It's what Universities do. They look to the future and educate our students."
As the clinic grows Tart believes there will be other UH students who will be phased into the operation. She envisions educational opportunities for those studying medicine, law, optometry and pharmacy. Students who are studying social work will be involved in helping with important tasks like enrolling clients in Medicaid and Medicare.
"It will be a hands-on experience for the students. It also helps them to learn about the homeless population," Varghese said. "The best way to provide the homeless with healthcare is to take it directly to them."
"It's a way to serve our community. It's the right thing to do," Tart said.
Hours of operation are Mondays from 8:30 a.m. to 1:30 p.m. The clinic will likely expand its hours to two days a week in the spring and eventually be open four days per week.
The clinic is funded by grants from the Humana Integrated Health System Sciences Institute, the Texas Methodist Foundation and private donations.
Since 1983 the Emergency Aid Coalition's vision has been that everyone in the community has the food, clothing and other basic needs to provide for themselves and their families. Through the efforts of the UH College of Nursing, those basic needs now included healthcare.
"It's nice when the missions come together for a common good," Tart said.
The UH College of Nursing is located at the University of Houston Sugar Land Instructional Site.
Read more