UH College of Technology building 'Innovation Beltway' around Houston region
By Dennis Spellman
Nearly anyone can be trained to be innovative. That is the core principle of the University of Houston College of Technology's Leadership and Innovation Management degree program, which is being expanded beyond the campus to communities throughout the Houston region.
Innovation workshops have been held in Sugar Land, Pearland and Fort Bend ISD, in addition to area businesses, and there will be more in the future.
"You can train people to be innovative. It's not just for the gifted few," said UH College of Technology Professor of Practice David Crawley. "It's systems thinking."
The workshops are based on the undergraduate and graduate programs offered by the University of Houston. The College of Technology offers a bachelor's degree and a minor in Technology Leadership and Innovation Management. A master's degree program, Engineering Technology Innovation & Management, was added later. The original class in 2019 had only 27 students, but it grew quickly.
"By this time next year, we'll have about 1,000 students going through the program each year," Crawley said.
Crawley says Houston region's workforce needs to be innovators to survive. It is why UH is teaching a condensed version of its degree programs at workshops in the suburbs.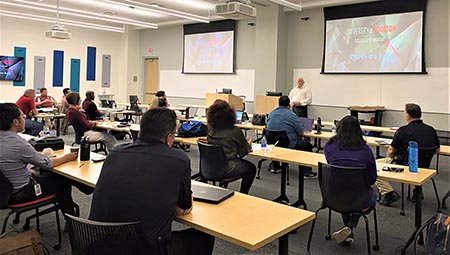 "There is a documented innovation skills gap in the workforce today. It's holding companies and economies back from being competitive and productive. The skills of an organization degrade by half in six years. Additionally, 26 to 28 percent of the workforce is going to retire within the next six years," Crawley said.
Not everyone who wants to learn to be an innovator is able to pursue an undergraduate or graduate degree, that is why regional workshops are being offered.
"We are looking to build an innovation beltway to the outlying regions," Crawley said.
Anchoring the program is a set of online tools that aid in creating innovative ideas by speeding the key processes like research, risk forecasting, writing patents, building strategic alignments, and improving ideas that are already in the marketplace. Upon course completion, students can earn Innovation Engineering Blue Belt and Black Belt certifications in addition to class credit.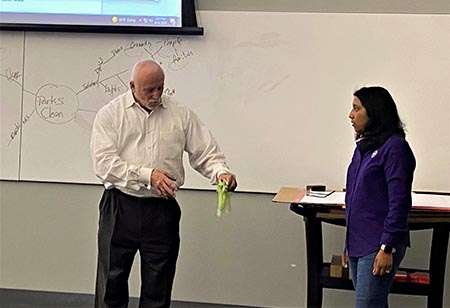 Among the processes that are part of the system is what's known as Fail Fast, Fail Cheap, a system thinking process that allows students to quickly determine a need to pivot or when an idea is destined for failure.
"Failure isn't a bad thing as long as you can learn something and get back up," said Alahnna Alvarado who will graduate in May with a bachelor's degree in Technology Leadership and Innovation Management, and a Minor in Applied Innovation.
"By learning how to fail fast and fail cheap I've also become a stronger person," she said.
The goal, according to Alvarado, is "creating managers who are agile minded so they can see shifts in industry and pivot very quickly."
Alvarado says she was stuck in a career that would not allow her to break out of the role of administrative assistant.
"Now I have hard skills. I'm more marketable and I'm more innovative," she said.
And when she graduates, she's already secured a position as a human resources internal auditor with a global bank.
I thought all I needed was a degree. I was not expecting to learn a skill," she said.
The skill was learning how to be innovative, solve problems, and create opportunities. It put her in a position to shine during her internship.
"I was able to compete with Ivy Leaguers because of what I learned, and I got my dream job in New York City."
Read more