Worldwide Media Seek Expertise of UH Professor to Explain Global Supply Chain Crisis
November 29, 2021
By Dennis Spellman
A University of Houston assistant professor is a regular guest on worldwide television due to her ability to explain supply chain problems in a way that is easily understood by news viewers across the globe.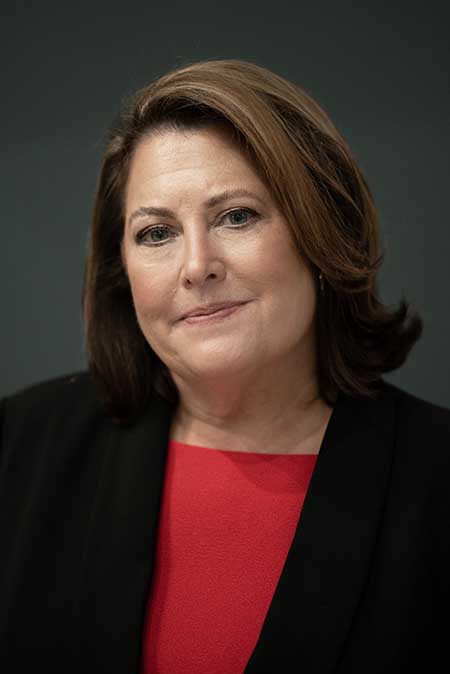 "It was the perfect storm within a storm," Margaret Kidd told the BBC as she methodically explained to viewers why the supply chain stopped working, and inflation is taking off.
Kidd is an assistant professor in the UH College of Technology's Supply Chain Logistics and Technology program.
"You have COVID interfering with manufacturing throughout Southeast Asia and China. It created intermittent manufacturing," Kidd said.
A slowdown in manufacturing is leaving fewer goods on shelves, and fewer cars on showroom floors.
"I think one of the biggest factors is flattening the COVID curve in manufacturing countries in Southeast Asia," Kidd said.
She told Fox News vaccinating overseas factory and transportation workers must take place for the supply chain to return to normal.
She also says consumer demand will have to return to normal. Demand has been high since Washington began sending stimulus dollars to Americans to spend on the economy.
"You've had an insatiable demand by US consumers fueled by folks working from home, not commuting, not vacationing, not spending on services and three rounds of federal stimulus money creating record disposable income and driving record trade," she said.
Increased demand for products created additional pressure on the supply chain and contributed to inflation. Those problems won't end soon according to Kidd.
"I think it will be 2022 and even possibly 2023 before we see the supply chains move back to normalcy," she told Fox News.
Kidd says supply chain problems are also caused by California's biggest ports being unable to handle the high volume of imports coming through Los Angles.
"The ports of Los Angeles and Long Beach have historically had notorious problems with congestion and labor issues," she said.
"I think supply chain managers need to think long and hard about where they bring their imports in from Asia," Kidd told Fox Business. "In the US, 40 percent of imports end up at Los Angeles and Long Beach and that's just too much going into an area that is extremely bottlenecked, along with the fact that the market has a 1.5 percent industrial real estate vacancy rate and less than 4 million square feet under construction – there is simply no room for this volume of cargo."
Kidd believes the solution will be moving away from California by shipping more goods to Texas ports in Houston, Freeport, Beaumont and Corpus Christi. She also believes ports in Mobile, Alabama, Savannah, Georgia and Charleston, South Carolina are part of the supply chain solution.
But Kidd also says American ports need an infrastructure upgrade.
"We are several decades behind European and Asian ports in terms of technology and automation," Kidd said.
She believes manufacturers have seen the dangers of having all their products produced in the same part of the world. She sees some manufacturing moving closer to the United States.
"That could be in Mexico, in the northern triangle countries of Guatemala, El Salvador, Honduras, and even Haiti," she told one national TV audience.
Television Interviews
FOX Business - Morning with Maria (October 6, 2021)
BBC World News - Nightly News with Lewis Vaughan Jones(October 13, 2021)
Fox - Sunday Night in America with Trey Gowdy (October 17, 2021)
Read more