August 23, 2021
Faculty, staff and students return to campus and to new resources intended to create a more efficient and comfortable environment.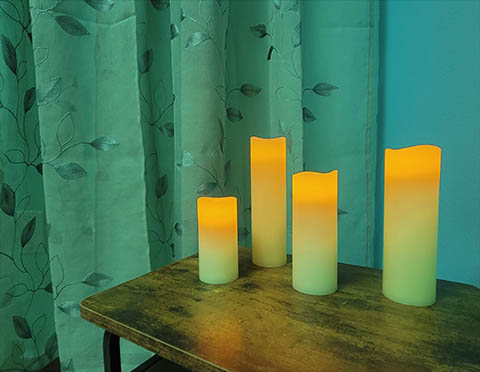 A new room on the first floor of the George Building acknowledges our need for self-care. Whether it's a break, a timeout or just a need to be still, the doors to the new Meditation Room now are open during business hours. Located in room 118 near the Division of Student Affairs and Enrollment Services, the Meditation Room is a tranquil space that features soft lighting, a bamboo bench, oversized pillows and a 'view' of a dewy bamboo forest to help decompress from the day's stresses.
Walking around the buildings, waiting for the shuttle or walking to the car will no longer result in lost internet connections. The George Building, Brazos Hall and the College of Technology Building are all outfitted with outdoor Wi-Fi coverage.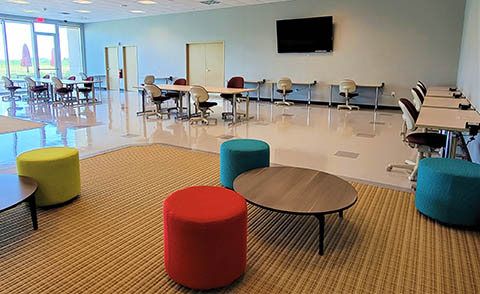 The former bookstore space on the first floor of Brazos Hall has been repurposed to create a student lounge area. Still a work in progress, when complete it will be outfitted with charging stations, vending machines, and two collaboration stations for group projects. A digital monitor will broadcast the latest information, and counter space in the front of the room will double as food counters for pop up vendors. The new student lounge will be open during business hours.
Coming soon:
A new Technology Enhanced Active Learning Classroom is slated to come online by mid-fall. The new space will feature tables and walls with whiteboard surfaces, high definition monitors on group tables, portable power pods and track cameras for lectures.
This fall a new art piece will grace the UH at Sugar Land site on the windows outside of the Brazos Hall Multipurpose room. The 16 windows will be home to a new mural created by Houston artist Reginald Adams and featuring words and phrases from poetry written by former Houston Poet Laureate D.E.E.P. The mural will face the University Branch Library so that patrons, academic and community visitors can see it.