Biotechnology Professor Recognized for Leadership in Promoting STEM Education Rupa Iyer Named Outstanding Woman in Science
April 28, 2020
Rupa Iyer, founding director of biotechnology programs and former associate dean of research and graduate studies at the University of Houston College of Technology, has been named Outstanding Woman in Science by the Association for Women in Science-Gulf Coast Houston Chapter (AWISGCH). The non-profit 501(c)(3) organization is affiliated with a global network that reaches more than 20,000 women and men in diverse science, technology, engineering, and math (STEM) careers. Its mission is to support women in STEM in the Texas Gulf Coast and Houston area by providing opportunities to participate in leadership and career development workshops, including networking opportunities that are valuable for career advancement.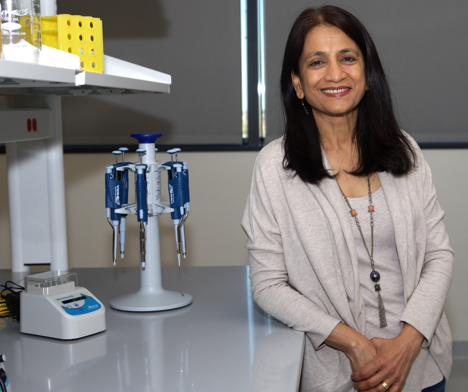 Iyer invented an innovative approach to integrating classroom instruction and research. The interdisciplinary research-based undergraduate biotechnology program also provides access to research experiences to all students in the program. Funded by a $2.1 million NSF award, she is leading the broad scale national dissemination of her inclusive model for the integration of education, research, and entrepreneurship at five institutions, offering opportunities for diverse students and faculty to contribute to an ongoing research database of microbial degradation of xenobiotic compounds. The approach addresses important challenges in STEM education and the environment, and the cost-effective solution provides socio economic benefits on multiple levels.
"My philosophy is to help students transition from being knowledge consumers to knowledge producers, I believe in creating opportunities that provide access to quality STEM education and research for all students," Iyer said.
As a program director at NSF for two years, she provided strategic guidance to advance the long-term research and education agenda of the foundation, including the development of the Nation's science and engineering workforce and scientific infrastructure. A long-time advocate and mentor, she regularly interacted with principal investigators, ensuring broadening participation of women and underrepresented groups.
Iyer served as the education and human resources representative for NSF's "Big 10 Ideas," a long-term process that identifies areas for future investment in leading edge science and engineering research. Through her involvement in the project, Navigating the New Arctic, experts from diverse disciplines collaborated to provide innovative solutions for pressing challenges in the Arctic. Iyer views the experience as transformative, solidifying her commitment to research, student success, diversity, inclusion, and science policy.
"Dr. Iyer is greatly admired for her extraordinary achievements, leadership, mentoring skills and commitment to promoting careers in STEM and inspiring the future generation of scientists. We are excited to recognize such a passionate and dedicated advocate of STEM careers," said Belkys Sánchez, chair, AWISGCH Outstanding Women in Science Association.
(By Marilyn Jones, UH College of Technology)