Biotech Students Study Vaccine Development
April 16, 2020
As researchers around the world move to create a suitable vaccine to combat Covid-19, those pursuing studies in biotechnology find their burgeoning expertise in demand.
Biotech students use software programs and computer modelling to understand how viruses, such as COVID-19, multiply in the human body, and how different drugs inhibit viral proteins.
Salman Khwaja, a graduate student in the program, recently was hired by a Houston company to modify extraction kits to quickly and efficiently diagnose results for COVID-19 from human swabs.
"This is a certified lab for proper diagnostic testing of COVID-19 under CDC regulations," said Khwaja. "I am learning and tweaking the protocol in order to eventually automate it."
Biotechnology uses nature to inform the production of chemicals or other products that impact industry needs, such as vaccines. Vaccines work with the body's immune system to create immunity to diseases (bacterial, viral and fungus). Usually, the process takes years to develop, test and produce, but in some cases many biotech companies will take different approaches to combat a pandemic and save lives.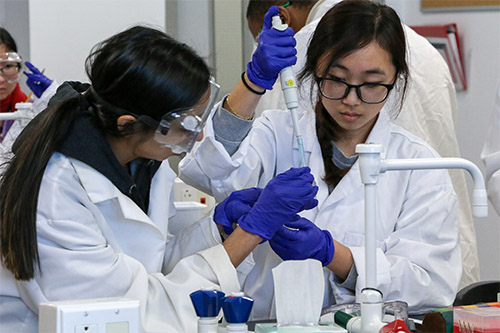 "Our students gain research-based, hands-on experience and also are trained on how drugs and vaccines are developed and manufactured in regulated environments, using good manufacturing practice at biotech companies," Iyer said. "Many will join biotech and pharmaceutical companies and contribute to the development of vaccines and drugs that benefit humanity."
Under Iyer's guidance, Khwaja's academic research is examining soil microbiomes, including microbial communities, which are continuously exposed to anthropogenic toxins and pollutants. He is hoping to identify newly emerging enzymatic functions and pathways, which could be exploited for commercial applications.
"The biotechnology program was designed in collaboration with the biotechnology industry," said Rupa Iyer, professor and founding director of the University of Houston Biotechnology program. The program provides broad-based knowledge and training within the framework of a typical biotechnology product, which includes discovery, research and development, manufacturing, to commercialization of biotechnology products. Typical biotechnology products include, vaccines, chemotherapy drugs, and toxin degrading enzymes.
The UH Biotechnology program in the College of Technology has more than 550 undergraduate and graduate students. It is in the top five of most well attended biotechnology programs in the county.