UH Nursing Joins HCA Houston Healthcare to 'Crush the Crisis'
Sept. 16, 2019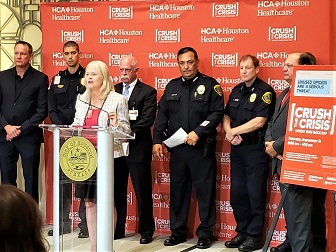 The opioid crisis is a public health emergency. The University of Houston College of Nursing and UH at Sugar Land join HCA Houston Healthcare to provide an opportunity for the community to properly dispose of their unused prescription medications anonymously - no questions asked. The "Crush the Crisis—Opioid Take Back Day" is this Saturday, Sept. 21, 9:00 a.m. to 1:00 p.m., and provides for the safe disposing of unused and expired medication.
The collection site will be conveniently located at UH at Sugar Land, 14000 University Blvd., in front of the Albert and Mamie George building, in the area in front of the big UH banner. Hospital staff, volunteers and uniformed law enforcement officers will be on site to help with the safe and anonymous disposal of unwanted medications.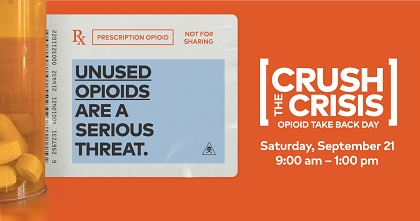 Accepted Items:
Tablets, Capsules and Patches
Hydrocodone (Norco, Lortab, Vicodin)
Oxycodone (Oxycontin, Percocet)
Tramadol (Ultram)
Codeine
Fentanyl (Duragesic)
Morphine
Hydromorphone (Dilaudid)
Oxymorphone (Opana)
NO needles, syringes, lancets or liquids.
For more information about Crush the Crisis Opioid Take Back Day, call 833-582-1970.