Digital Media Student Selected for Forbes Under 30 Summit
Oct. 8, 2019
University of Houston College of Technology student Chinwe Obi has been recognized as an Under 30 Scholar of the Forbes Under 30 Summit program. The Forbes Under 30 Summit is a gathering of young leaders, founders, and creators from across the country. The conference will take place in Detroit, Michigan on October 27 – 30 and will feature various speakers and entrepreneurs, investor speed pitching, industry focused field trips, community service opportunities, and a food and music festival. As an honoree, she will receive fully paid registration.
Chinwe plans to graduate with a major in digital media and a minor in organizational leadership and supervision.
Q & A with Chinwe Obi
How did you find out about the Forbes Under 30 Summit?
Every year an application is made available through the website for any interested individuals. Because of my LinkedIn network, I came across this unique opportunity, took my chances and applied late this past summer.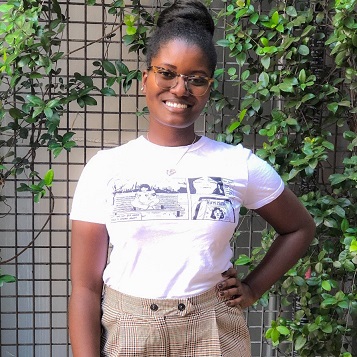 Why did you choose digital media at the University of Houston?
I have always had a love for all things technology and all things creative. I didn't know where or what that role was called, or if a career for it existed. I started out as a nursing major, transferred to the University of Houston to pursue a degree in computer science, and discovered that it did not have enough creative design aspects to it. So one night on a whim, I found the digital media program and switched immediately. It is literally the combination of both technology and design, plus more. Since I've made the transition to digital media, I have found the perfect career to align with my passions, which are user experience and user interface design.
Where do you see yourself headed in the future?
After graduation I am looking forward to starting a career in user interface/user experience design. As of right now, I am working to build a more robust portfolio to put me in the best position to land an internship for summer 2020. I have started applying to the top tech companies such as Google, Microsoft, Apple, and many other Fortune 500 companies.
#undeniably exceptional
(Written by Marliyn Jones)