Digital Media Student Banner Bearer for College of Technology Commencement Ceremonies
May 6, 2019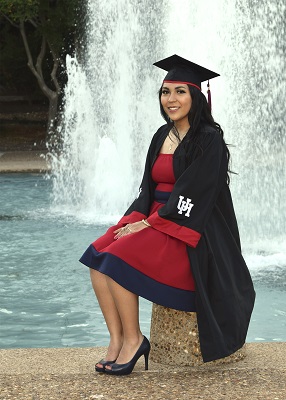 It has been an eventful year for Rosa Cornejo. The graduating senior from the UH College of Technology participated on the team that created a powerful Women in Digital Media book, discovered her passion for printing and packaging (an area of emphasis for digital media students) and secured a position with BCI, Inc. after graduation. She did this while maintaining the highest GPA in her major and caring for her newborn son. At commencement ceremonies, Rosa will be the banner bearer for the UH Department of Information and Logistics Technology (ILT), leading the way for her fellow classmates.
How do you feel about being the banner bearer representing your major in this way?
I was nominated to represent the ILT department for having the highest GPA in my major (3.93). I've always aimed for good grades, even in high school. I feel very proud to represent the Digital Media (DIGM) program, as it is the first time that a digital media student will be a banner bearer for the ILT department.
Why did you choose digital media?
In high school, I knew I wanted to go into an art related field that was also centered in technology. While searching through UH majors, I came across the Digital Media program. What caught my eye is that it taught us about design, as well as the technology behind creating print, packaging, eMedia and more! I also have a minor in organizational leadership and supervision, which taught me the business skills needed to be a well-rounded professional.
What is your area of emphasis?
When I came to UH I had initially chosen eMedia as my area of emphasis, but during summer 2016, in my page layout and design class, Professor Jean Pierce had us design a basic box with our personal brand. I had so much fun with that project, I decided to switch over to print and packaging. I love that there is a tangible product at the end of the creation cycle and that it allows me to use my math skills (especially when designing packaging structures). I love math and art! I am glad I found a degree that allows me to exercise both skill sets.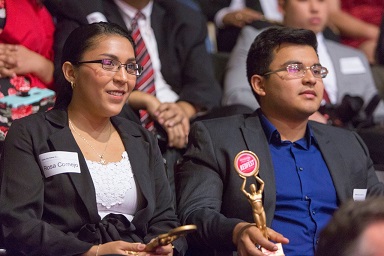 What are your professional goals?
My goal upon graduation was to work in the packaging industry, and I am happy to say I have achieved that goal due to networking and my work in ArtiosCAD (a packing design software program). I will be working for BCI, Inc. Drake Division as a Design Trainee. BCI Drake is a supplier of corrugated packaging and point of purchase displays. My long-term professional goal is to grow within the company by helping BCI Drake in its future efforts to expand.
How important to you was the Women in Digital Media project?
My teammates and I interviewed three alumni, as well as Monika Alters, a DIGM professor who helped start the program. The alumni we interviewed really opened my eyes to how I can apply everything I have learned in digital media to various job markets. April Cantwell was very helpful with giving us advice on job searching, preparing my resume, and advice on how to stay relevant in our field. I felt like I gained a lot of insight on job searching and showcasing my variety of skills, as to not 'pigeonhole' myself in a job with no growth opportunities.
How did you do all this while pregnant?
I found out I was pregnant right before my junior year started. My now husband and I were really thrown for a loop, wondering how and if we'd finish school with a baby on the way. … I am here today because of the people who have supported me. I am very lucky to have had a great support system.
I believe this is a great message I cannot wait to share with my son when he's older: That even though life plans change and times get tough, family and friends will be there for you. That I will always be there for him, as my parents were for me, and as long as he works hard and is passionate about his goals, he will succeed.
Any parting words for the next generation of young graphic communicators?
No matter what area of emphasis you choose, I recommend taking classes in other areas if you're able to. Taking more digital media classes will expand your skill-set and make you more appealing to employers. Although I was a print and packaging emphasis, I had time to take some eMedia courses which helped me in my internship as Marketing and Design intern at the City of Richmond, TX. I was able to create designs for both print and digital applications.
Also, if you love print and packaging, but don't see jobs pop up, do not be discouraged. Networking with your professors is very important, because industry professionals often come to them looking for print and packaging employees.