RedFest 2019 Celebrates Exceptional Digital Media Students
June 24, 2019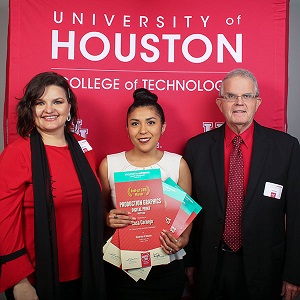 The College of Technology RedFest is an annual Digital Media program event that recognizes the knowledge, creative talent and technical expertise of students through a challenging competition. This year's RedFest was a memorable evening, held on Friday, May 3 at the University of Houston at Sugar Land. The red carpet themed showcase of projects ranged from motion media and photography to computer graphics, transmedia and production graphics. Students could enter in multiple categories to contend for trophies, award certificates and cash. Faculty, staff and industry professionals judged 382 entries.
Eleven students took home $3,200 in cash prizes that were donated by TGS Insurance, LaserShot, Southwest Precision Printers, and HCSS.
Recipients of cash awards were:
Video Advertisement: Matthew Barroso, Derek Dziedzic, Alexa Needham
Simulation and Gaming: David Musick, Tiffany Tran, Aaron Lehnen
Production Graphics: Rosa Cornejo, Vanessa Martinez
Marketing and Branding: Angie Chicas, Amy Haokip, Holly McKenna
"Winning awards at Redfest was the first time I felt I was really getting recognition for all the hours of hard work I put in beyond the required coursework," said David Musick.
Also recognized, as standouts among all of the entries were Ruth Ramos for animation, comedy, and transmedia; Vanessa Martinez - web storefront design and motion media documentary; Aaron Lehnen - mobile app design; David Musick - cinematic simulation and gaming; Jinelly Swasey - digital publishing; and, Jomarcel Nguyen - candid photography.