Familiar Face to Nursing Students Takes the Lecture Podium
Jan. 14, 2019
The halls and classrooms at the University of Houston College of Nursing are familiar places for Shermel Edwards-Maddox. A graduate of the college's Second Degree BSN class of 2012, Edwards-Maddox returns this semester as a professor of practice.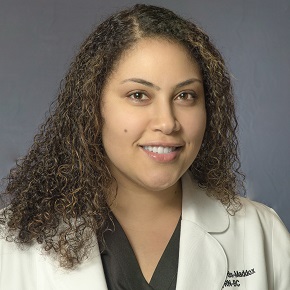 "My focus is on practice in the clinical settings, working with students to make sure they're getting a good clinical experience," she said. "I'll be helping students learn how to physically assess a patient, and then I will take students to the hospital so they can actually perform these assessments on patients."
Edwards-Maddox begins her new role with the college this spring, though she has worked as an adjunct professor in the college for the last three years.
Students who pursue the rigorous Second Degree BSN program bring life experiences from other professions. The accelerated program is for those who've earned bachelor's or master's degrees in other fields, but now want to become registered nurses.
"This program was very challenging and I think that's why I connect with students so well," she said. "I've sat in the same lecture halls and the same simulation lab, so I know exactly what they're going thru because I've been through it too."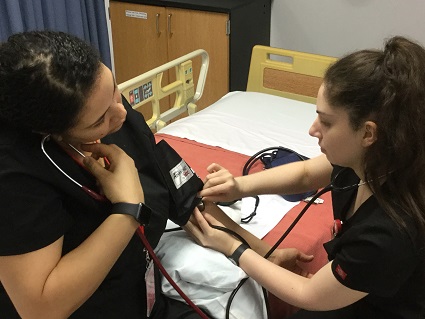 Edwards-Maddox's journey to the nursing profession began in a classroom. For five years, she was a science teacher at Bush High School in the Fort Bend Independent School District.
One of her goals for her nursing students is to help them see the connections between all of their classes. It's one thing she says she needed as a nursing student. To that end she created a grid to help students organize the data they learn in each classes. For example, the grid for medications would indicate the brand name and generic name of a drug, its use, side effects and adverse effects. The system organizes the information to help students move the data into practice.
"As faculty sometimes we teach fragmented--pharmacology, fundamentals, health assessments, all as courses--and it's hard as a student to bring it all together. I want to help them see how all these come together," she said.
In addition to teaching and overseeing students' clinical experiences, Edwards-Maddox is pursuing a Ph.D. in nursing research at Texas Woman's University. She hopes to help her students discover that same love for learning.
"That's why I teach—to see the light bulbs going off."